Welcome to Houayxay
Houyxai is a district administered by Bokeo province. Located of Houay xay District is a head quarter of the provincial. Total area is 2,416 square kms, The weather is suitable for cash crops plantation and livestock. There is little flat area located along Mekong river banks, road No. 3, Nam Ngao, Nam Nhone and some among the remote areas. It lies on the banks of the Mekong River, Huay Xai is the smallest and second least populous province of Lao People's Democratic Republic, with a population of about 113,500 people. Trade opening with China via the river has caused the town to become a stopping point for boats from Yunnan, along with Chiang Khong, Huay Xai thus features a bustling market for low cost goods from China.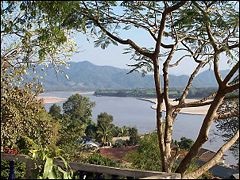 Huay Xai currently serves primarily as the embarkation/debarkation point for visitors to northern Lao People's Democratic Republic. Stays overnight are generally made by Fully Independent Traveler (FITs) who arrive in Huay Xai too late for crossings to Thailand or for beginning their excursions to Luang Namtha or Luang Prabang. According to the National Tourism Authority of Lao People's Democratic Republic, there were 5,489 international visitor arrivals entering via Huay Xai in 1995, an increase of more than 60 per cent from 1994. Statistics on the total number of domestic and foreign visitors to Huay Xai were not available. Most visitors do not stay overnight, so the average length of stay is considered to be less than one day.
Source: http://www.unescap.org/ttdw/publications/tpts_pubs/pub_1821/pub_1821_seg2.pdf
Why invest in Houayxay
A Strategic Location, Houay Xay is at the center of the GMS, consisting of Cambodia, Myanmar, Thailand, Vietnam and Yunnan province of China. It is the only district bordering all the other countries in the sub-region.
Good Policy Framework A fast growing economy with sustained annual GPD growth over 6% in the past two decades National policy identifies quality investments to drive sustainable development and a diversified economy : The National socio-Economic Development plan (NSEDP) 2011-2015 targets at least 8% annual GPD Growth, 60% of which will be from private investments The NSEDP also focuses on the quality of growth, particularly on sustainable land and resource use, environmental management and increasing resource use efficiency Manufacturing, Services, Tourism and Construction sectors are expanding fast Strong policy framework creates an enabling environment for private investments : recently revised decree on investment promotion 2011.
One Stop Service Unit To fasten and facilitate investments procedures the government is creating a favorable business environment that is responsive to private sectors needs One Stop Service brings together representatives from all key ministries to facilitate investments applications and business start-up.
Comparative and competitive Advantages
Political Stability, High Safety, Low risk from natural disasters, Low labor cost.
City of rich natural resources:
Fertile Land, Minerals, Water, and forest giving development potential in Agriculture and mining.
Source: http://www.theredddesk.org/
 Source: http://www.laocci.com/
Investing in Houayxay
The friendship bridge between Houay Xay and Chiang Khong will form the remaining crucial link of the Asian Highway 3, connecting Bangkok to Kunming, a project highly anticipated in the Greater Mekong Subregion's (GMS) development. The bridge is expected to be completed between late 2012 to mid-2013. The bridge represents a mixture of globalisation and regionalisation occurring together, promising capital gains for investors and increased economic opportunities for the border towns of Chiang Khong and Houay Xay. Different the previous bridges between Thailand and Laos, this bridge not only serves two towns but incorporates three countries, with China coming into the picture by funding half the cost of the bridge.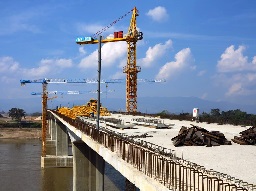 In addition, Chiang Khong is marketed as the 'Gateway to Indochina' by the Thai government, leveraging on the proposed bridge to elevate its status as a crucial border town in GMS. Local perceptions of the bridge are investigated in relation to the two border towns' rapid development and GMS's economic outreach: most of the surrounding land near the bridge has been bought by Bangkok-based people and Chinese investors via their Thai partners.
Source: http://asiapacific.anu.edu.au/newmandala/2012/08/17/mekong-bridge-at-chiang-khong/
Tourism Opportunities in Houayxay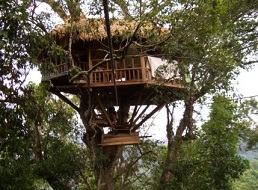 Houay Xay's hillside area center sits on the banks of the Mekong across from Chiang Kong, Thailand, and bookends The Tea Caravan Trail in the south. Houei Xai also serves as a hub feeding travelers from Thailand into northwestern Laos due to its ferry port with an immigration checkpoint. An under-construction bridge will soon simplify access. The town is also a launch pad for the area's activities and attractions including the historic Fort Carnot, the Golden Triangle's ancient city of Souvannakhomkham, the "Gibbon Experience", the Bokeo Arts and Crafts Center, and treks in the Nam Kan NPA.
Houay xay is rich of natural tourism sites, historical sites, and cultural sites. Laos PDR is paying close attention in encouraging all concerned sectors such as trade network has expand widely from town in to remote area as hotel, guesthouse, restaurant, trading and services.
Ecotourism is a new and growing industry in the Lao PDR and there are many good investment opportunities in Houay Xay for ecolodges and tour services. Laws and regulations in Lao PDR are quite favorable for foreign and local investors that are interested in investing in the ecotourism sector.
The National Tourism Administration (LNTA) has identified a range of public-private partnership (PPP) and private investment opportunities to seek investors in the country's many publicly-funded tourism projects such as restaurants, eco-lodges, canopy walks and other tourism products at tourism sites that include provincial welcome centers, waterfalls, hot springs and other key attractions.
Houayxay Macro Economic Indicators
During the past three years, the District's GDP reached 66.22 million US dollar. The economic growth rate is 8 % with the composition of the economy:
•           Agriculture is 53.50 %
•           Industry      is   8.20 %
•           Service        is 38.30 %
•           Average income per capita is 1.100 USD per person per year.
(GDP per capital US dollar)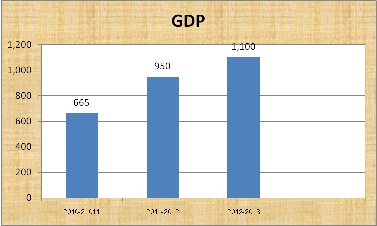 Gross Domestic Product ( GDP ) 2005 to 2012 ( Dollar )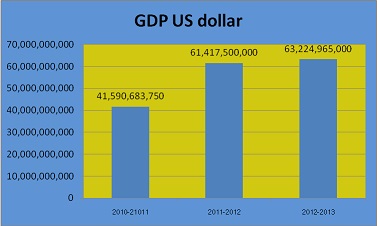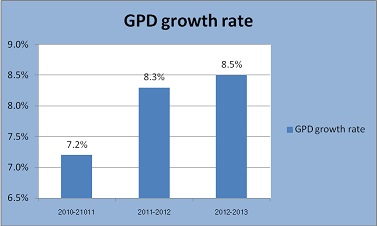 Source: Planning & Investment office of Houayxai district
Houayxay Infrastructure
As landlocked and least developed area, it is essential for Houay Xay to upgrade the infrastructures to facilitate the transport linking with assistance from neighboring countries, gaining access to sea port, boosting of international trade and attracting of foreign investment and tourism.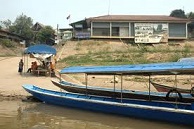 Immigration
The Lao immigration office is just a few meters from the ferry on the right and efficiently issues 30-day Visas-on-Arrival (around 35 USD, depending on nationality, or 1,500 baht. Scanning passport photo is 40 baht and an extra $1 "weekend-fee" for the visa on arrival.
Road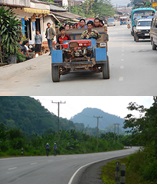 The road system inside and outside the city is being continually expanded and newly built. The main road is (R3A) connecting Chiangkhong – Houyxai – Luang Natham, which connects Chiangkhong (Thailand) -Houyxai (Bokeo) – China at Boten-Mohan border.
This route is supporting the cross-border trade mainly between Thailand and China. Alternatively, Mekong River is another active transportation mode facilitating cross-border trade between BK and Chiangrai province of Thailand.
Source: http://www.photoontour.com/outbound/sipsongpanna/09_back.htm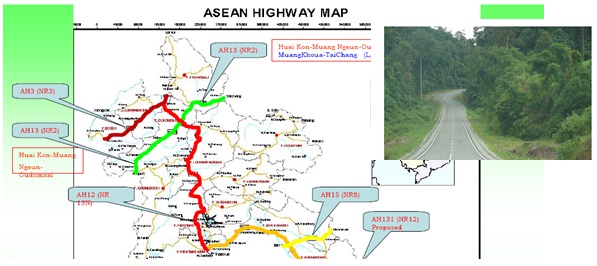 Source: LAO PEOPLE'S DEMOCRATIC REPUBLIC Country Report, 4th Meeting of the Working Group on the Asian Highway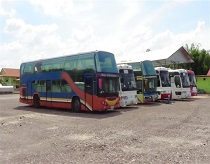 Bus
Luang Namttha – Houay Xay Departure: 9.30 am, arrival: 2.30 pm
The bus station is 2km out of town (and 5 km from the border) the ticket price is 110,000 kip,
The ticket price all the way to Vientiane is 210,000 kip, 18 hrs. And daily sleeper bus Houay Xay to Kunming is 320 Yuan, leaving around 9-10 am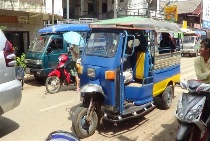 Tuk-tuks
Tuk-tuks are also available around Houay Xay City. These charges 10,000 kip to the border or guest house in town.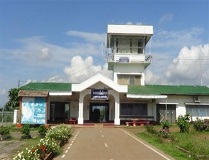 Air
All flights in and out of Huay Xai use Y-12 aircraft. Lao Aviation (312022) has an office in the centre of town off the main street; it's open 8am to 4pm Monday to Saturday.
-       Houay Xay – Vientiane
The airfield, of US construction, lies a few kilometers south of town. Lao Aviation flies between Huay Xai and Vientiane daily (US$88, one hour and 20 minutes).
-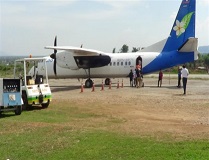 Houay Xay – Luang Prabang
Flights to/from Luang Prabang operate five times a week (US$46, 50 minutes).
-       Houay Xay – Luang Namtha
Four weekly nights scheduled to/from Luang Nam Tha (US$41)
-       Houay Xay – Udomxai
Two flights weekly to/from Udomxai (US$37).
Water way
Ferry
In Chiang Khong, the ferry pier is at the northern end of town for a 30 baht tuk-tuk ride from the bus station. Ferries cross between Chiang Khong, Thailand and Houay Xay for 10,000 kip or 40 baht per person. The small ferries carry only a few passengers and leave as soon as there are more than a couple of people on board. The landing point is near the middle of the town centre.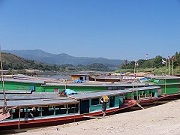 Slow boat
The pier is 1 km north of town, where the truck-carrying ferry barges also dock. The slow boat is mainly used to leave Houay Xay as the journey moving upstream.
Internet and Communications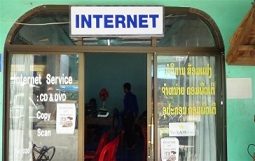 Internet system is well built with easy access with cheap fee. There are several "high-speed" Internet cafés in town. The cost is around 5,000 kip for 20 minutes. Internet package for Thai SIM card is also available. The signals of all Thai GSM networks reach across the Mekong and the locals often use a Thai number phone number in preference to a Lao one. There are many offerings of the Lao telecoms for data SIMs as well. Lao Telecom (M phone) has one offer for 1GB costing 50,000 Kip that has to be used within a month. 3G available (LTC, ETL, STL and IMPELCOM) is cover 5 district of province.

Water supply and gas  
Water supply and gas in the province mostly are sufficient. Houayxai district is fuel-imported; most of domestic oil consumption is imported by 100%.
Source: http://wikitravel.org/en/Houay_Xai
Source: http://www.vietvisiontravel.com/vietnam-vacations+laos-adventure-family+cambodia-vacation-package/pgid/44/aid/5847/
Houayxay Natural Resources
The major tourism assets of Houay Xay are the large protected natural areas and lifestyles of the many ethnic groups living here. The forests support endangered wildlife populations, rich biodiversity and are a source of food, medicine, and housing needs for those who live here.
Precious stones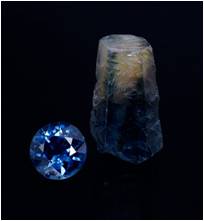 The Royal Mekong Sapphire The major sapphire deposit in Laos is at Huay Xay. Lao sapphire generally ranges up to two carats after cutting, with the majority 3 mm and smaller. Small amounts of yellow, green and black star sapphires are found, in addition to blues. These other varieties constitute less than 1% of production. Accessory minerals include red zircon and black spinel. Traditionally stones are generally sent across the Mekong River for sale in Thailand. At Huay Xai, farming is the economic mainstay of the local communities. In order for mining to be successful, the company must ensure that local farmers are properly compensated.
Source: http://www.ruby-sapphire.com/lao-sapphire-mines-history.htm
Water Resources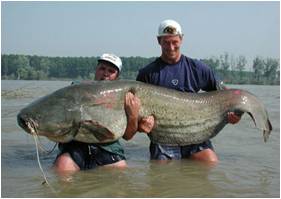 The Mekong River stretch that passes Huay Xai is an important fishing ground for the giant Mekong catfish probably the largest freshwater fish in the world. A pla beuk takes at least six and possibly 12 years to reach full size, when it will measure 2m to 3m in length and weigh up to 300kg. Locals say these fish swim all the way from Qinghai Province (where the Mekong originates) in northern China. In Thailand and Laos its flesh is considered a major delicacy; the texture is very meaty but has a delicate flavor, similar to tuna or swordfish, only whiter in cooler.
Source: http://www.vietvisiontravel.com/vietnam-vacations+laos-adventure-family+cambodia-vacation-package/pgid/44/aid/5847/
Houayxay Financial Services
BANK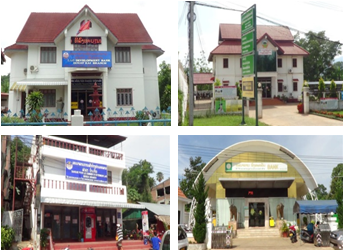 Lao Development Bank (Houay Xay  Branch) Tel: +856-84 21 1492 Fax: +856-84 21 1024
Agricultural Promotion Bank (Houay Xay  Branch) Tel: +856 84 212 115
Phathanlao Bank Branches of Houay Xay, Bokeo province
ST Bank Branches of Houay Xay, Bokeo province
Nayobay Bank
Source:http://th.cybo.com/search/?search=Bank&searchcity=Ban+Houaykang+%E0%B8%A5%E0%B8%B2%E0%B8%A7&pl=ban_houaykang&i=LA&t=c
Procedure for starting a business in Houay Xay
Below is the summary of procedures, time and cost involved in launching a commercial or industrial firm.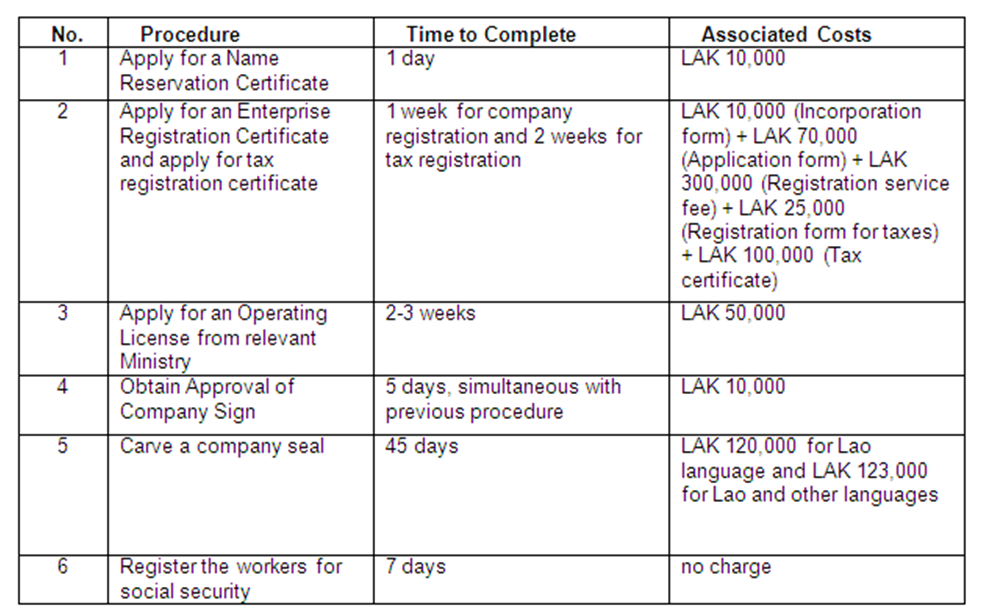 Source: http://www.doingbusiness.org/data/exploreeconomies/lao-pdr/starting-a-business/
Logistic Providers in Houayxay
Houay Xay is a small border town with Thailand and regional economic centre but doesn't have Logistic service company branch. In order to transfer the goods, the business owner might contact Logistic Company in Thailand instead.
Chiangkhong Logistics Co., Ltd.
361 Moo 10 , Chiangkhong-Thoeng Road, T. Wiang A. Chiangkhong, Chiang Rai 57140 Tel: 053-791-000 Fax:053-791-787 Mobile: 084-011-3000 E-mail: [email protected] Website: www.chiangchian-logistics.coc
Chiangkhong Logistics head office is situated in a convenience location near to the crossing bridge to Laos in Chiangkhong district, Chiang Rai., which is connected to China via R3A road.
The company is managed and operated by a group of professional logistics and supply chain managers as well as customs clearance specialists team that will ensure that all shipment operate smoothly with the optimize cost. Chiangkhong Logistics provide variety transportation that specialized in cross border and transit shipment from 4 mains customs points consist of; 1) Chiangkhong Border,            2) Chiangsaen River Port, 3) Mae Sai Border, and 4) Mae Sod Border
Source: http://chiangkhong-logistics.com/index.php?module=main&function=index
T.E.C Logistics Co.,Ltd  (Chiang Khong Branch)
25 Moo 1, Say Klang road, Tambon Vieng, Amplur Chiang Khong, Chiang Rai 57140
Tel: (6653)655-383 Fax: (6653)655-383 Email: [email protected]
T.E.C Logistics Co.,Ltd has served different private sectors, multi governmental projects and international organization delivering the transit cargoes. Besides handling general cargoes, T.E.C. Logistics is also capable to respond heavy and oversized cargoes that need special attention. T.E.C. Logistics delivered cargoes to various destinations in Laos, not only main city but also undeveloped area from 4 mains customs points consist of; 1) Transit customs formalities and clearance for Thai side, 2) Export customs formalities from Thai to Laos, 3) Customs formalities and clearance for Lao side, and 4) Transportation
Source: http://www.teclogistics.net/index.php
Chiang Khong Port (Port Authority of Thailang)
Moo 3, Baan Hoa Vieng,  Vieng Sub-district,  Chiang Khong District, Chiang Rai Province, 57140 Tel/Fax 0-5377-7455 e-mail  : [email protected]
Chiang Khong Port mostly service for small ships from Laos.  Transfer, loading and discharging mainly counts on labors employed by cargo owners. Customers are able to precede customs clearance, immigration, quarantine, and other services conveniently at their office within the same area of Chiang Khong Port
Source: http://www.port.co.th/sitenew/index.php
Houayxay Business Associations
Department of Industry and Commerce
Address: Hauoyxai district , Bokeo Province
Tel: 084 211044
Department of Planning and Investment
Address:  Hauoyxai district , Bokeo Province
Tel: 084 211490
Department of Agriculture and Forestry
Tel: 084 211501
Department of Finance provicail
Address: Hauoyxai district , Bokeo Province
Tel: 084 2110491
Source: http://www.laocci.com/index.php?option=com_content&view=article&id=70&Itemid=70&lang=en