Welcome to Bokeo Province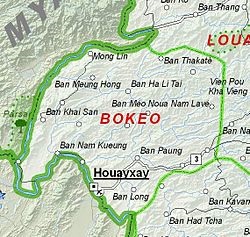 Bokeo is a northern province of Laos. It is the smallest and least populous province in the country, covering an area of 6,196 square kms. (2,392 sq mi). Bokeo province is located in east-west part of the country with a total area of 6,169 KM2. It shares border with neighboring countries and other provinces such as in the west with Thailand (145 km) including 48 km on land and 97 km on the Mekong river; with Myanmar in the north (98 km) on Mekong river; with Luannumtha province in the north-east (100 km); with Oudomxay province (110 km) and in the south with Xayaboury 35 km.
Huay Xai, the capital provincial of Bokeo, sits on the bank of the Mekong River. Several temples in Bokeo built in earlier centuries. Bokeo's economic strength is tourism. Houay Xai is also known as the gateway to explore the rest of Laos, a famous stopover spot for most arrivals before boarding a boat and heading southeast to Pak Beng and Luang Prabang. A trip up north on Bokeo's winding and bumpy roads will lead to Luang Namtha and beyond.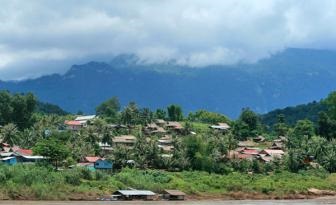 Bokeo is mountainous. The province is regarded as a transit gate between western and northern with the high way R3 considered as sub-regional connecting rout running from Thailand through Bokeo and Luangnumtha reaching China. The province is part of the "Golden Triangle" (at the crossing with Myanmar and Thailand. There are 34 ethnic groups in the province. Houay Xay is the border town with Thailand and regional economic centre.
Source: http://en.wikipedia.org/wiki/Bokeo_Province
Source: Planning & Investment Department of Bokeo province
Why invest in Bokeo Province
A Strategic Location: Situated in the heart of the Golden Triangle, Bokeo province borders Chiang Rai province in Thailand as well as Myanmar.  It can be easily accessed by air, land and river.  Transportation between Chiang Rai and Houay Xay via the Mekong River ferry crossing is very convenient.
Good Policy Framework: The enactment of laws on investment promotion, business, labor and strong policy framework creates an enabling environment for private investments: recently revised decree on investment promotion 2011. Manufacturing, Services, Tourism and Construction sectors are expanding fast.
Comparative and competitive Advantages: Lao PDR. is one of the poorest country but Lao is Eligible for Generalized System of Preferences (GSP) from 42 countries and Normal Trade Relation (NTR) with the USA because it considered as a least developed country. In addition, countries like European Community and Japan have granted Laos trading privileges such as tax exemption on imports where more than 200 listed items are under a special quota. Therefore, Lao products can access the global markets with lower tariffs or completely duty free.
Rich natural resources: Abundant water resources and natural resources including mineral, sources of energy, forests, which could be developed through proper technology and converted to commodities for export into the international markets.
Special economic Zones: The Lao government has conceded to King Romans 10,000 hectares (24,710 acres) of land—3,000 hectares (7,410 acres) of which are dedicated to the SEZ—for 99 years, with the objective of promoting trade, investment and tourism.
Other Incentives: Laos provides investors with various tax incentives including tax exemption, tax holiday, no import tax for raw materials to be processed and re-export and no tax for export.
Source:http://www.rfa.org/english/news/laos/sez-08152013175604.html
Source: http://www.laocci.com/
Investing in Bokeo Province
Bokeo is located on the strategic position which presents a range of new opportunities and challenges. The remote Bokeo Province of Laos becomes a familiar destination for international   adventure seekers and Foreign Direct Investment (FDI) as the new bridge across the Mekong River between Thailand and Bokeo. The most important trade route for the northern side of Lao is the North-South Economic corridor (NSEC), which connects China to Laos and Thailand through Bokeo and Luang namtha provinces and Golden Triangle Special Economic Zone is also located in Tonpheung District, Bokeo.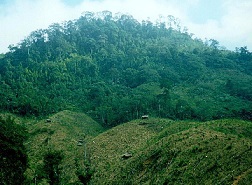 Agricultural and Forestry
Bokeo Province has plenty of productive land, plenty of water resources, suitable land for various tree plantations and high ratio of local farmers. Bokeo is remote and mountainous, sparsely populated and difficult of access.  About half is under forest, with a remarkable flora and an impressive number of endangered animal species. Deforestation and slash-and-burn agriculture have contributed to the establishment of an important bamboo-based secondary vegetation, which dominates large parts of the territory.
Land Area, Forest Area and production Forest

Source: Diagnostic study on Renewable energy Potential and Feasibility in South East Asia, Final Report on Energy Status, Vientiane, November 2005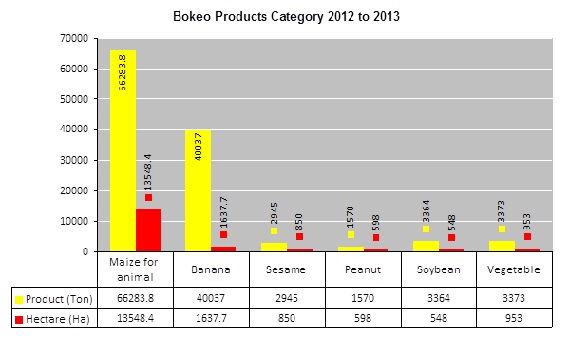 Source: Strategy and Action Plan to Encourage Tourists to Stay Longer and Spend More on the                                              North-South Economic Corridor, Asian Center for Tourism Planning and Poverty Reduction, Luang Namtha & Bokeo Provinces, Lao PDR
Tourism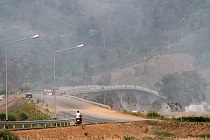 Though a lot of Thais have been visiting Bokeo for a long time, the region has been difficult to access that it has never attracted many visitors from afar. But with the new bridge linking the region to major Thai cities via well-maintained roads, the number of annual tourists is expected to instantly double.
Scenic communities throughout Bokeo are busy preparing for new visitors, construction is underway on a 200-room resort close to the bridge, and that several other large resort projects are anticipated.
The attraction of Bokeo is its rare exotic beauty. It is the smallest and least populous of the country's provinces, and is positively teeming with elephants, tigers, gibbons, and all manner of unusual and endangered tropical species. The Province is mostly a large rainforest woven together with rivers and waterfalls and dotted with ancient, spectacular temples.
The region, and the country as a whole, is already experiencing a sharp rise in tourism. In 2012, around 300,000 people visited Bokeo. In the first six months of 2013, the region hosted around 200,000. Likewise, in 2011 2.7 million tourists visited Laos. In 2012, this number jumped to 3.4 million. The government is shooting for 3.7 million tourists by 2015, which would generate about $500 million in revenue.
Source: http://investvine.com/tourism-in-laos-touring-the-bokeo-wilds/
Bokeo main tourist attractions along the NSEC
Bokeo

Natural

Cultural

Historic

Nam Kan NPA

Lue Weaving in Don Chai

Fort Carnot

Nature and Caves in Pha-Oudom and Muong Pakth

Nam Chang Village

Ancient town of Souvannakhomkham

Gibbon Experience

Ethnic Villages

Jom Khao Manilat Temple

That Pha Kham Temple
Source: Strategy and Action Plan to Encourage Tourists to Stay Longer and Spend More on the
  North-South Economic Corridor, Asian Center for Tourism Planning and Poverty Reduction, Luang Namtha & Bokeo Provinces, Lao PDR
Industry : Manufacturing and Processing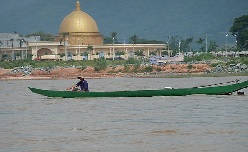 Bokeo is ready to be a Manufacturing base as Logistic advantages from NSEC (linked to Mekong River including Golden Triangle) Low utilities and labor cost and Golden Triangle Special Economic Zone (Located along NSEC)
Source: http://www.laocci.com/
In particular from the Ban Houayxai, Bokeo Province Gold and Silver mine, mining output is also expected to increase. It is expected to produce 100,000 ounces of gold a year and 700,000 ounces of silver annually. Further expansion is expected in copper and potash mines and other minerals.
Source: http://investvine.com/hydropower-mining-boost-laos-growth/
Industrial Establishment by Size and Province

Source: Sida, Regional Development in the Lao PDR, Country Economic Report 2007:3
Tourism Opportunities in Bokeo Province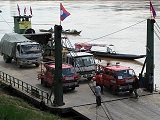 Bokeo is located on the bank of the Mekong River and is known as the gateway to explore the  northern Lao PDR.  It is a stopover for most international arrivals before they board a boat and head down the Mekong to Pak Beng and Luang Prabang. A trip north on the Mekong from Houay Xay usually ends at Xieng Kok, but most travelers select to travel north to Luang Namtha via Route 3.
International tourist arrivals and select indicators in Bokeo, 2004-2008
| | | | | | |
| --- | --- | --- | --- | --- | --- |
| Bokeo Province | 2004 | 2005 | 2006 | 2007 | 2008 |
| No. of  international tourist arrivals | 79,006 | 89,027 | 85,512 | 112,157 | 145,567 |
| Average length of stay | 1 day | 1 day | 1 day | 1 day | 1 day |
| Average daily expenditure in USD | 20 USD | 20 USD | 20 USD | 20 USD | 20 USD |
| Revenue in USD | 1,580,120 | 1,780,540 | 1,710,240 | 2,243,140 | 2,911,340 |
| Percentage of tourists on a package tour | >5% | >5% | >5% | >5% | >5% |
Source: LNTA 2008 Statistical Report on Tourism in Laos, Bokeo PTD Statistical Report and STDP Estimates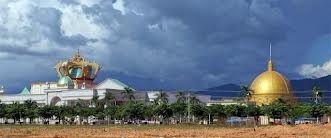 The number of international arrivals at the Houay Xay border checkpoint increased by 30% annually between 2006 and 2008 following completion of R3.  Approximately 70% of international tourist arrivals are Thai and the rest are from European and American markets such as France, UK, USA, Germany and Netherlands. The Bokeo Provincial Tourism Department (PTD) reports there is a casino and hotel development constructed at Tonpheung.  It is a 500-room casino hotel with restaurants and meeting facilities.  A golf course equipped with 300-room hotel is also under construction in Houay Xay.  This will increase Bokeo's capacity to accommodate big groups of visitors and create employment opportunities for the area. A major market, estimated to be more than 60%, is one-day or transit visitors that can be categorized into 2 groups.
a)     One-day visitors who come to visit attractions in Bokeo
This mainly Thai group visits Bokeo for one day and returns to Thailand in the evening without staying overnight.
b)    Transit visitors
This group spends very little or no time and money in Bokeo since their target destination is Sipsongpanna (Xishuangbanna) in Yunnan province of China or Luang Prabang.  A large percentage of tourists are Thais on package tours traveling on the NSEC.
Source: Strategy and Action Plan to Encourage Tourists to Stay Longer and Spend More on
the  North-South Economic Corridor, Asian Center for Tourism Planning and Poverty Reduction, Luang Namtha & Bokeo Provinces, Lao PDR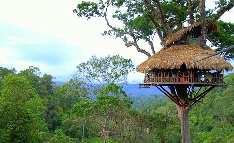 Tourism Products and Activities
Although Bokeo is the smallest province in Lao PDR, it has a large number of interesting ethnic groups.  One-day visitors usually travel around Houay Xay and visit attractions in town or nearby.
A number of visitors who stay overnight in Bokeo participate in "The Gibbon Experience" operated by the private sector in the Nam Kan National Protected Forest. It is an innovative program which provides a rare opportunity to see Black-cheeked Crested Gibbons from a network of canopy huts and zip-lines. Overnight accommodation is located in tree houses high above the forest floor with excellent views of the surrounding Nam Kan NPA.
Existing Tourism Resources/ Attractions in Bokeo Province
Jom Khao Manilat temple was built in 1880 out of teak and is Shan-style, with spectacular painting in bright colours. The temple affords a good view of the town and the Mekong River below, a perfect site especially at sunset.That Pha Kham TempleThis is the oldest and an important temple of Houay Xay.Ethnic village – Ban Khao PunMany villagers' occupation is to produce 'kao pun' or 'rice vermicelli'. The kao pun that is made in Ban Khao Pun village is exported to Thailand at Chiang Kong. A number of Thai tour operators include this in the program.Ethnic village – Ban Yong HinThai Lue Tribe Village features a unique attraction: mobile wooden houses. The Thai Lue people build their houses by placing each stake on top of the stone.Ethnic village – Ban Tom Lao Apart from growing rice and working the land, villagers here produce many kind of alcoholic beverages such as Sa Tor and Kasae.The ancient town of Souvannakhomkham, Located in Muong Tonpheung district 56 km from Houay Xay. These ruins are the remains of a large city from the 14-16th century. There is a Buddha image of 7.11 meters wide and 7.22 meters high, one of the largest in Laos.French GarrisonFrench-built, high-walled fortress clearly visible from the opposite side of the Mekong river, Chiang Kong, Thailand.  It will be open to visitors soon.Muang Bokeo Houay Xay marketMuang Bokeo Houay Xay market is located on Saykhong Road, in the southern part of the town. This presents a good opportunity to observe local lifestyles and is a good place to shop for local products at cheap prices.Nature and CavesIn Pha-Oudom and Muong Paktha, there are hot spring water, windy hole, waterfalls, jungle and wild animals.

Source: Strategy and Action Plan to Encourage Tourists to Stay Longer and Spend More on the  
North-South Economic Corridor, Asian Center for Tourism Planning and Poverty Reduction, Luang Namtha & Bokeo Provinces, Lao PDR
Bokeo Province Macro Economic Indicators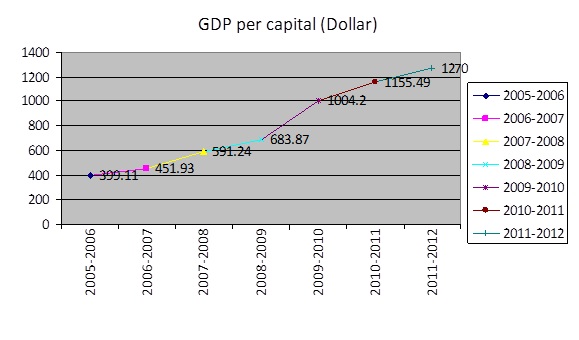 Gross Domestic Product (GDP) 2005 to 2012 (Dollar)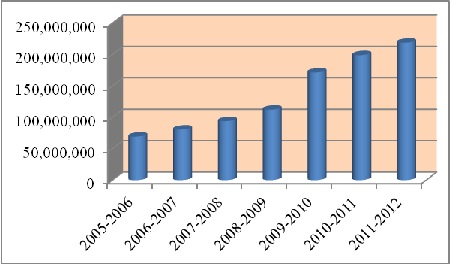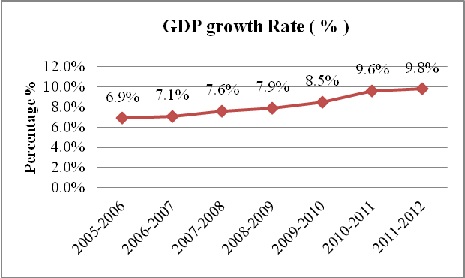 Source: Planning & Investment Department of Bokeo province
Bokeo Province Infrastructure
Road network
The road system inside and outside the city is being continually expanded and newly built. The main road is (R3A) connecting Chiangkhong – Houyxai – Luang Natham, which connects Chiangkhong (Thailand) -Houyxai (Bokeo) – China at Boten-Mohan border. This route is supporting in cross-border trade mainly between Thailand and China.
Route No. 3 (NSEC) linking Bokeo and Luang Namtha Provinces to China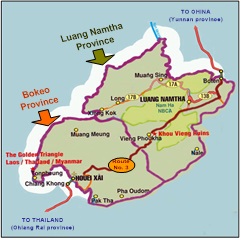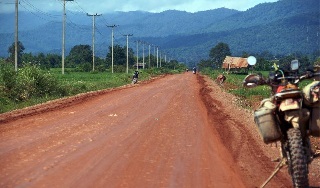 Of the road network of Bokeo province, only 5% of the mileage is asphalted; the bulk (65%) consists of roads surfaced with gravel or laterite, usually allowing circulation year round, except during heavy rains, when traffic might be temporarily suspended. However, most of these roads are in bad condition and need rehabilitating to be fully eligible for the "all-weather road" designation. The remaining 30% of roads are "stripped roads" (earthen tracks), which are normally impassable during
the rainy season.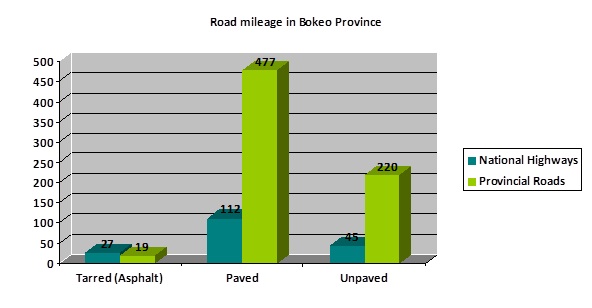 NOTES: (1) Paved road refers to road with a gravel or laterite surface, not asphalt.
(2) Unpaved roads are earth, with surface stripped.
SOURCE: CTPC Services, Bokeo Province
Along these roads, several transport modes operate regularly, i.e., pick-ups, passenger vehicles, and trucks for the transport of goods. The transport of passengers is ensured by private operators, who are grouped into an association established in Houay Xai under the supervision of the Department of
Communications Transport Post and Construction (DCTPC). The association consists of 207 members, who each own one vehicle. Among the 207 vehicles officially authorized to transport passengers 86 are meant for rural transport. The remaining 121 vehicles are Tuk-Tuk and tricycles that travel only in the town and its immediate surroundings.
Besides vehicles used for people transport, there are about 120 Lorries and trucks in the province, which can be used for the transportation of goods as well as for construction work.
Public transport routes in Bokeo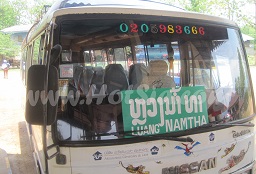 During nine months of the year (October-June), public transport is ensured on a daily basis to six major destinations, along four different routes (north, northeast, east and south). For the three other months (the rainy season) some of the destinations are very difficult to reach and the public transport service virtually comes to a standstill. During that period, if weather permits, public transport will only depart from Houay Xai if the vehicle is fully booked and if the passengers agreed to pay a significantly higher fare than during the dry season, to compensate for the "hardship" and the extra time involved.
Route No.

Destination

Direction

Mileage (km)

Districts

Route 1

Houay Xai – Nam Keung Kao – Thongpeung

North

58

Thongpeung

Route 2

Houay Xai – Ban Dan – Ban Peuk
Houay Xai – Pak Tha – Pha Oudom
South
32
86
Houay Xai
Pak Tha and Pha Oudom
Route 3
Houay Xai – Ban Poung – Nam Choam
Houay Xai – Nam Gnou Special Zone –
Muang Meung
Northeast
34
90
Houay Xai
Nam Gnou Special Zone, Muang
Meung
Route 4
Houay Xai – Thapa – Luang Namtha
East
NOTES: Destinations in italics indicate places with difficult access during the rainy months (July to September)
SOURCE: Houay Xai Transporters Association
Electricity
22 kv systems are operated by Electricite du Laos (EDL) branch offices in order to import energy from the provincial electricity authority of Thailand at Houay Xay in Bokeo Province.
River network
The navigable river network consists mainly of the Mekong River, which is used year round for transporting both people and goods. Navigation on the Mekong remains hazardous, especially in the dry season, due to the numerous rapids and shallows.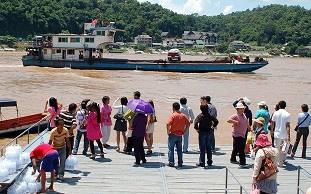 Despite navigation difficulties, especially in the dry season, the Mekong remains the main communication axis for trade between the four countries of the economic quadrangle, i.e., China PR, Lao PDR, Myanmar and Thailand. To the south, the Mekong river is also widely used for the transport of people and freight between Luang Phabang and Bokeo province. In addition, the Mekong River serves as a bridge between Bokeo and northern districts of Thailand – Chiang Saen and Chiang
Khong – enabling border trade to flourish.
Navigable waterways of Bokeo Province
| | | | | | | | |
| --- | --- | --- | --- | --- | --- | --- | --- |
| Route No. | Destination | River | Distance | Wet Season | Dry Season | Rapids | Shallows |
| Route 1 | Luang Phabang – Golden Triangle | Mekong | 362 km | Max: 80 t | Max: 20 t | 12 | 1 |
| Route 2 | Golden Triangle – Chinese Border | Mekong | 230 km | Max: 80 t | Max: 50 t | 8 | 4 |
| Route 3 | Pak Tha – Pakhat – Nam Tha | Nam Tha | 200 km | Max: 2 t | Not navigable | Unknown | Unknown |
SOURCE: CTPC Services, Bokeo Province
Several types of boat operate along these waterways, transporting either passengers or freight. For the movement of persons, the most common boat is the speedboat (6-8 persons), while, for goods, small boats (maximum 5 ton) and big boats (up to 100 ton) are widely used. In the province as a whole, the number and type of boats registered for public transport are shown in Table below
Type and number of boats registered in Bokeo Province
| | | | | |
| --- | --- | --- | --- | --- |
| Type of Boat | Passenger capacity | Number of boats | Freight capacity | Number of boats |
| Speedboats (Mekong river) | 6-8 persons | 216. | | |
| Slow boats (Houay Xai – Luang Prabang) | 50 persons | 25 | Max: 100 t | 42 |
| Ferry boats (passenger) (Houay Xai – Chiang Khong) | 8-10 persons | 66 | | |
| Ferries (freight) (Houay Xai – Chiang Khong) | | | Max: 150 t | 2 |
| Total | | 307 | | 44 |
SOURCE: CTPC Services, Bokeo Province.
Estimated annual passenger traffic in Bokeo Province
Transport Mode

Destination

Passengers

Boat

Houay Xai – Chiang Khong
Houay Xai – Luang Prabang
Nam Keung – Thongpeung – Mung Mom
60 000
50 000
15 000
Road
Six destinations in Bokeo (Pak Tha & Pha Oudom; Muang Ngou; Num Meung; Thongpeung; Ban Peuk; Nam Choam)
80 000
Total
205 000
.
SOURCE: CTPC services of Bokeo Province, Transporters Association (Houay Xai, Thongpeung)
Bokeo freight costs and passenger fares
Although all five districts of Bokeo are connected to Houay Xai by road, travel becomes difficult from July to September, and comes to a complete standstill during heavy rains. Ease of access varies throughout the province, and some districts are more accessible than others. Considering distance and passenger fares, the least accessible districts are Muang Meung and Pha Oudom, followed by Pak Tha, Nam Gnou Special Zone and Thongpeung.
From Houay Xai to:

Distance (km)

and direction

Freight cost (average

wet/dry season) (kip/t)

Passenger Fares (average wet/dry season) (kip)

Road

Road + Boat

Boat Only

Thongpeung

58 (north)

130 000

27 500

28 000

40 000

Nam Gnou
Special Zone
5 (northeast)
200 000
35 000
n.a.
n.a.
Pak Tha
54 (south)
200 000
45 000(2)
n.a.
20 000
Pha Oudom
86 (southeast)
300 000
66 000(2)
46 000(1)
n.a.
Muang Meung
90 (northeast)
400 000
72 500(2)
n.a.
n.a.
NOTES: (1) Only in the wet season. (2) In rainy season, weather permitting.
SOURCE: Houay Xai Transporters Association
Bokeo Province Demographic Profile
Its population was 145,000 in 2007, in 36 townships, more than 400 villages. With 34 ethnic groups (including Akha, Hmong, Khamu, Kalom, Kui, Lamet, Lao Huay, Mien, Musoe, Ngo, Phai, Phu Thai, Phuan, Phuvan, Samtao, Shan, Tahoy, Thai Daeng, Thai Dam, Thai Khao, Thai Lu, Thai Nai, and Chinese),
The province's ethnic diversity is ranked second in the country, after Luang Namtha Province. Most numerous though are the Lanten, Hmong, Lahu, Yao, Akha, and Tai Lue peoples. The Lahu, a Tibeto-Burman speaking people who are part of ethnic group of northern Myanmar and Thailand also inhabit this province in large numbers.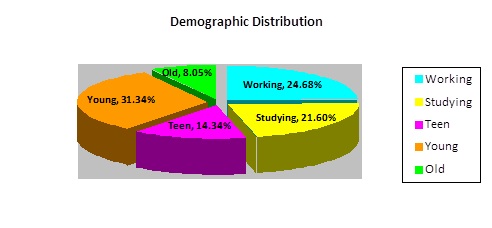 Source: Statistic Section of DPI Bokeo
Bokeo Province Natural Resources
Forest Resources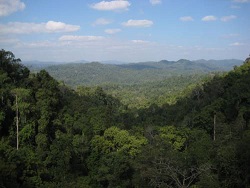 The Bokeo Nature Reserve was created as protection for the Black crested gibbon (also known as "black-cheeked gibbon"), discovered in 1997, previously thought to be extinct. Elephants and wild water buffalo migrate through the reserve; bears and tigers are also present. The protected area is characterized by a mix-deciduous forest and mountainous terrain (elevation ranging between 500-1500m). The total area covered by the reserve is 136,000 ha covering the 66,000 ha in Bokeo Province with where critically endangered species of Western Black Crested Gibbon Nomascus concolor as the prime species brought under protection. According to a preliminary survey the number of gibbons in Nam Kane is substantial, particularly in and around the uninhabited Nam Kan River and its tributaries. This project is being supported and implement by Animo by the French entrepreneur Jean Francois Reumaux as a Gibbon Experience Project.
Mekong River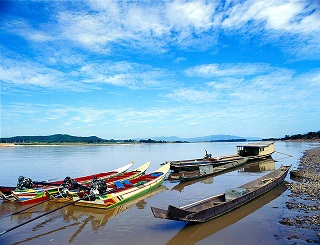 Accessed at Tonpheung, Meung, Houay Xay and Paktha Districts, Bokeo Province
The Mekong River runs along the western border of Bokeo Province. It is an important waterway and source of fish and other food for local peole. Chinese cargo and tourist boats come as far south as Chiang Saen on the Thai border. Lao cargo boats and tourist boats mainly carry people and goods between Houey Xay and Luang Prabang.  The legendary Pla Beuk or Giant Mekong Catfish is caught at Houay Xay . This is probably the largest freshwater fish in the world and takes between 6-12 years to mature reaching 2-3 metres long and weighs between 200-300 kilograms.  Fish are caught between April and May when they swim upriver to spawn in Lake Tali, Yunnan.  The catch has diminished over the years, and it is unclear whether this is due to over fishing or blasting of rapids and subsequent destruction of underwater crevices used for breeding.  The Thai Fisheries department has been carrying out a breed and release program with some success, and pla beuk are successfully farmed in central and northern Thailand. Currently the wild catch-quota is two fish per year for Thailand and Laos combined.
Local Products
Tea is grown in the province, and wild honey is harvested. There are some well-established noodle villages near Houay Xay (e.g. Ban Nam Kok and Ban Nam Kheung) that are easily accessible and a pleasant trip. Bokeo Social Enterprise is developing a number of high quality products, including organic sugar, herbal tinctures, cosmetics and ginger candy.  The company plans to sell these to the European market and is also considering supplying suitable local retail shops.
Tea

The provincial government granted two companies control over the production and marketing of tea in Meuang. Saengphet company (Lao company located in Oudomxay) set up a processing facility in Tor Lae to process tea collected in and around that village, while Minggui company (Chinese company based in Luang Nam Tha) set up a camp of tea collectors to collect older tea from remote areas. The Tor Lae processing facility has a capacity of 1,000 kg of tea per day. Minggui company's original plan was to set up an integrated tea production and ecotourism operation, which seems to have been attractive to the district government. At the time, processed commercial tea was fetching prices of 400,000-500,000 kip in China. Three levels of tea quality were identified in Meuang, based on tree age.
Map of Tea Area in Meuang Mung, Bokeo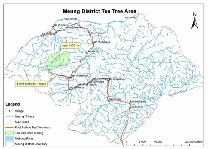 Resource: URDP Field Report #0901 Developing Tea in Muang Moeng, Bokeo Province August 2009
Maize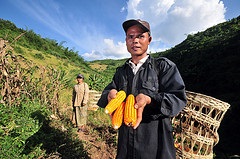 Maize is produced under verbal contract with a Thai import firm by approximately 600 households with a total cultivation area of 1,136 ha. The firm supplies contracted farmers with inputs including seed, fertilizer, and credit. The maize is grown in accordance with government regulations.
Source:http://www.adbi.org/discussion-paper/2008/02/25/2492.rice.contract.farming.in.lao.pdr/contract.farming.in.the.lao.pdr/
Rubber
Bokeo has a relatively short history in rubber contract farming. Its rubber sector is dominated by large, formal Chinese investors partly because, except for the Hmong communities that were influenced by and benefited from ties to Hmong rubber villages in Luang Namtha, individual Chinese investors have a weaker presence in Bokeo than Luang Namtha due to the greater distance to China.
Formal Chinese Rubber Company in Bokeo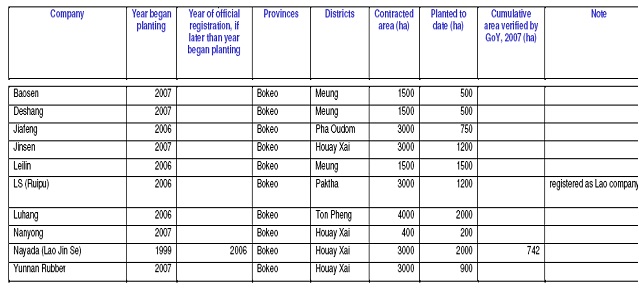 Source: PAFO data is extracted from Shi (2008)
Handicrafts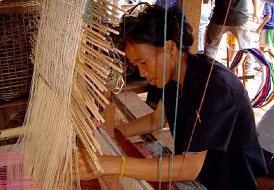 In Ban Don Chai village near Luang Namtha province, Lamet, Hmong and Tai Lue people work together as part of the Bokeo Handicrafts Collective. The Hmong are skilled at various textile arts, including hemp production, beeswax batik printing and indigo dyeing. They are particularly well-known for their meticulous and precise decorative embroidery and appliqué. Traditionally these skills are used to adorn clothing, especially for occasions such Hmong New Year. These days however, inventive Hmong women use their skills to create purses, toys, ornaments and other goodies.
Mineral
Laos has a variety of undeveloped mineral resources. The Government recognized mining as a critical sector of the economy and continued to support development of the sector by promoting domestic and foreign investment. Bokeo's major mineral industry facilities are listed in table below.
BOKEO: STRUCTURE OF THE MINERAL INDUSTRY IN 2010
(Metric tons unless otherwise specified)
Major operating companies

and major equity owners

Location of main facilities

Annual capacity

Bokeo Mining Co. Ltd.

Bokeo Province

300,000

Buhae Industrial Corp.

Houaxay District, Bokeo Province

500,000
Resource: USGS 2010 Minerals Yearbook U.S. Department of the Interior U.S. Geological Survey LAOS [ADVANCE RELEASE]
Bokeo Province Economic Zones
Profile
Location: Bokeo Province                      Area: 3,000 ha
Establishment: 2007                              Land Tenure: 50 years
Total Investment: 86,600,000 USD          Developer: Government + Private (Chinese)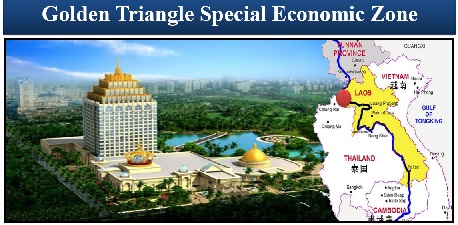 Golden Triangle Special Economic Zone is located in Tonpheung district and borders Thailand and Myanmar. It is also close to the Chinese border, making it easier for the developer to attract Chinese tourists and investors. It has built a 40 km concrete road , a 6 km embankment from Donsao to Khuan villages, a 4,800 cubic metre water supply, a 27 km power line, and accommodation for 1,200 employees. The company has also built seven hotels containing 600 rooms, a casino, horse race track, livestock farm, a zoo and gardens, a commercial centre, a brick factory and a concrete factory.  Even though development had not yet reached the halfway point, the zone had been able to attract foreign investment and tourists, generating a large amount of foreign exchange.
Source: http://www.investlaos.gov.la/show_encontent.php

Investment Projects
1. Construction of Economic Infrastructures.
2. Agriculture, Livestock, Manufacture Industries.
3. Hotel and Residential Area.
4. Tourism and Special Colorful Display.
5. Golf field.
6. Educational Institution and Health Treatment Center.
7. Business and International Trade Area.
8. Development of Real Estates.
9. Banking, Insurance and Financial Institution.
10. Post, Telecommunication, Internet, Advertisement and Printing.
11. Transportation of Goods and Passenger.
12. Development of Tourism and Entertainment Zone.
13. Restaurants and Bars.
14. Warehouse, Duty Free Shop and Duty Free Area.
Why SEZs in Bokeo Lao?
Provide attractive land concessions of up to 99 years (with possible extension) + 10 years tax holiday;
Developer (Foreigner) may be the Chairman of the Economic Board of Directors for the SEZ
Have full authority in managing economic and financial management
Developer can design their own development within the area, lease fee, etc
Foreign investors in SEZs receive special privileges such as: Tax holiday for a 10 year period;  Tax incentives on vehicles, raw materials, etc;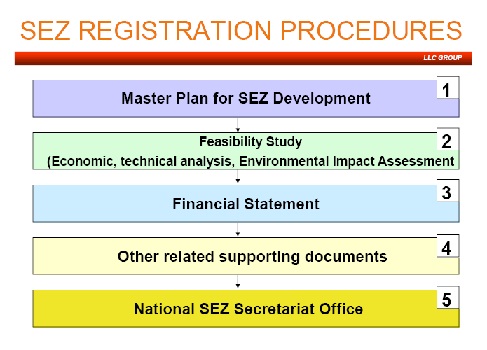 Source: LAO LAW & CONSULTANCY GROUP, Special Economic Zones of Laos
Bokeo Province Financial Services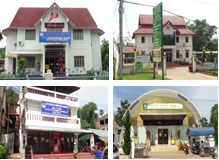 BANK
1. Lao Development Bank (Houay Xay  Branch)
Tel: +856-84 21 1492 Fax: +856-84 21 1024
2. Agricultural Promotion Bank (Houay Xay  Branch) Tel: +856 84 212 115
3. Phathanlao Bank
Branches of Houay Xay, Bokeo province
4. ST Bank
Branches of Houay Xay, Bokeo province
5. Nayobay Bank
6. Lao Development Bank (Tonpheung District Service Unit)
Khornkeo Bokeo
Fax +856-84 21 1492
Tel & Fax +856-84 21 2194
Mobile Phone +856-20 2238 0888
Source:http://th.cybo.com/search/?search=Bank&searchcity=Ban+Houaykang+%E0%B8%A5%E0%B8%B2%E0%B8%A7&pl=ban_houaykang&i=LA&t=c
Logistic Providers in Bokeo Province
Bokeo is a small border province with Thailand and regional economic centre but doesn't have Logistic service company branch. In order to transfer the goods, the business owner might contact Logistic Company in Chiang Khong, Thailand instead.
1. Chiangkhong Logistics Co., Ltd. 
361 Moo 10 , Chiangkhong-Thoeng Road, T. Wiang A. Chiangkhong, Chiang Rai 57140 Tel: 053-791-000 Fax:053-791-787 Mobile: 084-011-3000 E-mail: [email protected]
Website: www.chiangchian-logistics.coc
Chiangkhong Logistics head office is situated in a convenience location near to the crossing bridge to Laos in Chiangkhong district, Chiang Rai., which is connected to China via R3A road.
The company is managed and operated by a group of professional logistics and supply chain managers as well as customs clearance specialists team that will ensure that all shipment operate smoothly with the optimize cost. Chiangkhong Logistics provide variety transportation that specialized in cross border and transit shipment from 4 mains customs points consist of; 1) Chiangkhong Border,            2) Chiangsaen River Port, 3) Mae Sai Border, and 4) Mae Sod Border
Source: http://chiangkhong-logistics.com/index.php?module=main&function=index
2. T.E.C Logistics Co.,Ltd  (Chiang Khong Branch)
25 Moo 1, Say Klang road, Tambon Vieng, Amplur Chiang Khong, Chiang Rai 57140
Tel: (6653)655-383 Fax: (6653)655-383 Email: [email protected]
T.E.C Logistics Co.,Ltd has served different private sectors, multi governmental projects and international organization delivering the transit cargoes. Besides handling general cargoes, T.E.C. Logistics is also capable to respond heavy and oversized cargoes that need special attention. T.E.C. Logistics delivered cargoes to various destinations in Laos, not only main city but also undeveloped area from 4 mains customs points consist of; 1) Transit customs formalities and clearance for Thai side, 2) Export customs formalities from Thai to Laos, 3) Customs formalities and clearance for Lao side, and 4) Transportation
Source: http://www.teclogistics.net/index.php
3. Chiang Khong Port (Port Authority of Thailang)
Moo 3, Baan Hoa Vieng,  Vieng Sub-district,  Chiang Khong District, Chiang Rai Province, 57140 Tel/Fax 0-5377-7455 e-mail  : [email protected]
Chiang Khong Port mostly service for small ships from Laos.  Transfer, loading and discharging mainly counts on labors employed by cargo owners. Customers are able to precede customs clearance, immigration, quarantine, and other services conveniently at their office within the same area of Chiang Khong Port
Source: http://www.port.co.th/sitenew/index.php
Bokeo Province Business Associations
1. Department of Industry and Commerce
Address: Hauoyxai district , Bokeo Province

Tel: 084 211044
2. Department of Planning and Investment
Address:  Hauoyxai district , Bokeo Province
Tel: 084 211490
3. Department of Agriculture and Forestry
Tel: 084 211501
4. Department of Finance provicail
Address: Hauoyxai district , Bokeo Province
Tel: 084 2110491
5. Golden Triangle Special Economic Zone
Address: Tonpheung District, Bokeo Province, Lao PDR
Tel: (856-20) 55518888
Fax: (856-84) 219009
Email: [email protected]
Website: www.laosez.com