Welcome to Luang Namtha Province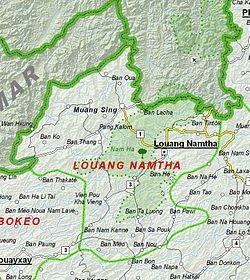 Luang Namtha
 (Lao , literally "Royal Sugar Palm" or "Royal Green River") is a northern province of Laos, bordering on China and Myanmar. The province's combination of environmental, social, historical and development factors has made it a great location to develop sustainable cultural and eco-tourism initiatives. Luang Namtha covers an area of 9,325 square kilometers with more than 85% mountainous with 59% covered by dense forests. The province is divided into 5 administrative districts including Namtha, Nale, Vieng Phoukha, Long and Sing; its provincial capital is Luang Namtha. The province borders with Yunnan, China to the north, Oudomxai Province to the east and southeast, Bolikhamsai Province to the southwest, and Kachin State, Burma to the northwest. The area characterizes a generally mountainous landscape interwoven with valleys of paddy rice and riverbeds. The Nam Ha National Biodiversity Conservation Area is located in this province and is one of the main sugar cane and rubber producing areas of Laos.
Source:http://en.wikipedia.org/wiki/Luang_Namtha_Province
Investing in Luang Namtha Province
Luang Namtha is located on the strategic position which presents a range of new opportunities and challenges. The most important trade route for the northern side of Lao is the North-South Economic corridor (NSEC), which connects China to Laos and Thailand through Bokeo and Luang namtha provinces.
The main industries of Luam Namtha are:
-Agro based industries
- Wood processing
- Lignite
- Copper mining
- Handicraft production
-Transportation
- Tourism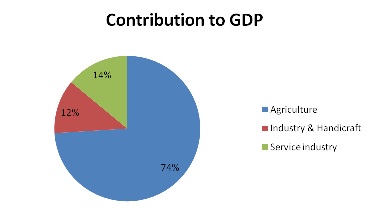 In terms of employment, , most of the population  are engaged in agriculture, rice cultivation, corn, vegetables, cassava and peanuts. Forest products such as bamboo shots, mushrooms, rattan, cardamom and ginger are also key sources of income for the rural population
Source: Diagnostic study on Northern uplands sustainable development, SWGUp
Unesco IMPACT series Luang Namtha
Maize, Vegetable and Starchy root Production statistics by province from 2006
Province

Feed Maize

Vegetables

Starchy Roots

(ha)
(ton)
(ton/ha)
(ha)
(ton)
(ton/ha)
(ha)
(ton)
(ton/ha)
Luang Namtha
1.875
7.155
3.82
1,230
10,165
8.26
1,690
11,820
6.99
Northern Region
95,830
389,510
4.06
25,070
171,020
6.82
17,090
174,190
10.19
Lao PDR
113,815
449,945
3,95
88,835
669,200
7.98
29,215
284,200
9.73
Source: Diagnostic study on Northern uplands sustainable development, SWGUp
Peanut, Cassava, and sesame production statistics by province from 2006
Province

Peanut

Cassava

Sesame

(ha)
(ton)
(ton/ha)
(ha)
(ton)
(ton/ha)
(ha)
(ton)
(ton/ha)
Luang Namtha
120
160
1.33
1,470
10,200
6.94
300
300
1.00
Northern Region
6,595
9,880
1.50
12,810
137,340
10.72
14,635
14,380
0.98
Lao PDR
18,835
27,600
1.50
16,880
174,490
10.34
15,420
14,840
0.96
Source: Diagnostic study on Northern uplands sustainable development, SWGUp
1. Cassava
Cassava is an important crop occupying 76% of planted area and producing 79% of the total country production. Luang Prabang is a major producer in the north, while Luang Namtha makes a significant contribution.
2. Rubber
Rubber is emerging as the most important commercial tree crop in the northern region since plating started in this district in 1994. Rubber planting was introduced in the early 1990s by the French, but never achieved a great success. The "boom" only happened by high demand for rubber from neighboring China and Thailand for rubber. Luang Namtha has approximately 20,000 ha of rubber plantation by 2010.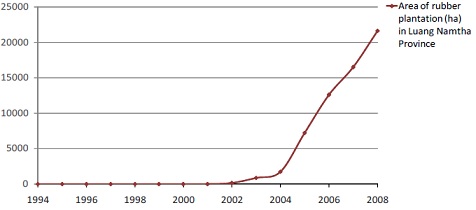 Source: Rubber Development in Lap PDR: Ensuring sustainability, July 2009
From 1994 to 2002, the rubber area in Luang Namtha remains insignificant. The rubber boom only happened after 2002, the rubber area increased 165 times up to 216 kilometer square.
Compared to southern provinces, Luang Namtha has relatively few concessions. The province promotes "2+3" contract farming model, it means villagers provide land and labor and investors contribute capital, technique and market access. The profit sharing scheme of 70% for villagers and 30% for companies. However, several factors have contributed to the prevalence of "1+4" (companies are responsible for the entirety of plantation management for the first several years and villagers contribute only land, in exchange for 30% of the future plantation and current wages) in reality.
Lao produced rubber are exported to China.. Although China's strong demand is expected to continue, due to China's recent aggressive efforts to promote rubber plantation abroad. Luang Namtha province, with its proximity to China is under the direct and immediate influence of Chinese market forces. China high demand of rubber is filled with import.
Source: Rubber Boom in Luang Namtha: A Transnational Perspective, 2008
China Natural Rubber Production Vs. Import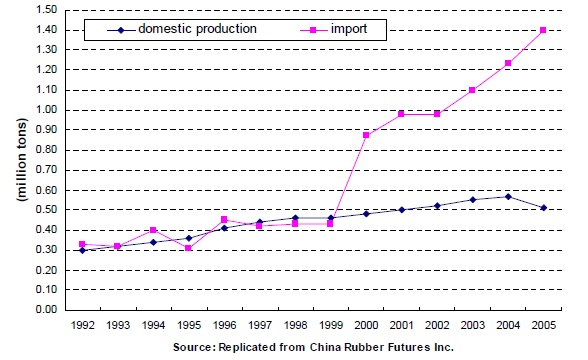 Rubber Companies in Luang Namtha
Compnay
Official Registration
Districts of Operation
Contracted area (hA)
Arrangements*
Yunan Rubber
2006
Namtha, Long
166,667 hA in 4 provinces
Concession (214 hA) and contract farming (v30%/c70%)
Ruifeng
2006
Long
300,000
Concession through military
Diyuan
2006
Long
17,500
Contract farming (V30%/c70%)
Shengli
2004
Sing
2,000
Contract farming turned demonstration
Tongly-Jinggu
(joint venture)
Sing, Long, Namtha, Viengphukha
6,350
Contract farming with varied splitting percentages
Saiphajan (Lao)
2006
Long
1,050
Contract farming with varied splitting percentages
Zhenhua
2004
Viengphukha
3,000
Contract farming (v30%/c70%) or (v61%/c39%)
Jiachuang
2005
Nalee
2,000
Contract farming (v65%/c35%)
Taijang
2006
Namtha
1,004
Contract farming (v65%/c35%)
Source: Rubber Boom in Luang Namtha: A Transnational Perspective, 2008
According to Luang Namtha Provincial Agriculture and Forestry Office, around 15 Chinese rubber companies have established offices in the province, although they operate in many provinces in the north. The majority of these companies are private companies with support from Chinese Government through opium replacement subsidies.
In the 1990s, the Agricultural Promotion Bank managed funds issued by the Luang Namtha Government for low-interest loans for rubber development, but presently the bank has no specific funds or policies for rubber.
Source: Rubber investments and market linkages in Lao PDR: Approaches for sustainability, 2009
Investment Procedure in Luang Namtha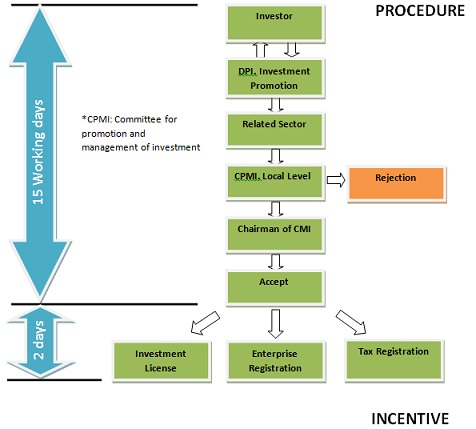 | | | | |
| --- | --- | --- | --- |
| Zone | Profit Tax Exemption | Reduced Tax Rate | Full Tax Rate |
| 1 | First 7 years | - | 10% |
| 2 | First 5 years | Year 6 – 8: 7.5% | 15% |
| 3 | First 2 years | Year 3 – 4: 10% | 20% |
Source: Rubber Development in Lap PDR: Ensuring sustainability, July 2009
3. Tourism Industry
Luang Namtha is rich of natural tourism sites, historical sites, and cultural sites. There are 72 tourism sites altogether: 26 natural sites, 12 historical sites and 34 cultural sitesThese are spread out in various districts in Luang Namtha province. Over 85% of the province's area is mountainous, with 59% of this landmass covered by dense forests (Luang Namtha Office of Information and Culture, 1999)
Luang Namtha has been a large destination for tourism since 2004. Since 2002, eco tourism has progressed to become important economic activity in the province, and the community-based ecotourism programme developed by the Nam Ha Ecotourism Project has been adopted as national model after being awarded several international awards. Nam Ha National Protected Aread becomes the main tourist attraction. In addition, airports will be upgraded for tourism services.
Ecotourism Products in Luang Namtha (2006)
Tour Types
No.of Tours
Operators (No.of Tours)
Trekking
19
Muang Sing Guides (5)
Nam Ha Ecoguides (5)
Vieng Poukho Ecoguides (3)
Green Discovery (5)
Vientiane Travel and Tour/Exotissimo (1)
River
6
Green Discovery (5)
Nam Ha Ecoguides (1)
Cave tour
2
Vieng Poukho Ecoguides (2)
Waterfall/forest walk
2
Ban Nam Dee (1)
Muang Sing Guides (1)
Mountain Biking
5
Green Discovery (5)
Cultural industries
3
Ban Piengnam (1), Ban Nam Lue (1), Ban Tong Jai (1)
Village homesay
2
Ban Khone Kham, Ban Chalensouk (2)
Total
39
Source : Luang Namtha Provincial Tourisim Department
The number of tourists visiting Luang Namtha has increased from 4,732 in 1995 to 18,600 in 1998 (Luang Namtha Tourism Office, 1998). Presently there are 19 in Namtha district, 12 in Muang Sing, 2 in Vieng Phoukha and 4 in Muong Long. The cost of overnight accommodations ranges from 5,000 – 50,000 Kip. These establishments often have attached restaurants serving Lao and some basic western food. Electricity is available from 6 – 10pm in the Luang Namtha city, 6 – 9pm in Muang Sing town and dependant on privately owned generators in Vieng Phoukha and Muong Long.
The majority of tourists (97%) reported that they traveled overland to reach the destination, with the most popular departure point being Houi Xai (43%) followed by Vientiane (38%). Houi Xai and Vientiane are also the most popular exit point (43% and 31% respectively).
The average number of days tourists planned to spend in Laos ranges  from 2-60 days, with the average length of stay in the Luang Namtha – Muang Sing area being 4 days. The mean daily expenditure is US$9, indicating the group will spend an average of US$207 per person during their stays.. As reported, there are 30 ethnic groups residing in Luang Namtha, making it the most diverse province in the country.
Tourist's Main Reasons for Visiting Luang Namtha
| | |
| --- | --- |
| Nature> | 66* |
| Monuments & Museums | 6.1 |
| New destination | 43.5 |
| Ethnic minorities | 67.9 |
| Culture | 50.4 |
| Food | 11.5 |
| Handicrafts | 15.3 |
| Other | 13.0 |
*Percent
Source: An Assessment of International Tourists in Luang Namtham Lao PDR
List of handicrafts in Luang Namtha province
1.      Akha Clothing and Vine String Shoulder Bags: Ban Nammat Mai, an Akha village in Luang Namtha district, produces elaborate traditional Akha costumes by hand as well as unique vine string shoulder bags.
2.      Hmong Bags in Ban Nam Hoi: Ban Nam Hoi, a small Hmong village located in the Luang Namtha Valley , produces small bags convenient for carrying money, small books, and water bottles.
3.      Hmong 'Kaen' (flute) & Traditional Hmong Clothing: The traditional Hmong flute, called the 'kaen' in Lao, is typically used in New Year's celebrations and funeral ceremonies and can be found handmade in Ban Tha Luang village in Vieng Phoukha District.
4.      Khmu Handicrafts in Vieng Phoukha: Many Khmu villages in Vieng Phoukha District produce a variety of unique handicrafts, including shoulder bags, baskets, bamboo items and traditional clothing.
5.      Lanten Crafts in Luang Namtha: The Lanten people of Luang Namtha Province produce a variety of unique handicrafts including natural paper, traditional outfits, shoulder bags, jewelry, masks and others.
6.      Muang Sing Handicraft Market: The Muang Sing Handicraft Market offers a variety of locally produced handicraft by Tai Dam (Black Tai), Hmong and Akha ethnic people from nearby villages.
7.      Tai Daeng Silk Production and Weaving in Ban Piengnam: Ban Piengnam, a Red Tai (Tai Daeng) village in Luang Namtha district, produces raw silk and makes a variety of handmade silk and cotton products.
8.      Tai Dam Silk Production and Weaving in the Luang Namtha Valley: Tai Dam Villages of in the Luang Namtha Valley produce high quality handmade silk and textiles, which are sold throughout Laos and the region.
9.      Yao Handicrafts: The Yao Women's Handicraft Association of Muang Sing produces a variety of traditional Yao handicrafts, including natural paper, Yao hats, and traditional women's head cloths and clothing.
Source: http://www.guide-to-luangnamtha.com
Tourism Arrivals in Luang Namtha, 1999 – 2007
| | | |
| --- | --- | --- |
| Year | Tourism Arrivals | Growth Rate |
| 1999 | 20,700 | |
| 2000 | 24,700 | 19.3% |
| 2001 | 41,701 | 68.8% |
| 2002 | 19,319 | -53.6% |
| 2003 | 29,720 | 53.8% |
| 2004 | 41,658 | 40.1% |
| 2005 | 49,258 | 18.2% |
| 2006 | 47,788 | -2.9% |
| 2007 | 88,427 | 85% |
Source: Unesco IMPACT series Luang Namtha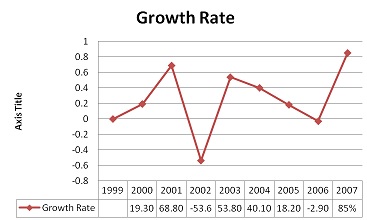 The accommodation sector in Luang Namtha is currently drawing the most foreign and domestic investment, with international investors securing permission in 2007 to construct a three-star, 200 room property in the main town. This is the first large hotel in Luang Namtha town. At present the 61 existing Lao-owned guesthouses and three hotels in the province have a total of only 671 rooms (Lao National Tourism Administration, 2007a), with an additional 266 rooms opened during the first stage of construction at Golden Boten. Neither Muang Sing nor Vieng Phoukha has a lodging establishment with more than 25 rooms.
| | | |
| --- | --- | --- |
| Type of establishment | 2005 | 2006 |
| Hotel | 3 | 3 |
| Guesthouse and resort | 47 | 61 |
| Restaurant | 10 | 44 |
Source: Lao National Tourism Administration, 2007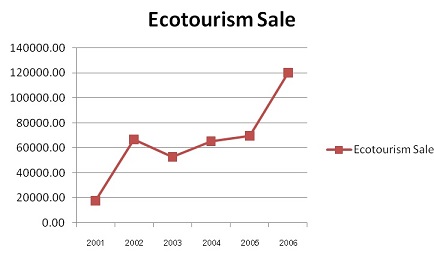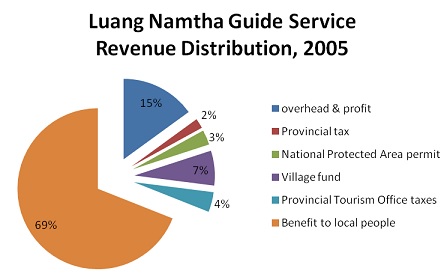 Source: Ecotourism as an alternative to upland rubber cultivation in the nam ha national protected area, 2006
Luang Namtha Province Infrastructure
1. Electricity
7% of the villages in Luang Namtha have electricity (UNDP, 2002). Luang Namtha and Muang Sing municipalities have been supplied power from a transmission line from People Republic of China. Vieng Phoukha municipality has a diesel generator that operates between the hours of 6pm and 9pm. The town telephone runs off of solar power.
2. Communication
Luang Namtha municipality has domestic and international telephone service through Lao Telecom system. Luang Namtha has public telephone offices, telephone booths, and mobile telephone service. Internet is also available through internet café. Phone and Internet services are not yet fully reliable and tend to be slow also expensive. Muang Long and Nale  have a combination of radio and telephone linkages, which is called radio Telegraphy connections.
Source: Biodiversity Profile for Luang Namtha province, 2003
3. Road
The National Highway so-called R3 connects the Chinese-Lao border in Boten to the Thai border in the town of Houay Xay. Currently across the road the total of 320 lines with length 1,916.12 km comprise with the national highway of 4 lines length 300. 12 km; highway of 9 line length 504.38 km, highway of 6 lines is 111 km length and roads n city 139 line length 75.59 km, rural roads 129 lines with the length of 779.15 km. Two new bus stations have been constructed during 2007, one is on the national road N° 3 and the other is in the town of Luang  Namtha. There are daily buses to China, Bokeo (to Thailand), and Vientiane including within Luang Prabang Province.
Luang Namtha Province Demographic Profile
The most heavily populated town is the provincial capital Luang Namtha in Namtha district with nearly 45,000 inhabitants. The total population in 2011 was 172,747 with 78% classified as rural and 40% less than 14 years old (National Statistics Centre, 2005).
In addition, Luang Namtha is rated as one of the large areas with high poverty incidence is located beside Oudomxay and Bokeo.
Source: Unesco IMPACT series Luang Namtha
| | | | | | | | | | |
| --- | --- | --- | --- | --- | --- | --- | --- | --- | --- |
| Province | Area (km2) | Area (%) | Districts (no.) | Villages (no.) | Pop. ('000) | Pop. (%) | Pop. Density | Crude Birth Rate | Infant Mortality Rate |
| Luang Namtha | 9.325 | 3.9 | 5 | 380 | 149 | 2.6 | 16.0 | 29.0 | 88.3 |
| Northern Region | 112,805 | 47.6 | 61 | 4,595 | 2,032 | 35.4 | 18.0 | | |
| Lao PDR | 236,800 | 100.0 | 139 | 10,468 | 5,741 | 100.0 | 24.2 | 34,0 | 82.2 |
Source: Diagnostic study on Northern uplands sustainable development, SWGUp
Research and Development in Luang Namtha Province
Name of Leading Centers
Contact Address / Phone No.
Division of Research Administration (DRA), Naresuan University
Address:LNT Marathon  P.O. Box 69  Luang Nam Ta Province 03000 LAO PDR

Local call : 0207881296

International call : +856207881296

Butterfly Children's Development Center

Address: PO Box 10  Muang Sing  Luang Namtha
LAO PDR
Luang Namtha Province Natural Resources
Luang Namtha area is considered highly prospective for copper and associated minerals including silver, gold and molybdenum. In June 2008, Amanta signed a 5 year Copper Mineral Exploration Agreement with the government of Lao PDR for the Luang Namtha copper and associated minerals project.
There are two main mining companies in mining industry:
- Lao – Chinese East Mining Company Limited in Houymor village of long district
- Viengphoukham Coal Mining Company Limited in Nam-Ngern village, Viengphokham district
Source: http://amantaresources.com/properties/laos/luang-namtha-project/
CBNA_NSEC Report, Pg.12
Luang Namtha's river can build dams and irrigation. In addition, there are roads of R3, airports which can be connected to other regions and provinces of the country with road link between city to city town to target areas for development.
There is also a forest rich with biodiversity; the province has a total forest area of 589,349 ha, accounting for 63% of the total area of the province. In this protected area of 222,400 ha, 14,730 ha of protected forest and 307,420 ha of forest area of 44,799 ha.
There are only 2 seasons in Luang Namtha: dry and rainy season. The annual volume of water, rain is about 1,000 to 1,500 mm. This climate is suitable for crops and livestock, such as planting trees and fruit trees, industrial, plant annually and livestock categories.
Source: http://www.tourismlaos.org
Luang Namtha Province Economic Zones
Recently, there are few medium to large size industries in the area. The Luang Namtha Provincial Industry Department has defined an industrial zone outside of town on Route 3. Many small-scale "cottage" industries exist which are making cotton, silk textiles, handicrafts as well as processing agricultural goods, non-timer forest products, making furniture.
There are 5 stone crushing factories, of which 3 are in Ban Tintok and 2 are in Ban Poulan. 2 motorcycle assembly plants are being operated, a Lao-owned one in Ban Tinotk and Chinese owned another one in Luang.
Other local industries include a drinking water factory in Ban Phoe Sai and salt factory at Ban Boten. In addition, there are number of small furniture and brick factories which are producing for domestic market.
The main industry in Vieng Phoukha district is Vieng Phoukga Coal Mine Company. A saw mill is located at Vieng Phuoka District  which is owned and operated by Lao military Agriculture and Forestry Development company.
1.1.    Agriculture Sector
The Luang Namtha Province has designated 240,050 hectares of land, or about 26% of the total land
in the province as agricultural production land. The following chart shows the land usage in the province.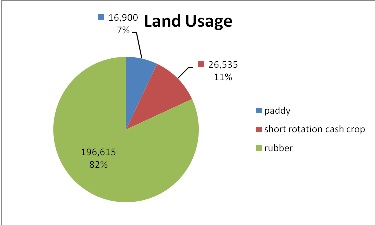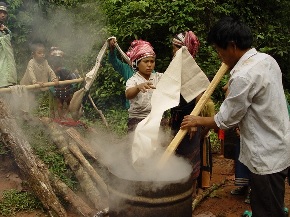 In addition to rice, Luang Namtha Province produces cotton, root and leafy vegetables, maize, soybeans, mung beans, peanuts, sugar cane, bananas, and small quantities of other crops.  There are plantations of rubber, teak, mulberry and other species.  As yet the rubber and teak plantations are not mature enough for production or harvest.  Fruit trees are planted mostly for domestic use, with market access a major barrier to commercial production.
Livestock is another important aspect of agricultural production, including cattle, buffalo, pigs, chickens, ducks, turkeys, and goats.
1.2.            Forestry Sector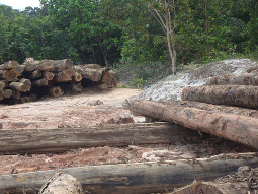 Forestry contributes 7-10 percent of Lao GDP and 15-20 percent of non-agricultural GDP. The sector contributes 34 percent of total export value, and even more of net foreign exchange. In rural areas forest exploitation is one of the few available economic activities.
Wood and wood products are the chief exports from Luang Namtha Province.  Timber and plywood rank first and second in gross value of goods exported to Yunnan Province from the Lao PDR
Source: Biodiversity Profile for Luang Namtha province, 2003
1.3.            National Laws and Decrees
Legal Instrument
Agency
Key Provisions
Environmental Protection Law (EPL) No. 02/NA/99 (1999)
STEA
Defines environmental protection duties and responsibilities
Regulation on Environmental Assessment in the Lao PDR (2000)
STEA and all line ministries
Establishes uniform environmental assessment requirements and procedures. Lays the foundation for line ministries to develop EA regulations for projects in their sector
Manual of Environmental Impact

Assessment Procedures for Road Projects in the Lao PDR (1997,Approved)

MCTPC
Serves as an interim document guiding EIA procedures for road projects. Outlines potential impacts and suggests mitigation measures.
Environmental Guidelines for Road Projects (1999, Draft)
MCTPC
Serves as an interim document guiding incorporation of environmental protection into road project preparation. Establishes a "Code of Sound Environmental Practice."
National Law on Land – National Assembly (1997)
Department of Lands
Land acquisition and compensation procedures for resettlement.
Preservation and Management of

National Cultural Heritage – Notice No. 943 (1995)

MOIC
Secures protection from removal, destruction, or alteration of heritage sites and artifacts
National Forestry Law No. 01-96 (1996)
MAF
Defines forests. Sets forth  protection,  management responsibilities, and use rights for forestland
Order 54/MAF For the Customary

Rights and Use of Forest Resources.

(1996);

followed by recommendations 377/MAF  on the Customary Use of Forest Resources (1996)

MAF
Secures legal right for local people to use forest resources for subsistence, including hunting and fishing of non-protected species
Regulation of the Management of

National Biodiversity Conservation

Areas (NBCA), Aquatic and Wild Life

– No. 0524 (2001)

MAF, Forestry Deparment
Outlines regulations on the establishment of National Biological Conservation Areas (a.k.a. National Protected Areas) and their management. Prohibits fishing and hunting of restricted species, except for scientific research and experimentation. Prohibits export and import of both restricted and controlled species, except for scientific research and experimentation, and as MAF-approved gifts to foreign guests. Prohibits off-season hunting of controlled species. Prohibits Commercial exploitation of restricted aquatic species and all "wild" species. Prohibits the use of "exterminating" hunting methods such as explosives and poisons.
Logistic Providers in Luang Namtha Province
Name of Logistics Company

Contact Address / Phone No.

Type of service

The Phou Iu III
Ban Phonexay, Luang Namtha District and Province, Laos
Mobile: +856-20-99 44 00 84 (English Speaking), 22 39 01 95
Tel: + 856-86-26 00 15; Fax: + 856-86-26 00 15

Arrival / Departure transfers (extra charge)
Travel Booking
Offer Eco-Tours as: Trekking ( Luang Namtha, Muang Sing, Vieng Phoukha, Long town and Muang Khua, Phongsaly Province),Biking, Kayaking, Homestay, Boat trip, Sightseeing, Combination Tours Service
Bicycle Rental
Bus Ticket Service
Hotel Booking
Luang Namtha Province Business Associations
Name of Association
Contact Address / Phone No
Description
Yo Handicrafts Association
Ban Oudomsin, Muang Sing District, Luang Namtha
The Yao women's handicraft association of Muang Sing produces a variety of traditional Yao handicrafts, including natural paper, Yao hats, and traditional women's head cloths and clothing. The handicraft association is located in Ban Oudomsin village, which is located within walking distance form Adima guesthouse about 8km north of Muang Sing town en route to the Chinese-Lao border.
Luangnamtha Chamber of Commerce and Industry
Address: Ban Phonxay, Luangnamtha District,
Luangnamtha Province
Tel: 086 212108
Fax: 086 212108
Luang Namtha Province GDP
Luang Namtha is the province with lowest total GDP amounting to 47 million USD if compare with the highest one is Luang Prabang (194 million USD).
Source: Diagnostic study on Northern uplands sustainable development, SWGUp
GDP 2010, 2011 and 2012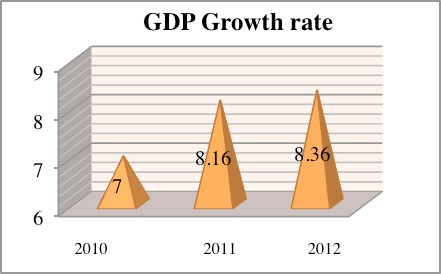 Source: DPI
GDP in 2008 stood at US$454 per capita. As can be noticed from the graph below,the FDI has increased more than GDP per capita.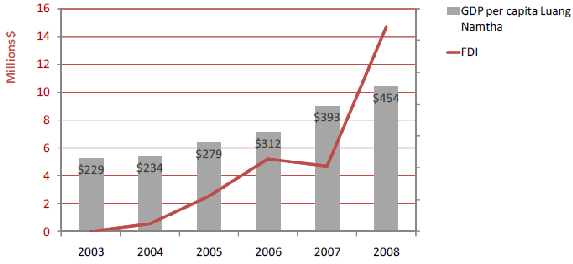 Source: Rubber Development in Lap PDR: Ensuring sustainability, July 2009
Overview of GDP and relative importance of industrial sectors (2006)
Province
Population (number of people)
Land area (km2)

GDP

Per capita GDP (USD)

Industrial Percentage (%)

Industrial Growth Rate (%)

GDP (million USD)
Growth rate (%)
Agriculture
Industry Handicraft Industry
Service industry
Agriculture
Industry Handicraft Industry
Service Industry
Luang Namtha
145,231
9,325
47
7.5
313
73.6
12.3
14.1
6
13.5
11
Total
2,400,425
135,897
1,022
10.0
425
58.25
20.31
21.42
7.01
13.64
12
Nationwide
5,750,000
236,800
3,155
8.27
549
43.5
30.5
26.0
3
13.2
7.9
Source: Diagnostic study on Northern uplands sustainable development, SWGUp
Transportation in Luang Namtha Province
Luang Namtha can be reached easily by air, car, bus and boat. Lao Airlines operates daily flights from Vientiane to Luang Namtha airport. The approximate cost is US$84. The airport is about 6 km from the town of Luang Namtha. During rainy season, it's possible to go to Luang Namtha by boat via Namtha River. Boat can be arranged at an estimated price of US$170-400. Another inexpensive option is going by bus, ticket costs US$10 for local bus.
Source: http://luangnamthaguide.com