Welcome to Chiang Rai Province

Chiang Rai is the northernmost province of Thailand. Neighboring provinces are Phayao, Lampang and Chiang Mai. In the north it borders Shan State of Myanmar and Bokeo of Laos. The average elevation of the province is 580 m. The north of the province belongs to the so-called Golden Triangle, the borders of Thailand, Laos and Burma. The Mekong River forms the boundary with Laos, the Mae Sai and Ruak River to Burma. Through the town of Chiang Rai itself, flows the 'Mae Kok' Kok River and south of it the Lao River, a tributary of the Kok. The climate between summer and winter are quite different. The average minimum temperature during winter (December) is approximately 8.7 degrees Celsius while it can be increased to 37.5 degrees Celsius during summer and dry season (April).
Source: http://en.wikipedia.org/wiki/Chiang_Rai_Province
Why invest in Chiang Rai Province
A Strategic Location: The province of Chiang Rai can particularly benefit from the strategic location as it is in the heart of GMS and Asian countries, links Northern Thailand to Myanmar, Bangladesh, Nepal and India, traffic has already increased substantially over the past few years. Locating at the heart of the infamous Golden Triangle, where Thailand, Burma, and Laos converge in what was once the world's largest opium-producing region, the city offers plenty of mystique.
Gateway to Asia: Chiang Rai serves as a gateway to Southeast Asia and the Greater Mekong sub-region, where newly emerging markets offer great business potential. From Chiang Rai, it is convenient to trade with China, Lao PDR., India and the countries of the Association of Southeast Asian Nations (ASEAN), which has a cumulative population of more than 500 million
Social and political stability: Chiang Rai is a welcoming Buddhist Province. The province's form of government constitutional monarchy allows democratic processes and reforms, and is balanced by Chiang Rai's peace-loving nature, high reverence for the Thai Monarchy, and devotion to the teachings of Buddhism. While the vast majority of the people in Chiang Rai are Buddhist, all religions are welcome, and His Majesty the King is the patron of all religions.
Rich natural resources: Thick, cool forests, majestic waterfalls, elephant camps, and some of the most diverse hill-tribe villages in the world are located just a short distance outside the city.
Growing economy: Economically, this province of a million people is characterized by steady growth. Abundant natural resources and a skilled and cost-effective work force help attract foreign investment, enables them to prosper and help develop industry in Thailand.
Sufficient infrastructure: Chiang Rai has good infrastructure for foreign investors. Improved and modernized transportation facilities, as well as upgraded communications and IT networks, ensure optimum business and living conditions. State-of-the-art industrial estates boast sophisticated facilities and superior services.
Government support and incentives: Numerous government agencies support investors. Through the Board of Investment, the government offers a range of tax
incentives, support services and import duty concessions available to an extensive list of businesses that are regarded as priority or promoted activities. Through the Board of Investment, there are no foreign equity restrictions in the manufacturing sector, no local content requirements, and no export requirements, as Thailand's investment regime is in total compliance with WTO regulations.
One-Stop Service: The Board of Investment also coordinates the activity of the One-Stop Service Center for Visas and Work Permits, which enables foreign staff of BOI-promoted companies to obtain work permits and long-term visas within 3 hours or less. Other government organizations, like the Department of Export Promotion, and international chambers of commerce, provide invaluable support and a host of other important services.
Source: http://www.siameastern.com/Features/boi/why_invest_in_thailand.aspx
Investing in Chiang Rai Province
Cross-Border Movement of Goods and People 
The import-export value of trade in Mae Sai, Chiang Saen and Chiang Khong is presented in Table below. The total trade value reported in Chiang Rai in 2011 between Thailand and Laos was USD 236.03 million, which was about 7.2 % of the total trade between the two countries. The export values at both Chiang Khong and Chiang Saen crossing points were much higher than the import values. The types of products imported and exported at both crossings were similar, though the rankings of product volume were different.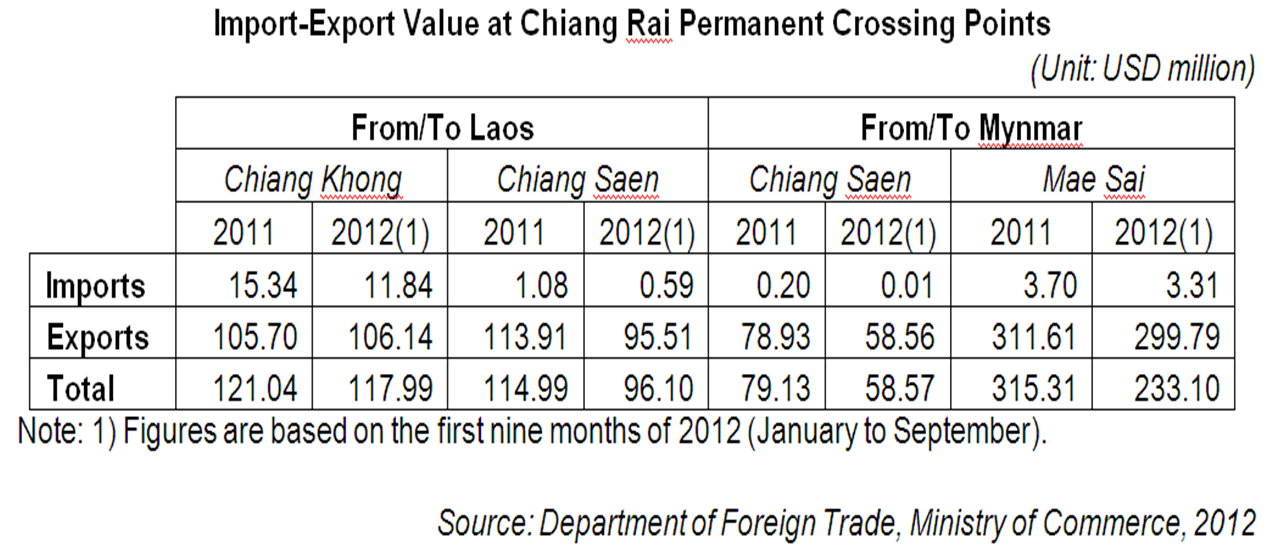 The top three products imported via Chiang Khong were wooden products, seeds, and crops (6.34%, 4.14%, and 3.35%, respectively), while the top three products imported via Chiang Saen were crops, tractors and parts, and seeds (34.9%, 19.88%, and 16.82%, respectively). The top three products exported through Chiang Khong were petrol, both diesel (25.29%) and benzene (8.96%), followed by frozen and dried fruit (9.24%). The top three products exported via Chiang Saen port were mostly chicken (29.17%) and red meat (16.46%), followed by livestock (2.73%).
Total Thailand and Myanmar trade in the Golden Triangle was USD 394.44 million, which was about 7.4% of the total trade value between Thailand and Myanmar. Imports and exports from and to Myanmar were traded at both the Mae Sai crossing point and Chiang Saen port. The top three products imported from Myanmar via the Mae Sai crossing were metallic ores and products (28.36%) and fruit (27.94%), followed by vegetables (14.64%), livestock, such as cows, buffaloes, and swine (6.5%), and non-metallic ores and products (4.9%). The products exported to Myanmar via the Mae Sai crossing were alcoholic drinks, petrol (diesel), and vehicles and parts (11.96%, 6.48%, and 6.37%, respectively), while the top three export products of Chiang Saen Port were non-alcoholic drinks, alcoholic drinks and palm oil (11.46%, 5.83%, and 5.31%, respectively). Similar to the border trade between Thailand and Laos, the import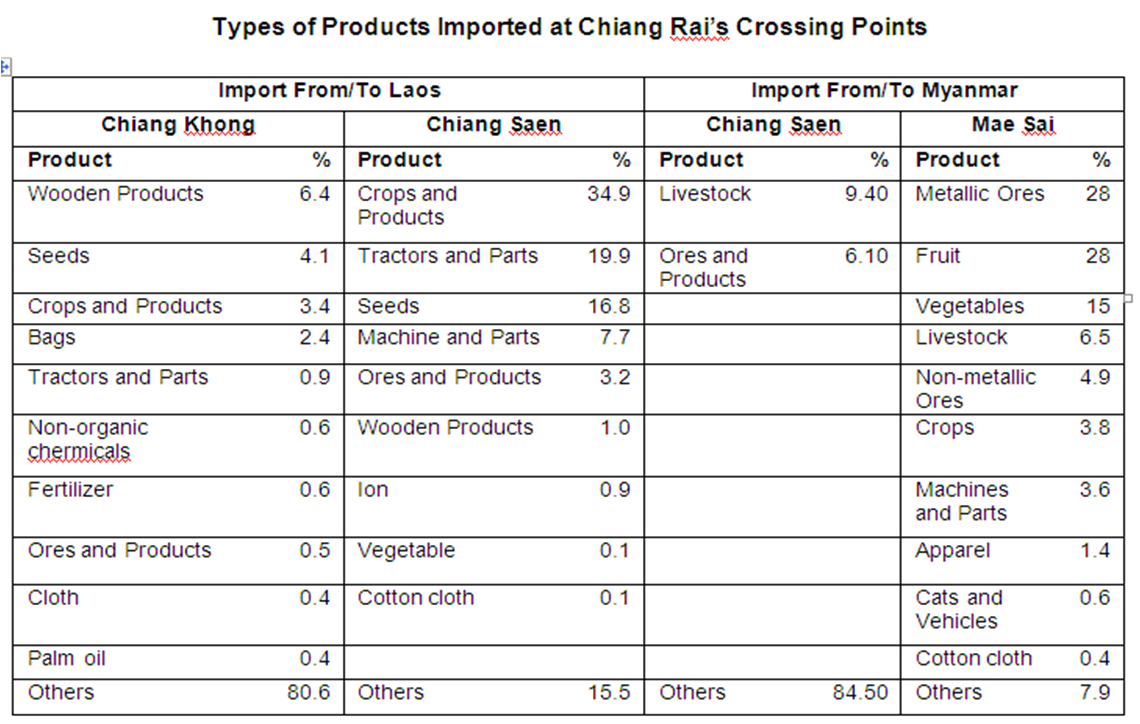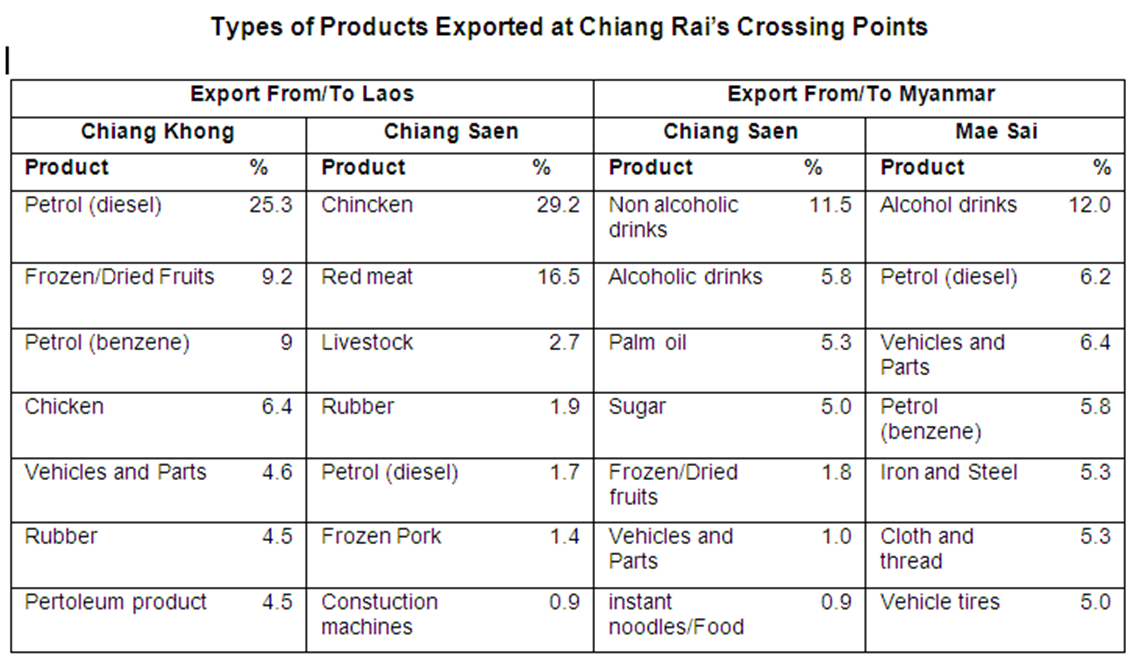 Notes: 1) Figures shown in the table are percentages of each product by the total import /export value.
2) Total exports of 2011 at Chiang Khong =USD 105.70 million; at Chiang Saen= USD 192.83 million; at Mae Sai=USD 311.61 million.
Source: Department of Foreign Trade, Ministry of Commerce, 2012.
Agricultural and Forestry
In Chiang Rai, the current area under productive teak plantations is 20 758 rai (3 321,28 hectares) and total timber production is 22 287.62 m3. Areas planted are generally small; the largest non fragmented areas of plantations are approximately 200 rais. In Chiang Rai the income of the productivity of teak plantations is 3,863 187 bahts (2600 baht/m3) per year. Nevertheless, the major source of timber supply is imported from Burma and Laos. In Chiang Rai the total imported timber during December 2006 to September 2007 was 34 332 m3, mostly teak.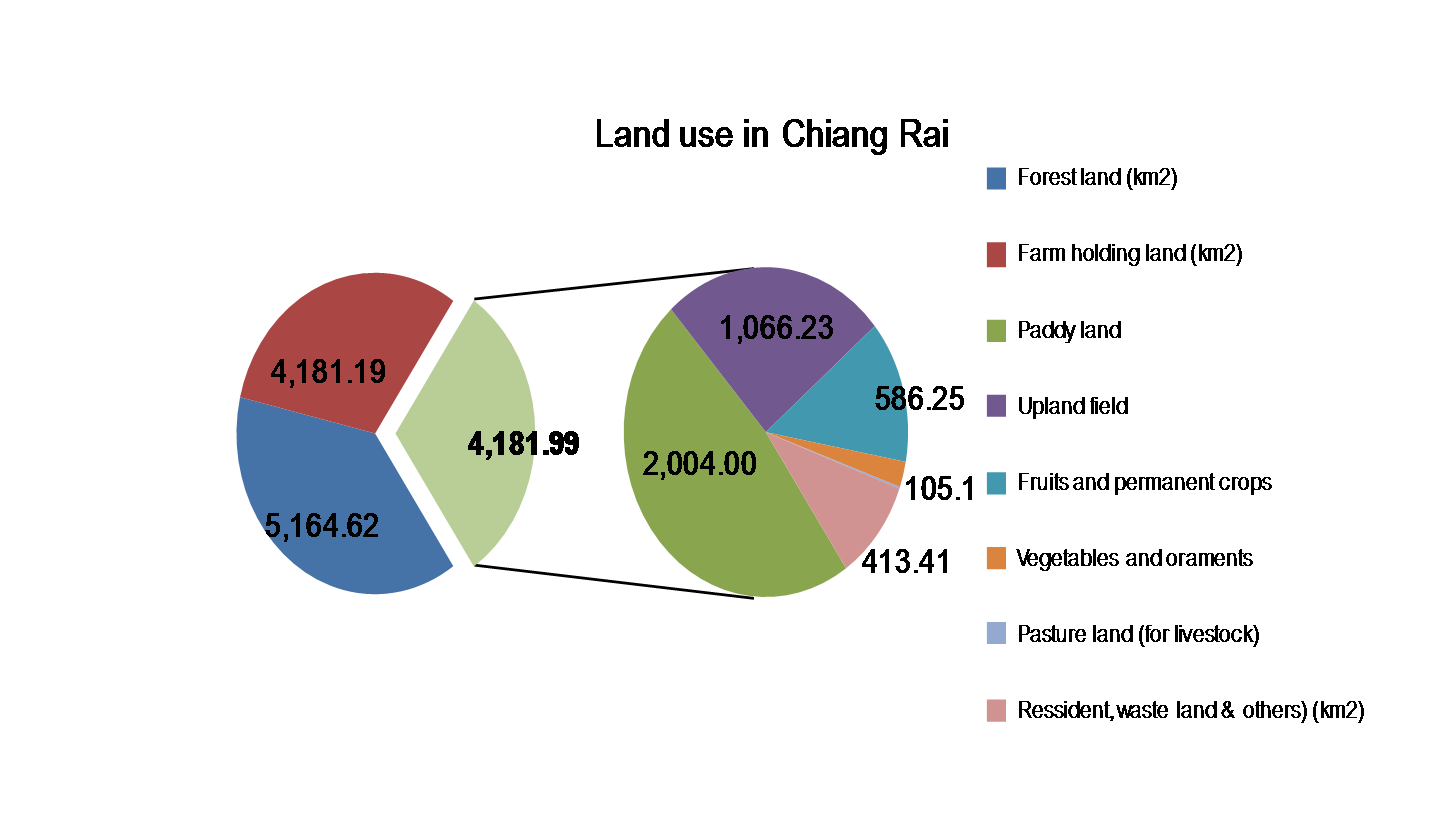 Source: Office of Agricultural Economics, Ministry of Agriculture and Cooperatives, 2012 and Department of Provincial Administration, Ministry of Interior, 2012
Chiang Rai Province Macro Economic Indicators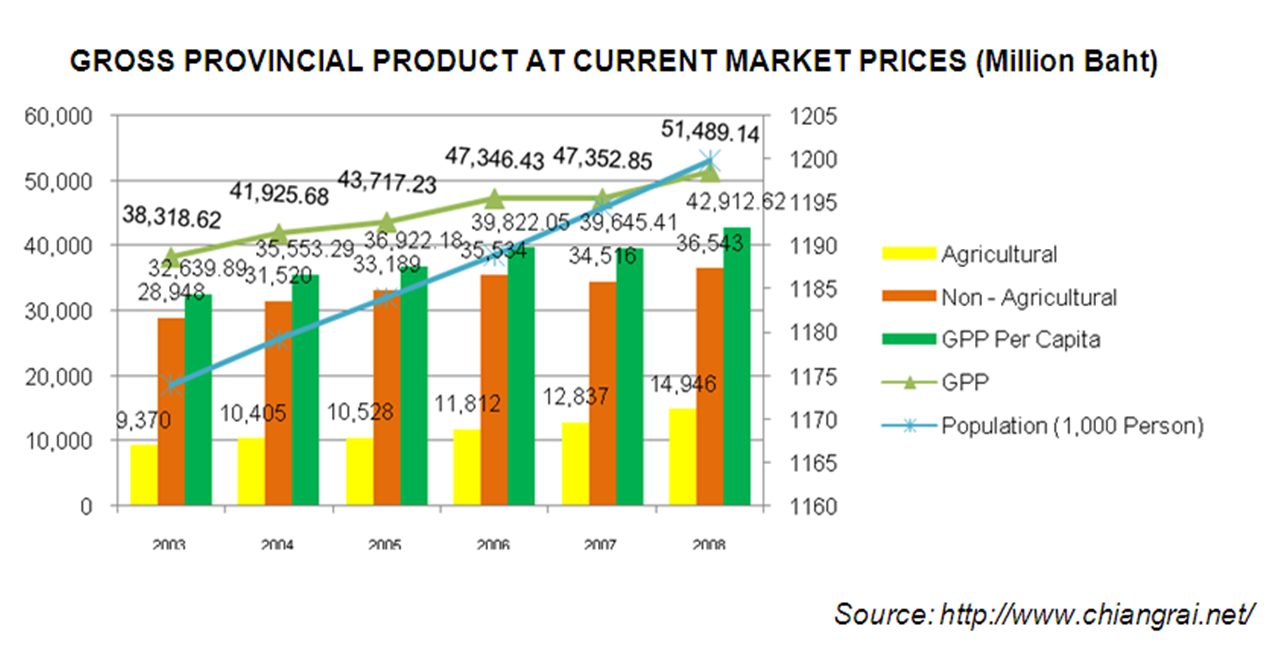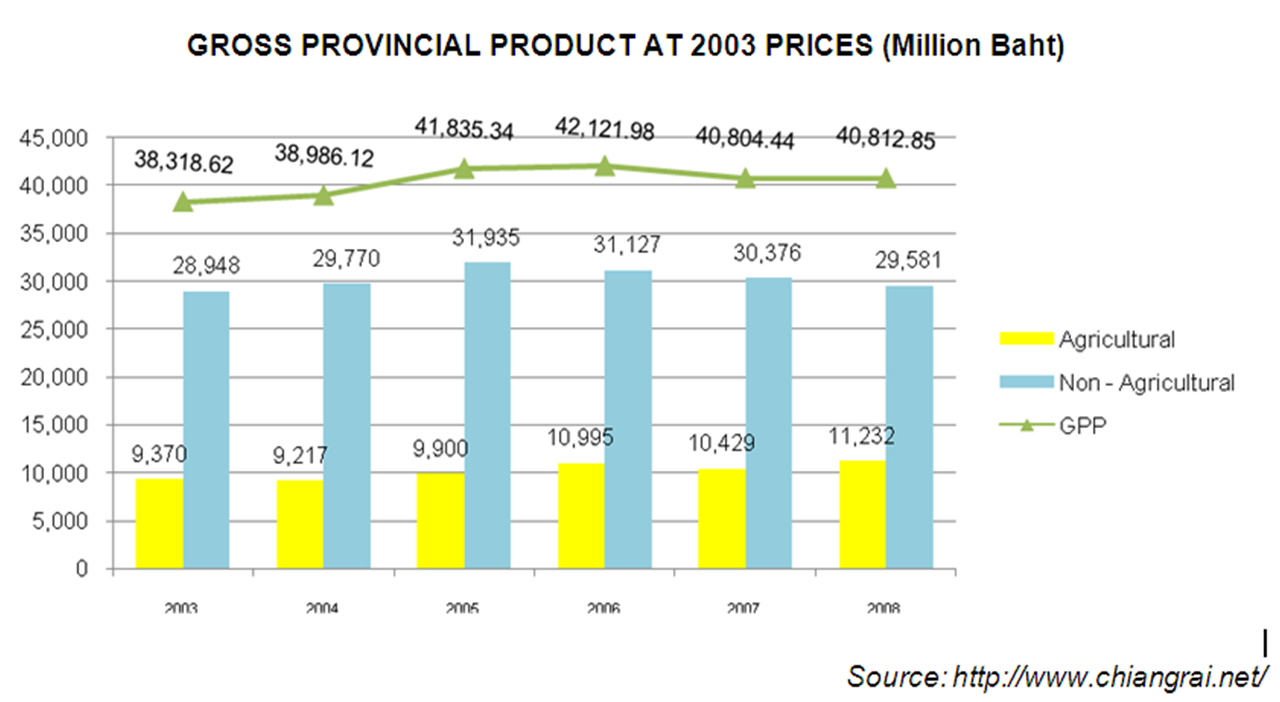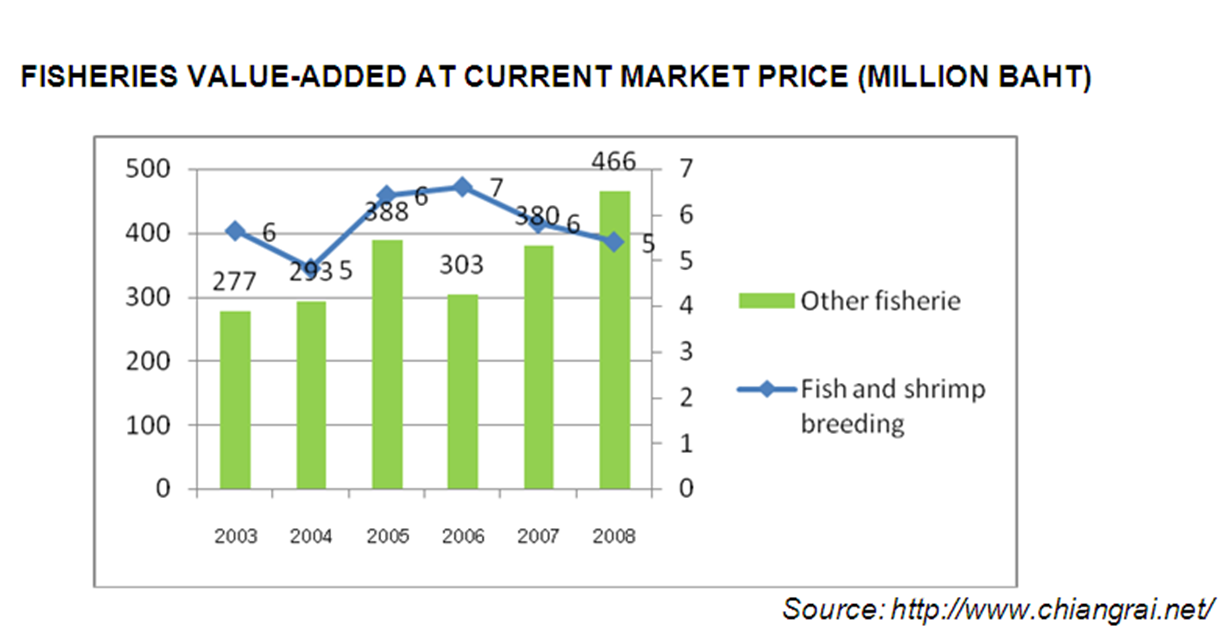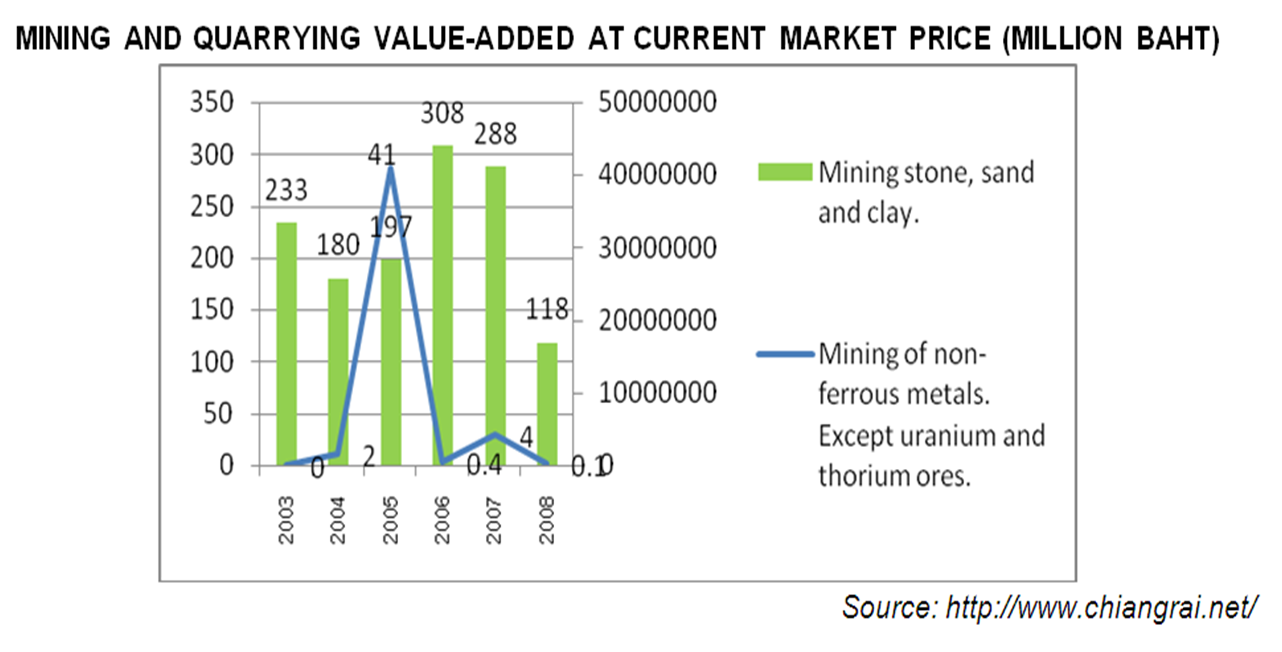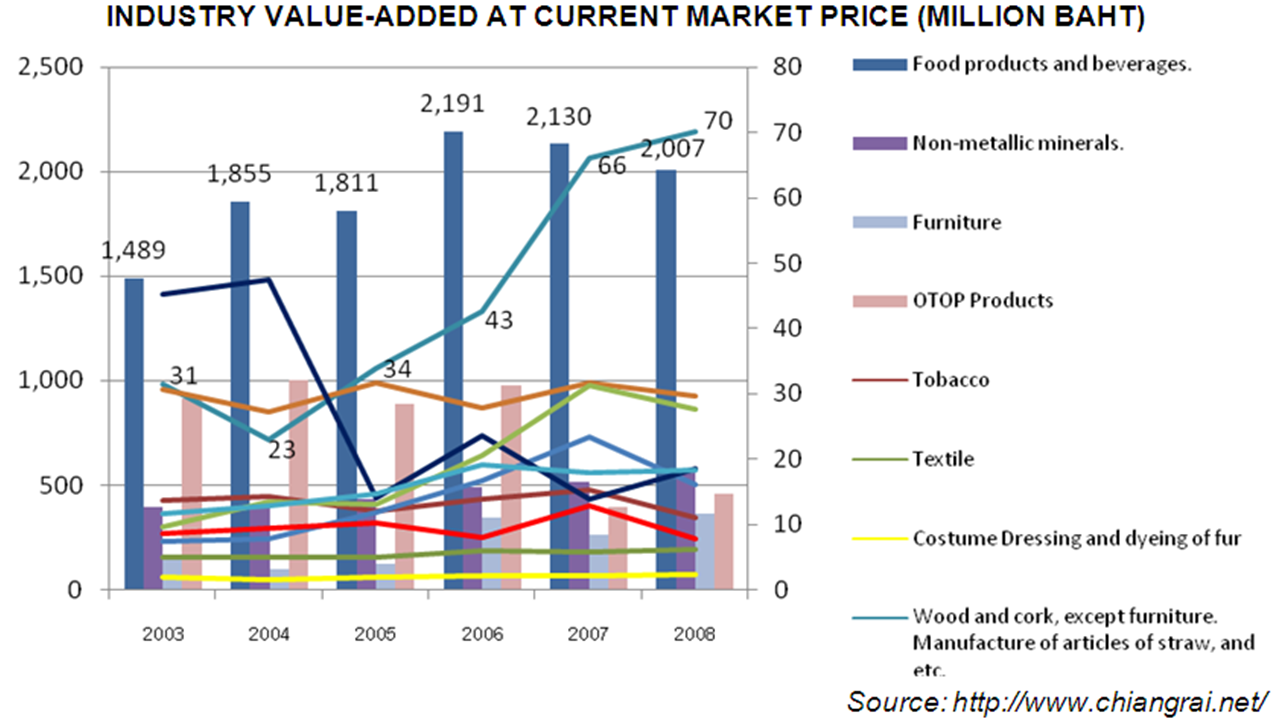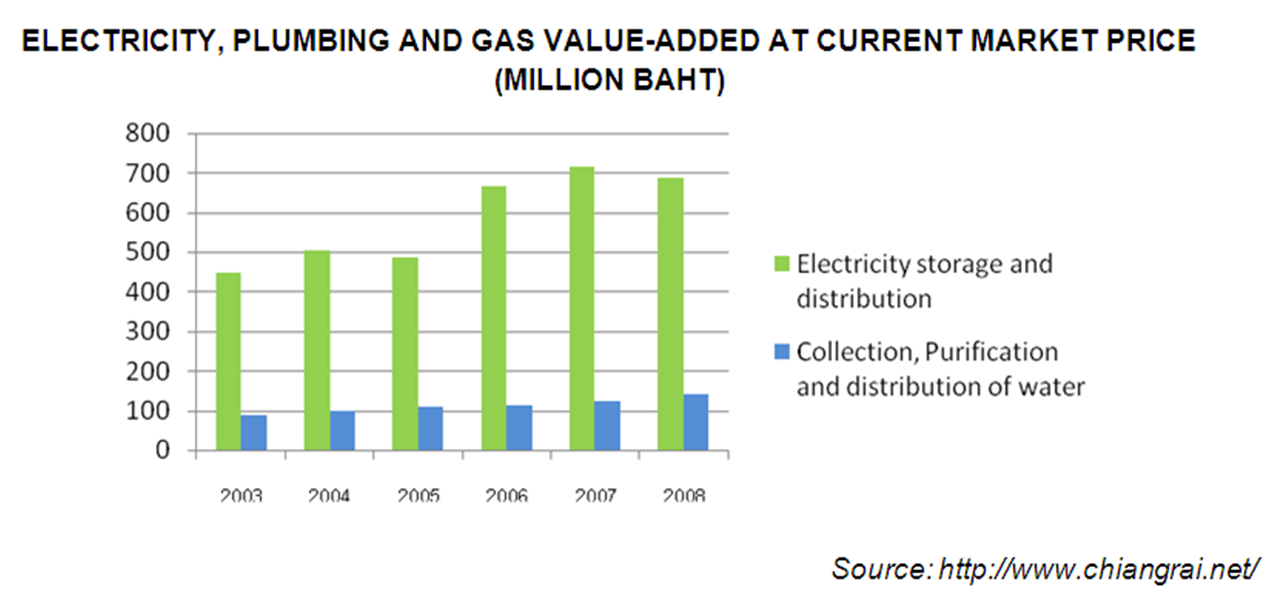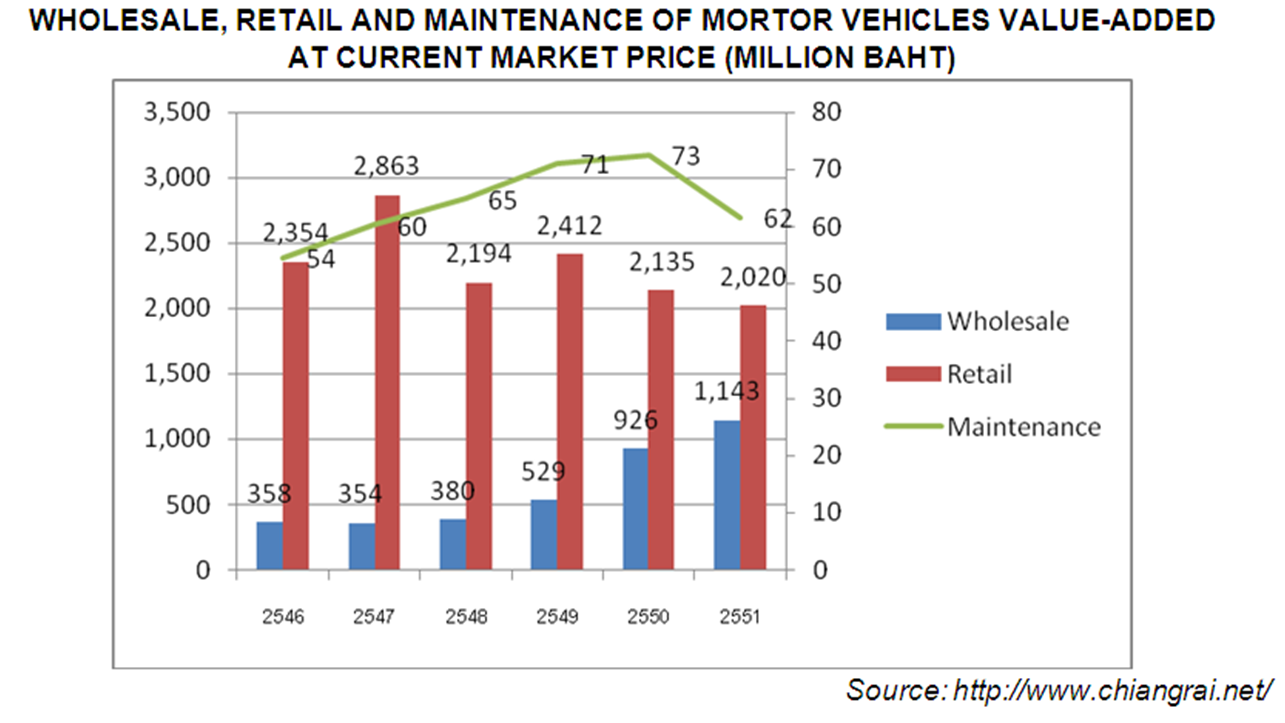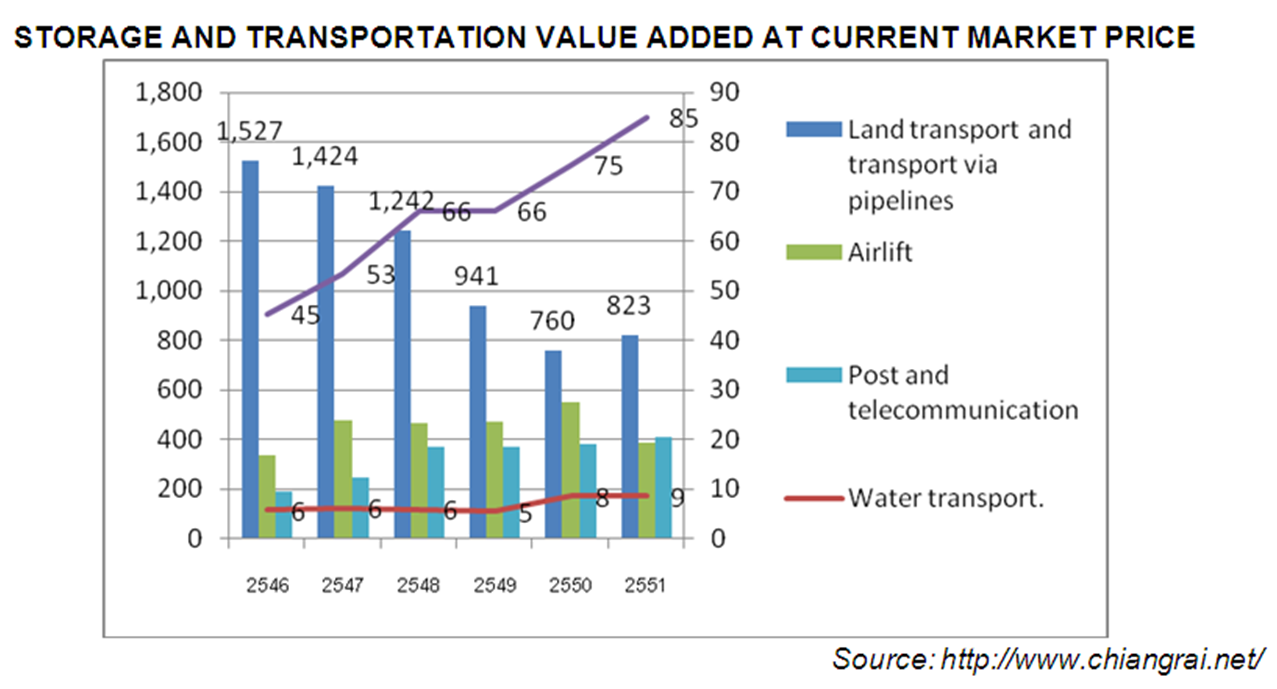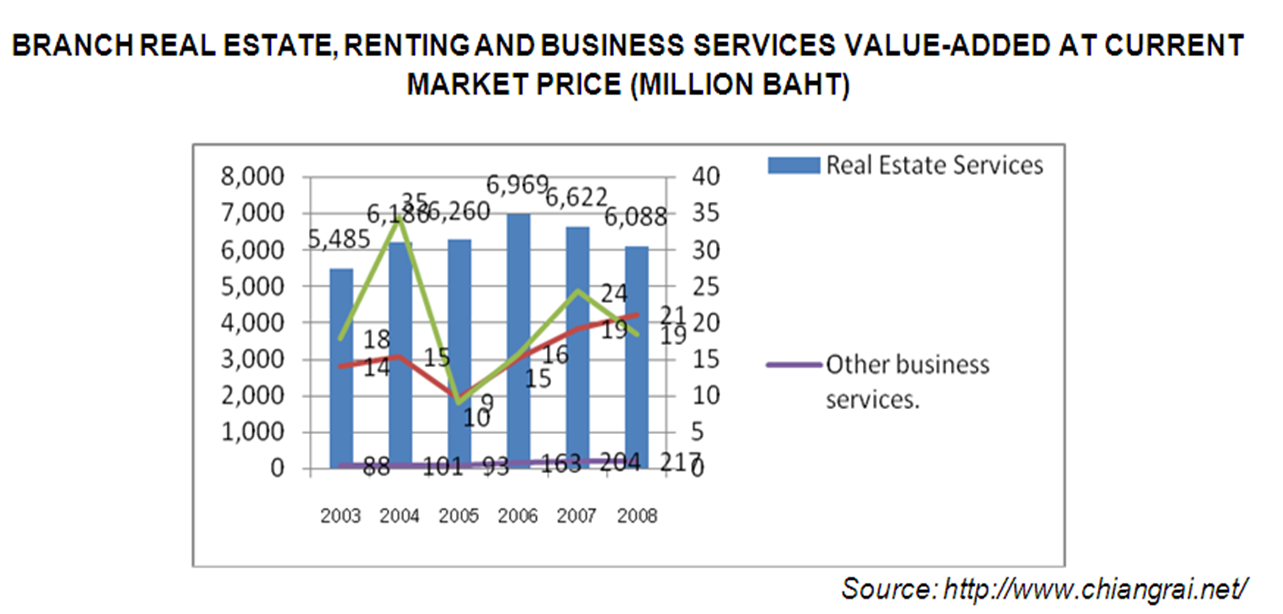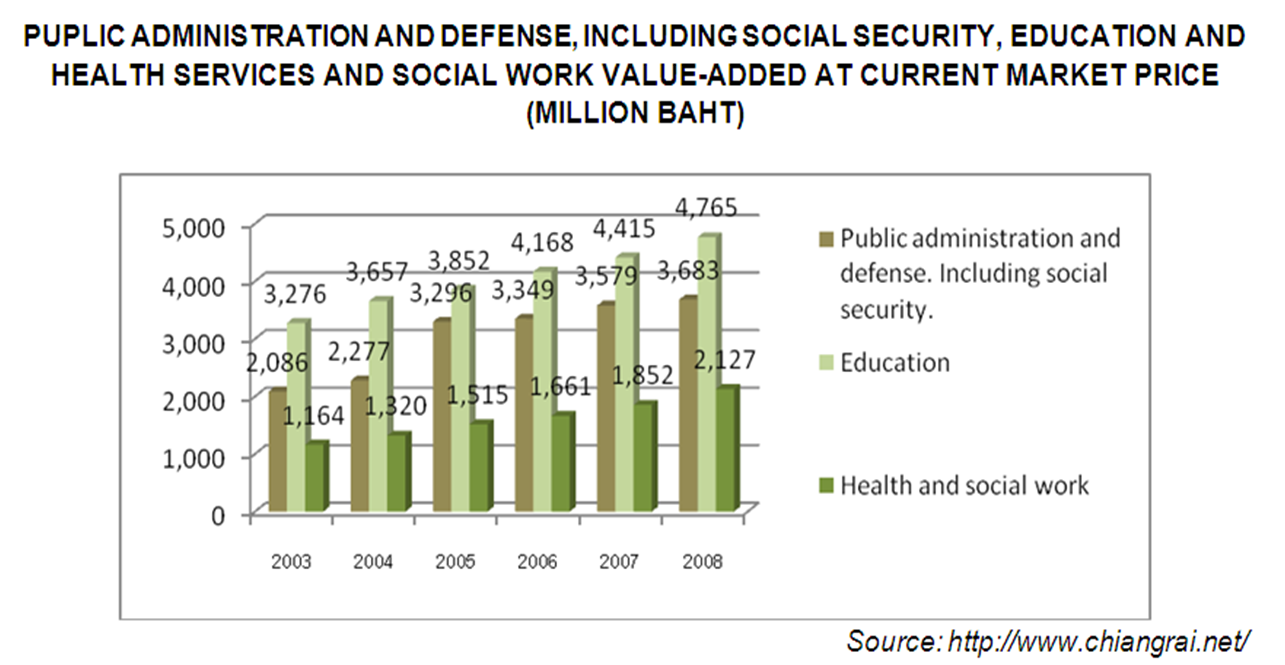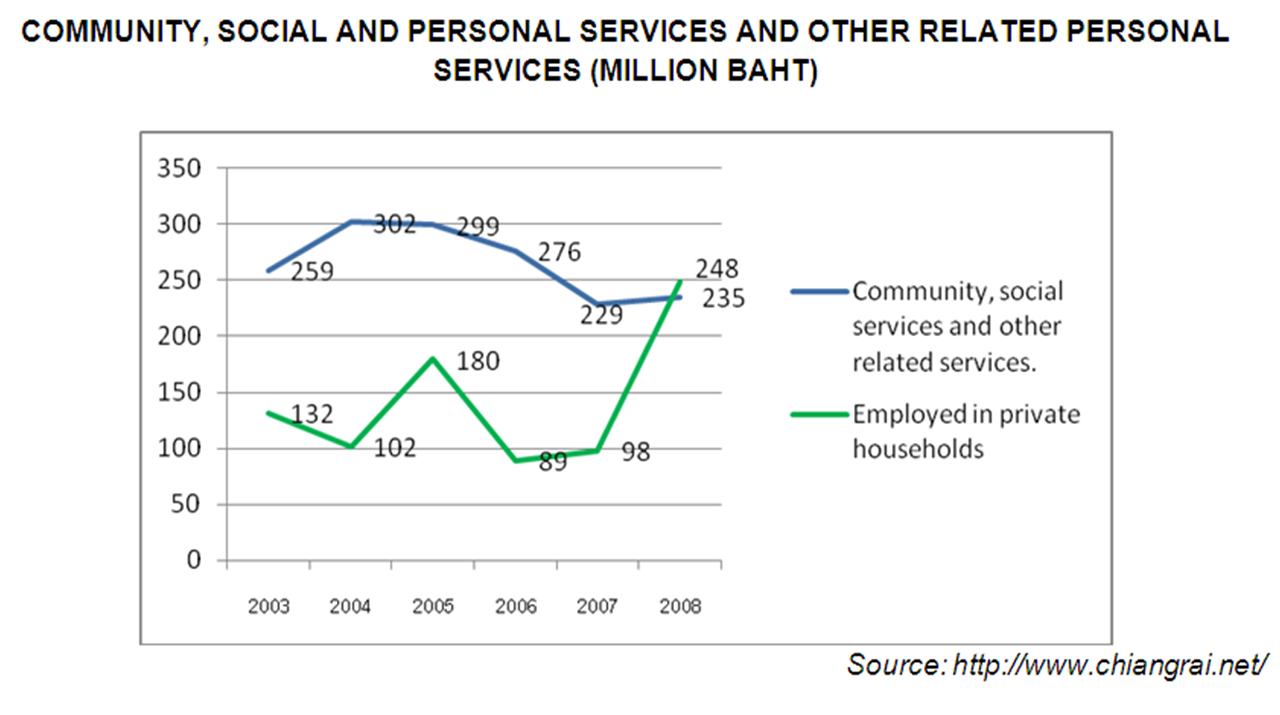 Chiang Rai Province Infrastructure
Air
Mae Fah Luang-Chiang Rai International Airport (CEI) at the moment only receives domestic flights and is located on Phaholyotin Rd 8 km from the center of Chiang Rai. The airport is served by AirAsia , Nok Air and Thai Airways to Bangkok. China Eastern Airlines offers three direct flights per week to/from Kunming China.Thai Airways International (TG), Orient Thai Airlines and Air Asia operate daily flights between Bangkok and Chiang Rai. The flight takes about 1.15 hrs. Several flights are available to and from Bangkok daily. Chiang Rai International Airport flight time is about 1 hour and 30 minutes.
Flight to Chiang Rai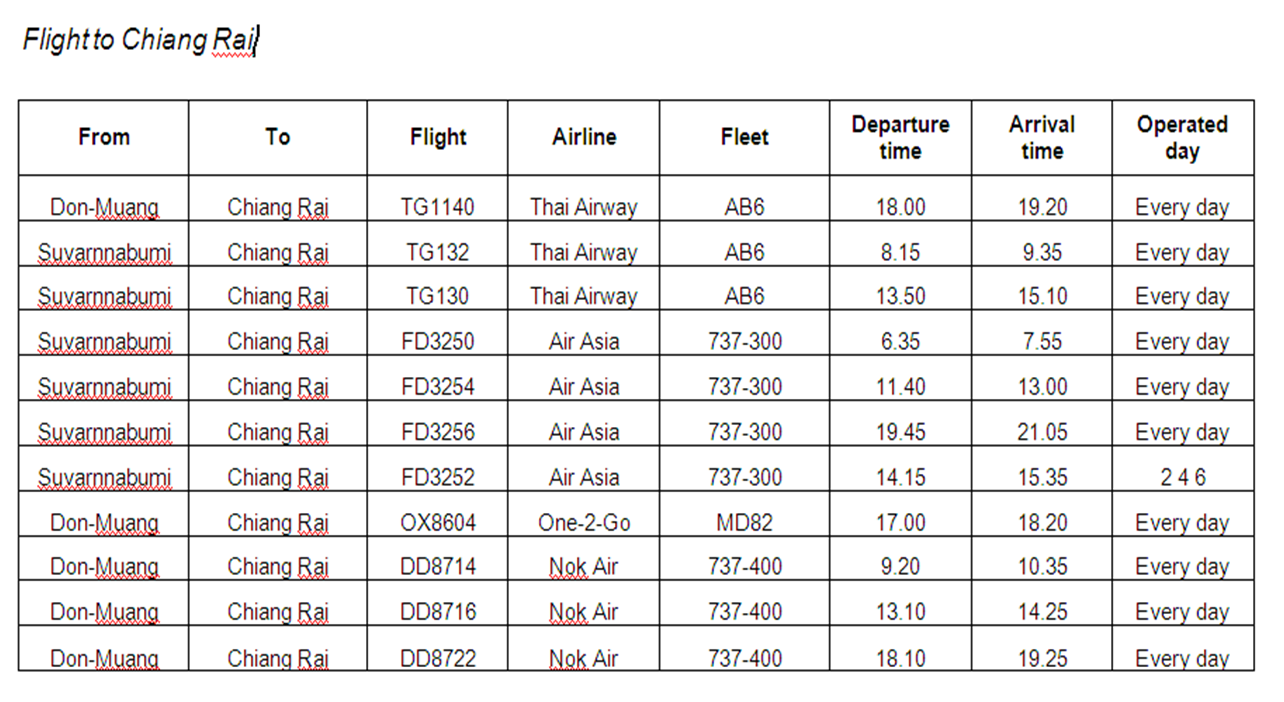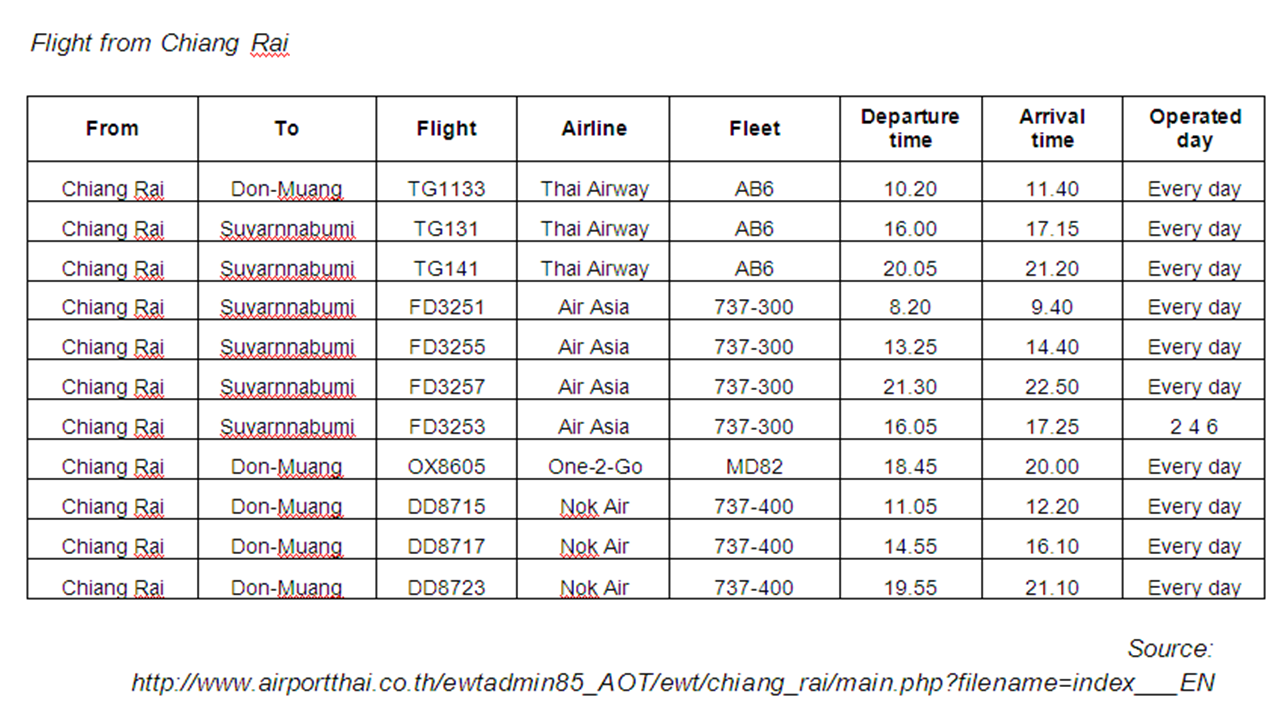 Roads
National Highway Road No. 1016: Mae Chan- Chang Saen
National Highway Road No. 1016 (113 kilometers) is the intersection of Paholyothin Road or National Highway Road No. 1 at  961 + 378 This highway is the main road used to travel to the city of Chiang Saen and Mae Chan district residents, Chiang Rai and economical connected route to Laos.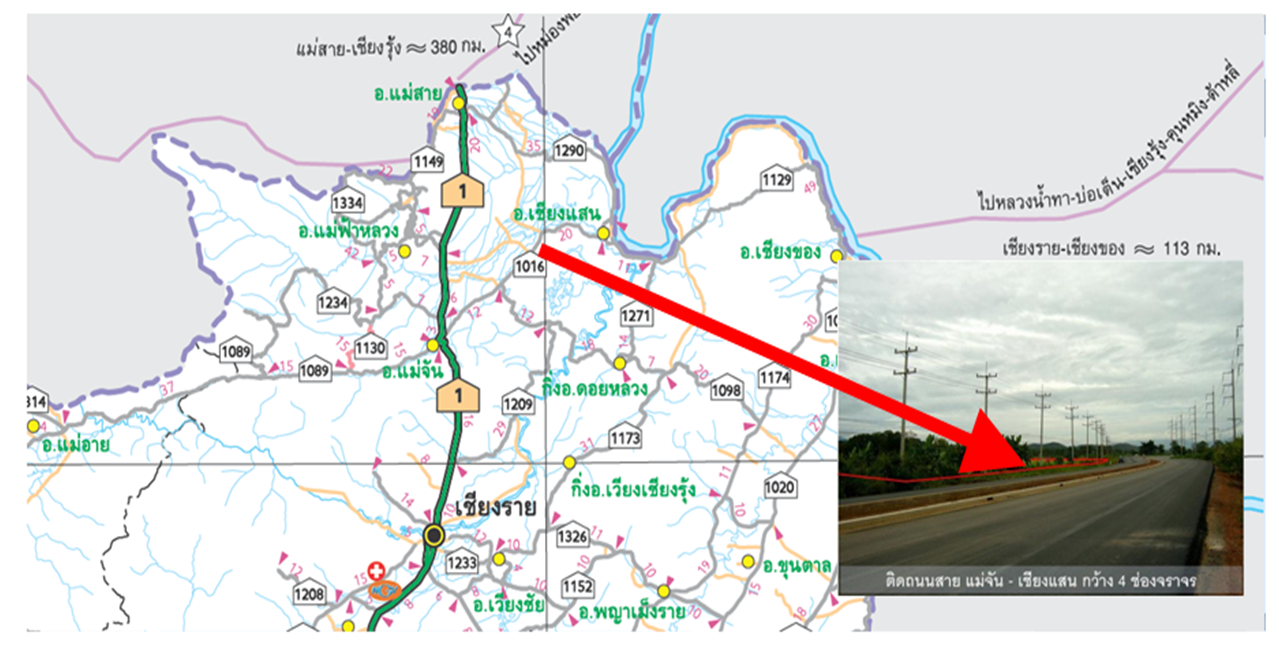 National Highway Road No. 1129: Boon Reung – Chiang Khong (30 kilometers)
National Highway Road No. 1129 is connected with National Highway Road No. 1290 the main route used to communicate between Mae Sai, Golden Triangle, Chiang Saen and Chiang Khong. In addition, 1129 Highway is a way to be in the development of transport systems to support the launch of Chiang Saen port and the fourth bridge over the Mekong River at (Chiang Khong – Huay Sai), which aims to develop the road network for conforms to the subsequent development of expanded markets to southern China as well.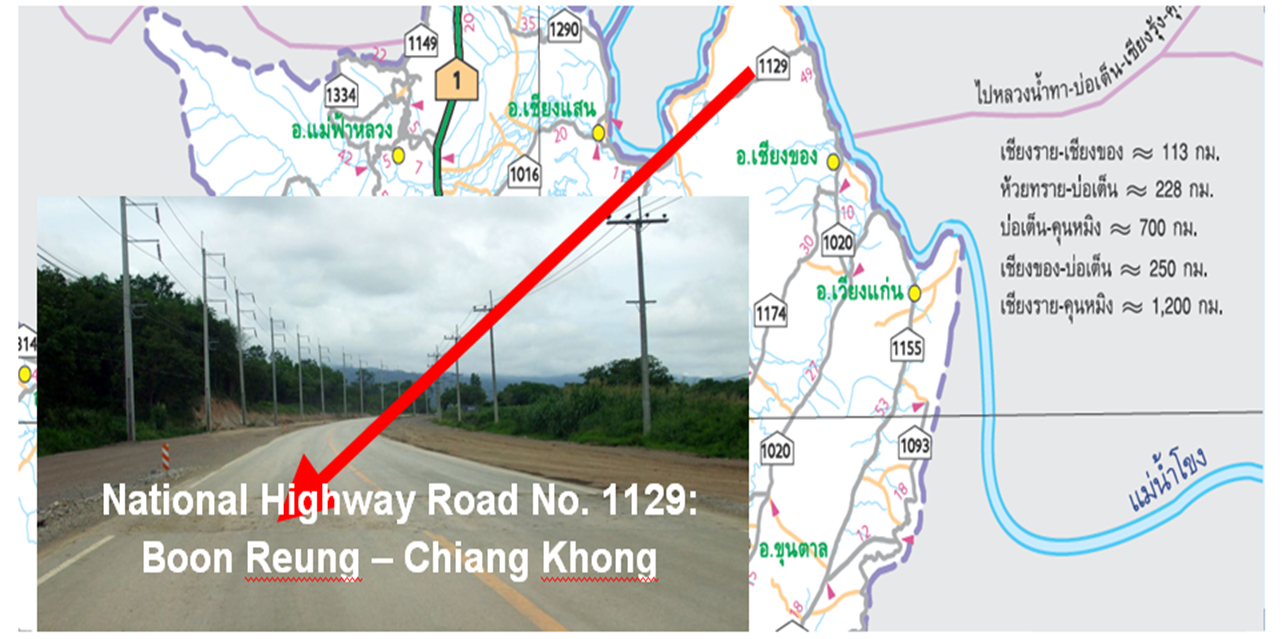 National Highway Road No. 1020: Chiang Rai – Chiang Khong (143.5 kilometers)
National Highway Road No. 1020 is the intersection of Paholyothin Road or National Highway Road No. 1. National Highway Road No. 1020 main road used to travel to Chiang Rai city of Chiang Khong, Wiang Kaen, Khun Tan and Terng district. And now, National Highway Road No. 1020 is expanding to six lanes to note that the near future will become an important Mekong port point once the Friendship Bridge between Thailand – Laos is completed. Travel from Thailand to Laos by road to R3A road and travel to Kunming in China easily.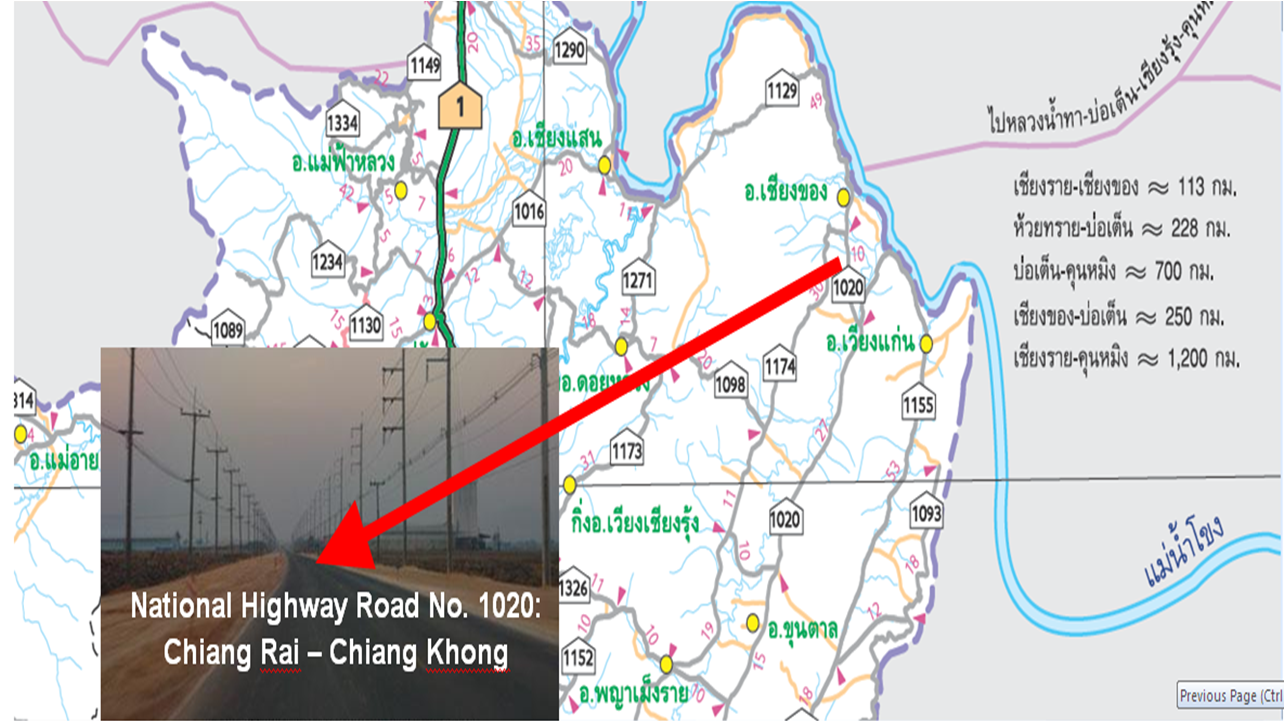 Electricity
In 2007, the total electricity supplies were 750,481,186 KW/hour. Consumers were divided into residents of 339,278,318 KW/hour, business and industry of 287,317,992 KW/hour, government and public of 94,535,414 KW/hour, and others of 29,349,461 KW/hour. Consumers were 326,673 persons in total. District most used was Muang; the second was Pan and Mae Sai respectively.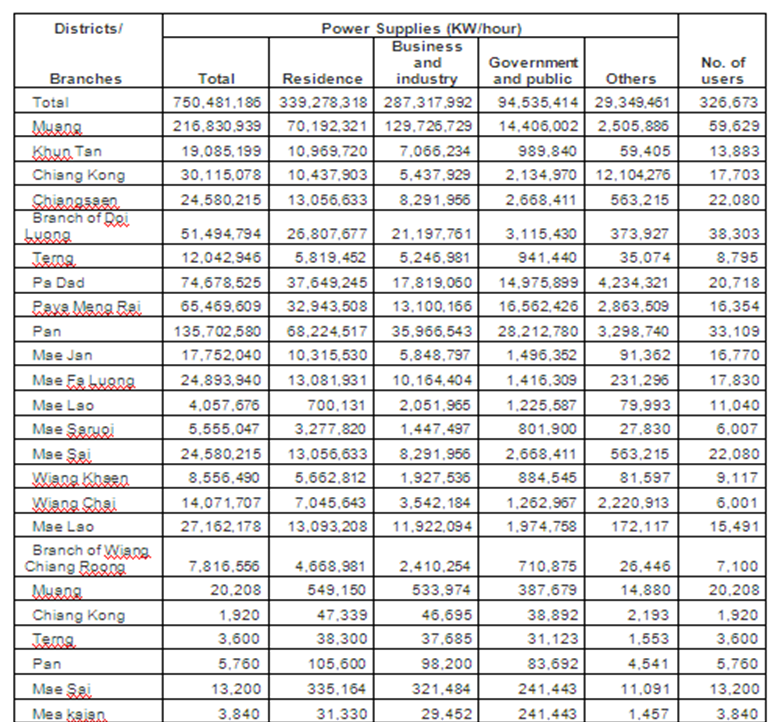 Source: Regional Electric Authority, Chiang Rai Province
Source: http://www.tourisminvest.tat.or.th/research/tourism-business/20-english/provincial/north-region/55-chiang-rai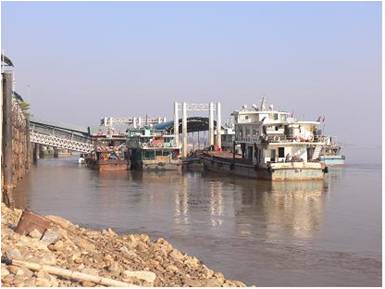 Chiang Saen Port is a river port located on 62 ha of land on the banks of the Mekong River in Chiang Saen District, opposite Lao PDR. Behind the port is the road linking Chiang Saen and Chiang Khong. Freight from Chiang Saen Port can be transported to Guanlei Port in southwest China near the Burmese-Chinese border, which is about 265 km in length. Most cargo ships on the Mekong stop by this port to wait for cargo transfers by truck or by other cargo ships to areas in China, Myanmar, Thailand, and Regarding the increase of freight transportation on the Mekong River, the Thai Government decided to construct a new port named "Chiang Saen Commercial Port," with the main objective to promote Thailand as the gateway for the development of Indochina and the GMS. It is also considered to be a connecting point for trade with southwest China, Myanmar and Laos whereby inland transport to Laem Chabang and Bangkok Port is possible.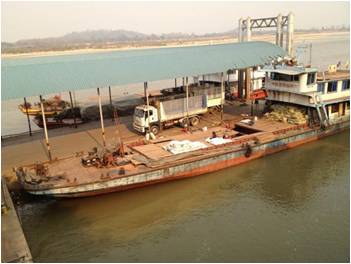 The Chiang Saen Commercial Port is located 10 km away from the first port. It is capable of accommodating ships of 250-300 metric tons. There are two 300 m long pontoons that can serve four cargo ships and accommodate six to nine trucks simultaneously. Each pontoon is convenient for loading and discharging cargo by port workers who are usually employed by cargo owners. In addition, there is also a 1,450 m long quayside area that can accommodate ten cargo ships that need a mobile crane for the loading and discharging of heavy cargoes. Six million metric tons of freight transportation can be shipped yearly when the port is working at full capacity. Weight and inspection stations, and so on are available, one-stop service can be offered at the port.There are three routes to access to the port. First, Highway No. 1 (Phaholyothin Road) turns into Highway No. 1016 at Mae Chan District
and it is around 30 km to the port from there. The port can also be reached by National Highway No. 1290 from Chiang Saen City and also by Highway No. 1129 from Chiang Khong District. Most products imported through this port are fruit from China, such as pomegranates and apples, and sunflower seeds, garlic, shiitake mushrooms, and cassava, while exported products include mostly frozen chicken and red meat, palm oil, and energy drinks.
Source: Regional Development of the Golden and Emerald Triangle Areas: Thai Perspective, IDE-JETRO, 2012

The 4th Thailand – Laos Friendship Bridge is located 5 km south of Chiang Khong City. The bridge is 14.70 m wide and 480 m in length. The total road length to the main road connection is approximately 11 km. The bridge is currently under construction and expected to be completed in mid-2013. The costs of construction are shared equally between Thailand and China. This bridge is part of Route R3A of the NSEC from Kunming and Bangkok. It will help solve bottleneck problems of the long road link between Thailand, Laos and China, and partially Vietnam, as well. The total length of the NSEC (1,855 km) functions as part of the highway network linking several countries in the region. As stated by the Asian Development Bank, potential market coverage will be extensive given the excellent state of the existing road network from Singapore via Malaysia to Chiang Rai, and from Kunming to Beijing. The Chiang Khong Customs House will be relocated to the new bridge.
Source: Regional Development of the Golden and Emerald Triangle Areas: Thai Perspective, IDE-JETRO, 2012
Chiang Rai Province Demographic Profile
As on  December 31, 2007, the total population of the province was 1,225,713 people with 606,390 males and 619,323 females. Highest number of population stays in Muang District with 226,296 people. The second is Pan District with127,089 people and Mae Jan District of 104,733 people. Highest density of population is in Mae Sai, which is 303.84 persons/ sq. km., the second is Muang District, which is 186.09 persons/ sq. km., and Wiangchai District with 170.36 persons/ sq. km.,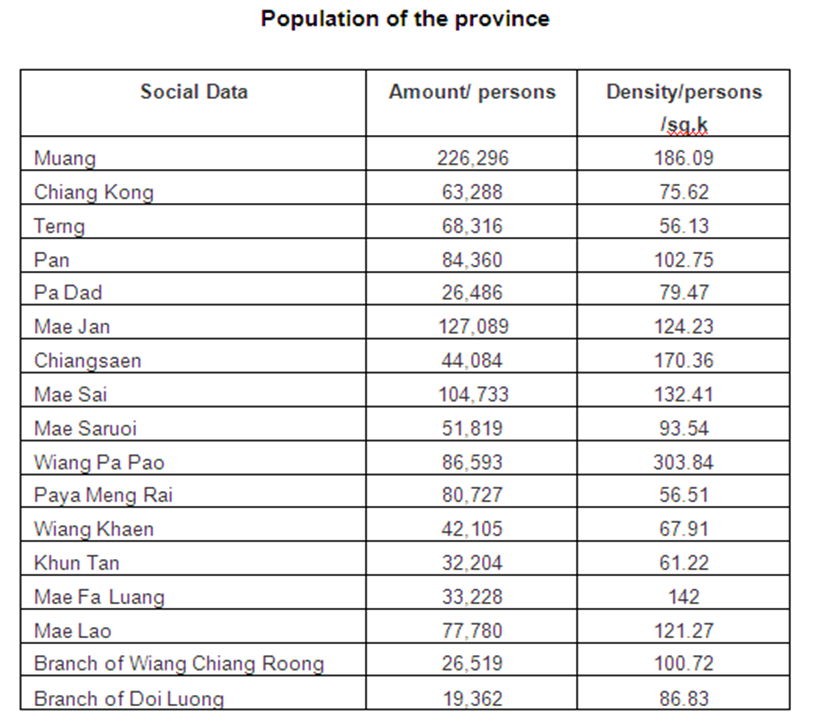 Source: Administration Department, Ministry of Interior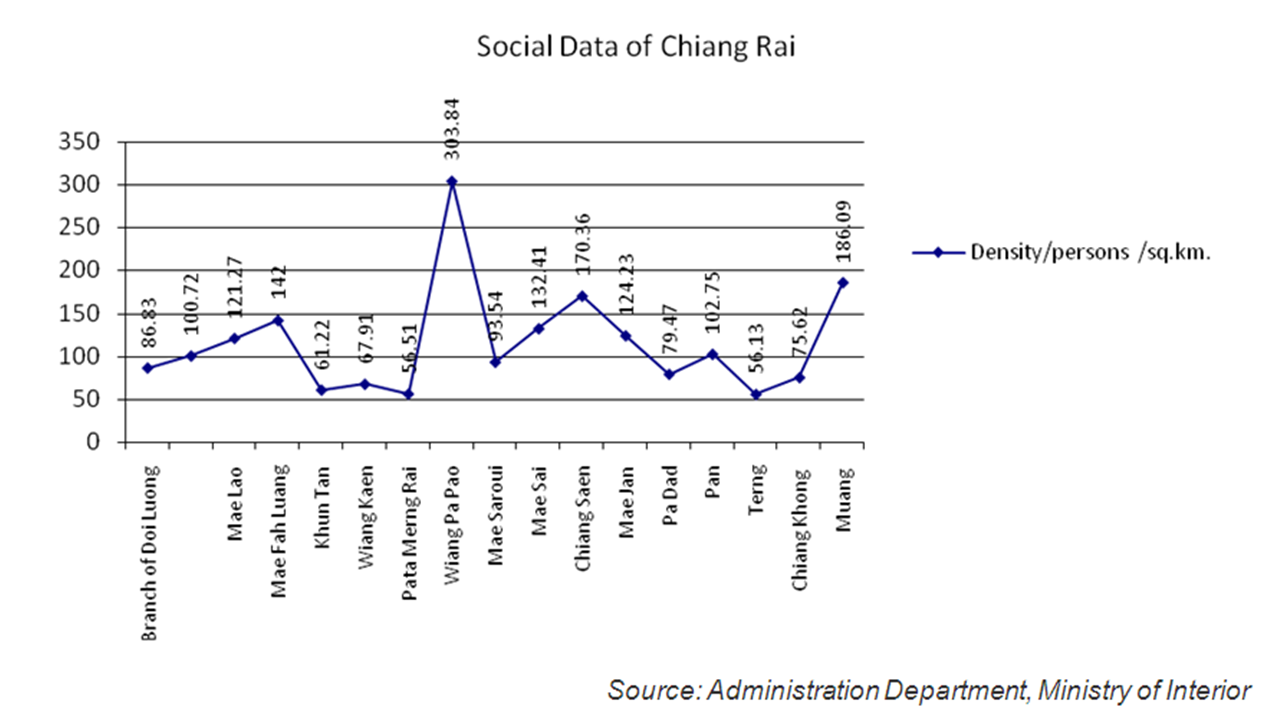 The majority of the population are generally ethnic Thai, but 12.5% of the population belong to the hill tribes, a minority in the North of Thailand. A minority are of Chinese descent, mainly descendants of the Kuomintang soldiers who settled in the region, notably Santikhiri.
Source: http://en.wikipedia.org/wiki/Chiang_Rai_Province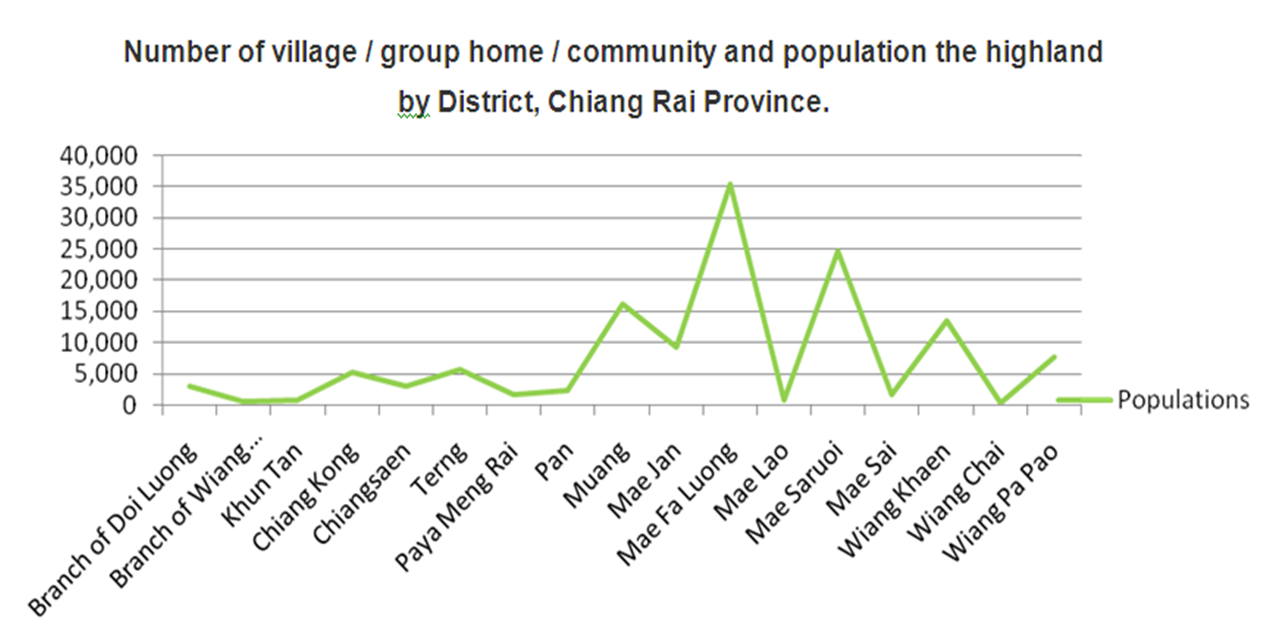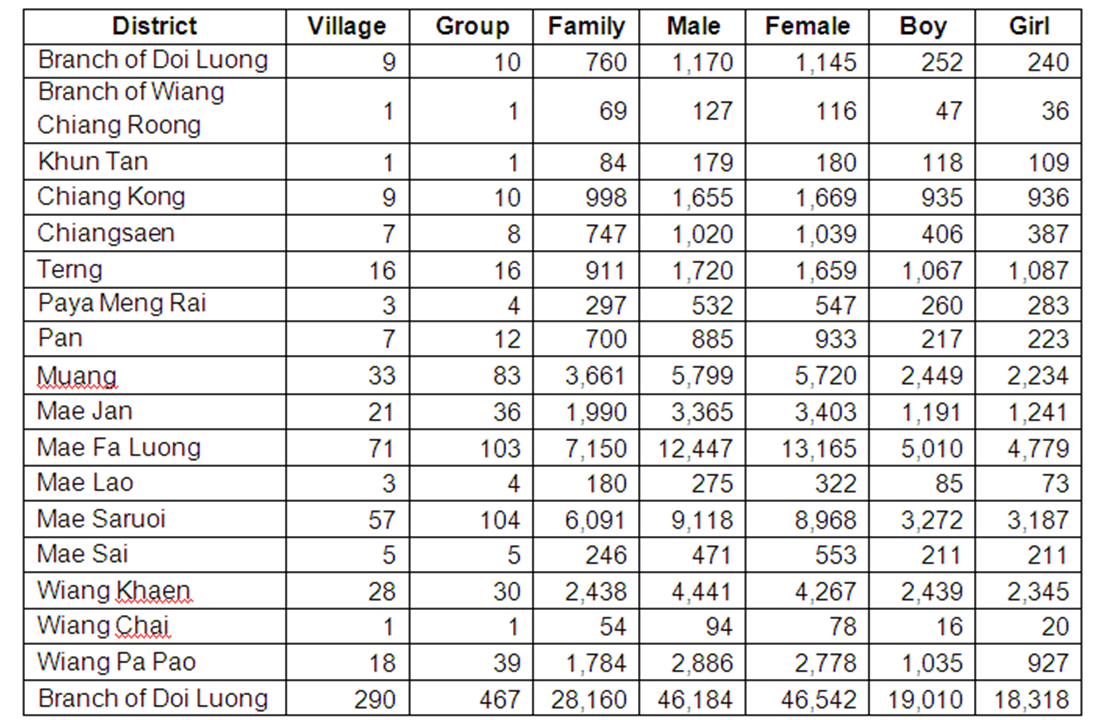 Source: http://mis.hrdi.or.th/highlandII/Source/highlandsurvey/report/main.aspx
Research and Development in Chiang Rai Province
Chiang Rai Rice Research Center
Phan, Chiangrai  57120  Tel. 0-5372-1578

Bureau of Rice Research and Development (BRRD) has a mission on rice pests monitoring. The  mission is one of the activities of Rice Development Operation Center by Rice Department. Chiang Rai Rice Research Center is one of BRRD, which responsible for developing of Rice Pests Epidemic Forecasting System. Weather data from Chiang Rai meteorological station was used for calculating Blast Unit of Severity (BUS). The relation of BUS value and the rice blast severity occurring in scouting plot at Rice Research Center was observed. The population of insect pest collected from light trap was also recorded and compared with the major pests collected from 6 scouting plots located in Chiang Rai Rice Research Center, Amphoe Phan, Mae Suai, Mueang, Chiang Khong and Mae Sai. The results showed that the suitable climatic data
for blast disease indicated on BUS values related in seedling, tillering , booting and flowering stage in non violent trend. The number of major pests caught from light trap at Chiang Rai Rice Research Center related to those collected from 6 scouting plots.
Source: http://cri.brrd.in.th/web/
Institute for Natural Resources and Environmental Management, Mae Fah Luang University
E2 Building, 2nd Floor, 333 Moo 1 Tambol Tasood, Muang District, Chiangrai 57100 THAILAND
Tel : +66-53-916-850 (to 1) Fax: +66-53-916-852 , Email:
[email protected]
ac.th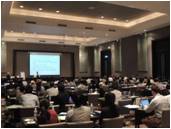 A specialized university research center, the Institute for Natural Resources and Environmental Management, develops scientific knowledge and policy recommendations on this topic. The Institute focuses on regional environmental, natural resources and biodiversity challenges facing the Greater Mekong Sub-region: Cambodia, Laos, Myanmar, Thailand, Vietnam, and China's two southernmost provinces. With the center of this region being Chiang Rai, MFU's Institute acts as Secretariat to coordinate research for 11 regional universities.
Source: http://www.mfu.ac.th/nremc/index.php
Tea Institute, Mae Fah Luang University
333 Moo 1, Thasud, Muang, Chiangrai, Thailand  57100
Tel. 0-5391-6253 Fax. 0-5391-6253 E-mail : [email protected]

Tea Institute was established in 2003. The Tea Institute aims to be the center of knowledge for the public in the areas of tea and tea products. The project aims to establish the tea institute as source of education, research, policy monitoring, and collaboration. The Institute will work with both public and private industry to develop an integrated tea industry and an increased capacity and competitiveness of Thai tea in the international level.
Source: http://www.teainstitutemfu.com/
Chiang Rai Province Natural Resources
Chiang Rai Municipality itself has rich natural resources and diversity of ecosystem – forestry, agriculture, reservoir and rivers. Kok River flows through the town of Chiang Rai and is 130 kilometres long. Long-tailed boats and cruises can be made from town to travel. Hilltribe villages in the area are popular with travelers.
Forest resources
Most of the teak timber produced in Chiang Rai is consumed by furniture factory in Prae Province. Trend of teak timber demand in Thailand will be declining due to the increasing use of wood-substitute composites. However, the timber demand in Thailand is higher than domestic timber supply. In the future, the market price of timber and the site suitability are the main incentives to plant trees on the area. Normally, farmers will divide their land area for housing, growing annual crop, fruit orchard and tree plantation following Self-Sufficient Theory. If there is fertile soil available, they will rather plant agricultural crops than trees. However, if the market price of timber is high enough, the tree plantation area will increase.
In Chiang Rai, some of the restoration plantations are established on watershed areas, which later will help protect the watershed. And this has been identified together with erosion control as the major positive environmental impact of plantation forestry in the tropics. In Chiang Rai, plantations are mainly monocultures. Rubber tree under agricultural plantation, teak and eucalypt are established in the province. The rubber plantation area is 81 761 rai (13081,76 hectares). Silvicultural practices they use are bud grafting of RRIM 600 and spacing of 3x7m. Rubber tree can be tapped after seven years of planting. Yield of latex is 270-300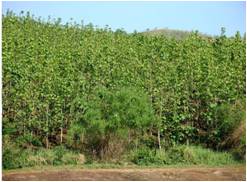 Source: Dr. Damrong Pipatwattanakul, PLANTATION FORESTRY IN THAILAND (TEAK, RUBBERWOOD, EUCALYPT) CASE STUDY IN CHIANG RAI PROVINCE, 
Water resources
The Kok River, the River originates in the Daen Lao Range, Shan State, Burma. It flows eastwards  across the Burma-Thailand border, coming in at the Thai border town of Taton. It flows to Mae Ai district, Chiang Mai Province. Most of its length in Thailand is in Chiang Rai Province where it passes Mueang Chiang Rai District after which it bends northeastwards and flows through Mae Chan, Wiang Chai and Chiang Saen districts.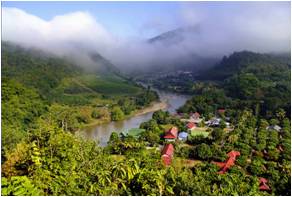 There is a small dam with 11 gates which provides irrigation for rice fields east of Chiang Rai. The dam is 7 miles east of the Hwy 1 bridge. It turns the river into a several mile long lake for 8 months of the year. Additionally, there is a dam planned on the Burmese side of where the river flows in to Thailand – about 20 miles upstream from the border.
The Ing River is a tributary of the Mekong River in the northern part of Thailand. It has its source in  Doi Luang, Phi Pan Nam Range, in Mae Chai District, Phayao Province. The Ing flows through the plain area of Thoeng District. The Ing is about 300 km long and its flow varies seasonally due to the tropical forest climate in the region. Flood waters inundate the river basin during the rainy season, spurring migratory fish to enter the Ing from the larger Mekong for the purpose of spawning there. The native people of the Ing River watershed depend on catching migratory fish and other wild riverine animals for their survival. Locals rely upon seasonal fish and their migration, and have learned to catch them with great skill, especially through the use of hundreds of small reservoirs and ponds.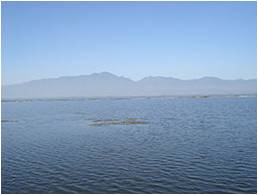 Mae Sai River is a river that is the natural border between Thailand and Myanmar. It passes under Phahonyothin Road. Upstream of the Mae Sai River was located at Myanmar.
Mekong River, from the Golden Triangle tripoint, the Mekong turns southeast to briefly form the border of Laos with Chiang Rai, Thailand. It then turns east into the interior of Laos, flowing first east and then south for some 400 kms (250 mi) before meeting the border with Thailand again. Once more, it defines the Laos-Thailand border for some 850 kms (530 mi) as it flows first east, passing in front of the capital of Laos, Vientiane, then turns south. A second time, the river leaves the border and flows east into Laos soon passing the city of Pakse. Thereafter, it turns and runs more or less directly south, crossing into Cambodia.
The Ruak River, is a river at the Thai-Burma border. It originates within the hills of the Daen Lao  Range, Shan State (Burma), and becomes the boundary river between Thailand and Burma at the confluence with the Mae Sai River at the northernmost point of Thailand. It then meanders to the east until it empties into the Mekong River at Ban Sop Ruak, Tambon Wiang, Chiang Saen district, Chiang Rai Province. The boundary section of the river is 26.75 km long.
The Wang River is altogether 335km long. Its waters flow from north to south. The Wang River has its source in the Phi Pan Nam Range in Wiang Pa Pao District, Chiang Rai Province.
The Yom River is the main tributary of the Nan River (which itself is a tributary of the Chao Phraya River). The Yom River has its source in the Phi Pan Nam Range in Pong district, Phayao Province, Thailand. Leaving Phayao, it flows through Phrae and Sukhothai as the main water resource of both provinces before it joins the Nan River at Chum Saeng district, Nakhon Sawan Province.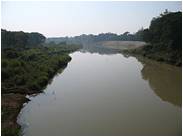 Source: http://en.wikipedia.org/wiki/Chiang_Rai_(city)
Local Products
Chiang Rai is rich in handicraft items such as hand-woven cotton materials in bright colored festive garments, dresses and hill tribe silver ornaments, as well as wood-carving products. Certain food such as Naem and Mu Yo (preserved and fermented pork sausages). Agricultural products include lychee (April–May), bananas, coconuts, coffee, pineapples, tea, and other products from the royal projects.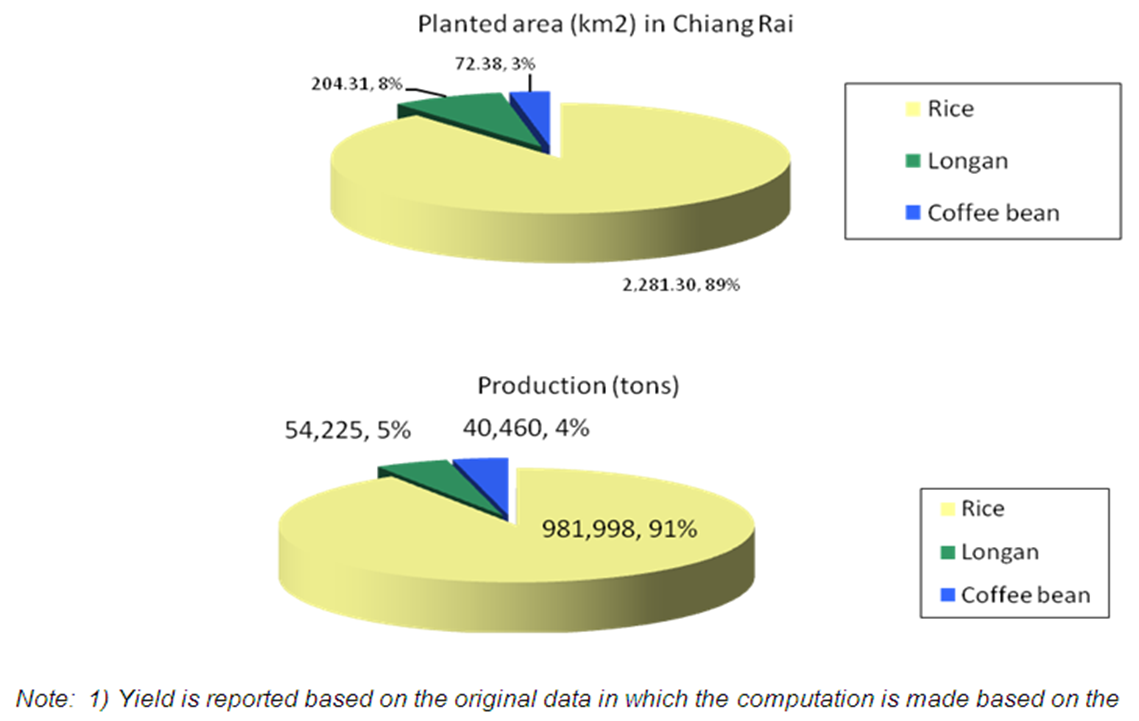 Coffee
Chiang Rai province is emerging as internationally famous for being coffee-growing region for rich and mellow coffee. Coffee is grown in several areas particularly Doi Tung and Mae Salong and other areas in Chiang Rai province.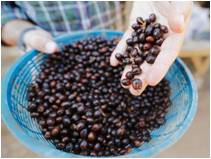 Sources: National Statistical Office, Ministry of Information and Communication Technology, 2012;Office of Agricultural Economics, 2012; Chiang Rai Provincial Agricultural Extension Office,2012; Chiang Mai, Provincial Agricultural Extension Office, 2012.production/ harvested area; not production/ planted area.
Longan
Production area of longan is mainly in the northern region of Thailand viz. Chiang Mai, Chiang Rai, Lamphun and Phayao provinces. The optimal time for harvesting longan is 5.0-5.5 months after blooming, during which time the fruits expand maximally with smooth outer skin and netted lines inside. Maturity is indicated through a change in color. The best practical test is to taste the fruit, which should be in moderate sweet flavor.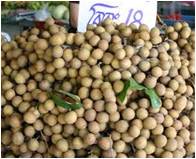 Source: Postharvest Technology of Horticultural Crops in Thailand, Department of Agriculture, 2011.
Chiang Rai Province Economic Zones
Chiang Khong, Chinag Rai Province
The Industrial Estate Authority of Thailand conducted feasibility studies on the establishment of estates in Chiang Khong. These would be special economic zones (SEZs) aimed at supporting integration of the region under the ASEAN Economic Community by 2015, paving the way for a single market with zero import tariffs and easier cross-border investment. They would also be environmental friendly, something that has become a major concern of investors worldwide, supporting and supported by "eco-towns".
This estate will be a logistical link in support of the expansion of heavy industries and trading in Thailand. In addition, a budget of Bt6.67 million has been set for the feasibility study for the Chiang Khong industrial estate, which would cover 2,000 rai. The project would support the growth of the industrial sector as well as serving as a logistical link among Thailand, Laos and China.
Source: http://www.nationmultimedia.com/business/Three-industrial-estates-planned-in-border-provinc-30173291.html
Chiang Saeng, Chinag Rai Province
In a move to improve economic links between Thailand and China's southwestern province of Yunnan, Chinese provincial authorities recently endorsed a project to set up a special economic zone in Chiang Saeng, northern Chiang Rai province. The three-phase project, comprising a commodities city, a duty-free zone and a supplier's centre, will be built in Chiang Rai's Chiang Saen district and is expected to be completed 10 years from now.
A special economic zone in Chiang Saen, Chiang Rai province has been set up recently to attract Chinese investors. The Chiang Saen-Kunming Industrial Estate, a Thai-Chinese joint venture, has thus been formed as a hi-technic industrial zone to be located there. It was reported that the estate has already attracted many investors from China in five aspects namely, agriculture, communication, human resource, investment and Makong development. And Chiang Rai is a strategic province in the northern part of Thailand as the "gateway" to Indo-China, South Asia, and ASEAN.
Source: http://www.nationmultimedia.com/home/Chiang-Rai-in-the-zone-78952.html
Source: http://www.thailawforum.com/articles/chinese-foreign-investment-5.html
Chiang Rai Province Financial Services
Bank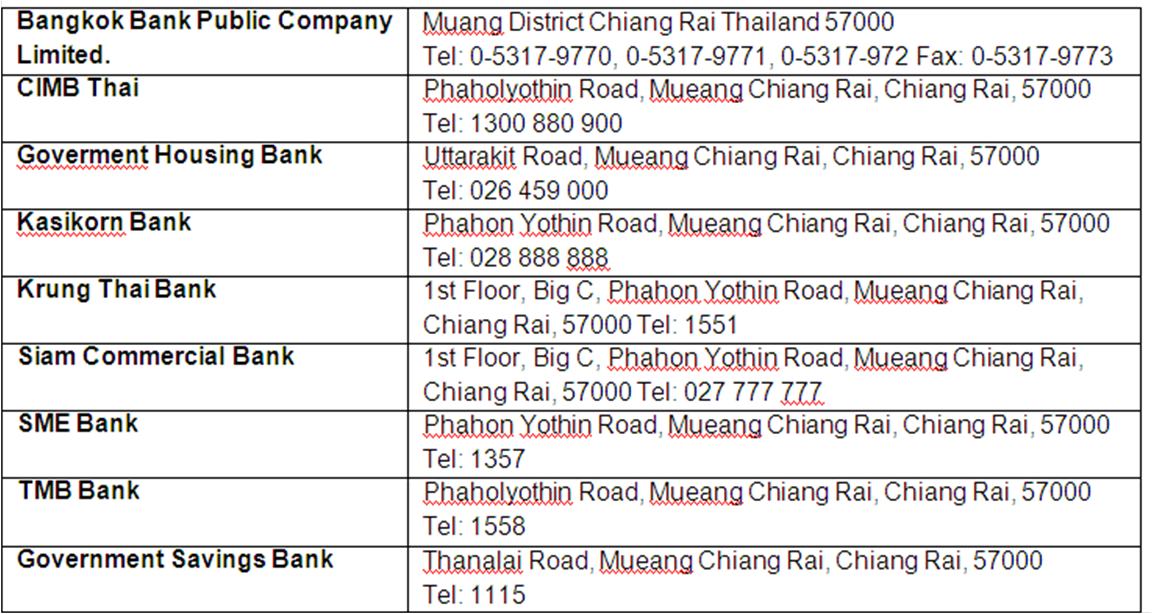 Source: http://www.farangfriendly.com/chiang-rai/banks/page1.aspx
Logistic Providers in Chiang Rai Province
1.     Chiangrai Logistics Center (Thailand) Co.,Ltd.
108-109 Pemavipat Road, Thambol Wieang,  Mueang , Chiangrai, Thailand, 57000
Tel: 66-53-740305 Fax: 66-53-717881
Chiangai Logistics Center (Thailand) Co.,Ltd. is a worldwide shipping/receiving company located in Chiang Rai, Thailand and offer very competitive rates and guaranteed quality service. The company has assisted many individuals/companies moving to/from Southeast Asia to abroad as well as moving to Southeast Asia and the entire European continent.
Source: http://chiangrai-logistics-center-thailand.tradenote.net/
2.     Chiangkhong Logistics Co., Ltd.
361 Moo 10 , Chiangkhong-Thoeng Road, T. Wiang A. Chiangkhong, Chiang Rai 57140
Tel: 053-791-000 Fax:053-791-787 Mobile: 084-011-3000 E-mail: [email protected] www.chiangchian-logistics.com
Chiangkhong Logistics head office is situated in a convenience location near to the crossing bridge to Laos in Chiangkhong district, Chiang Rai., which is connected to China via R3A road.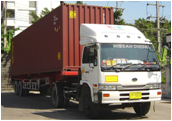 The company is managed and operated by a group of professional logistics and supply chain managers as well as customs clearance specialists team to ensure the shipment operate smoothly with the optimize cost. Chiangkhong Logistics provide variety transportation that specialized in cross border and transit shipment from 4 mains customs points consist of; 1) Chiangkhong Border,
Source: http://chiangkhong-logistics.com/index.php?module=main&function=index
                3. T.E.C Logistics Co.,Ltd  (Chiang Khong Branch)
25 Moo 1, Say Klang road, Tambon Vieng, Amplur Chiang Khong, Chiang Rai 57140
Tel: (6653)655-383 Fax: (6653)655-383 Email: [email protected]
T.E.C Logistics Co.,Ltd  4 decades in the business serves different private sectors, multi governmental projects and international organization delivering the transit cargoes. Besides general cargoes, T.E.C. Logistics is flexible and capable to respond heavy and oversized cargoes that need special attention. T.E.C. Logistics delivered cargoes to various destinations in Laos, not only main city but also undeveloped area from 4 mains customs points consist of; 1) Transit customs formalities and clearance for Thai side, 2) Export customs formalities from Thai to Laos, 3) Customs formalities and clearance for Lao side, and 4) Transportation
Source: http://www.teclogistics.net/index.php
4. Siam South China Logistic Co Ltd
287 Moo 1 Wiang Sub Dist, Chiang Saen District, Chiang Rai 57150
Tel: 053-652156-60,053-784300
Siam South China Logistic Co Ltd head office is situated in a convenience location near to the Chiang Saen port  in Chiang Saendistrict, Chiang Rai. The company is managed and operated by a group of professional logistics and supply chain managers as well as customs clearance specialists team that will ensure that all shipment operate smoothly with the optimize cost.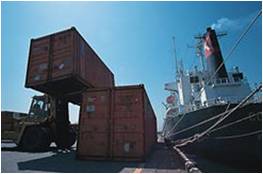 Source: http://profile.yellowpages.co.th/en/521824760271001
Source: http://www.port.co.th/sitenew/index.php
               5. NIM TRANSPORT 1988 CO.,LTD. (Chiang Saen Branch)
619/4, Village No.3, Wiang sub-district, Chiang saen district, Chiang Rai 57130
Tel.053-777487, 08-1881-6029
Nim See Seng Transportation formed in 1988 transport consumer products and parcels without size limitation between Bangkok – North provinces and also offer truck and trailer rental for transporting any products except dangerous goods anywhere in Thailand.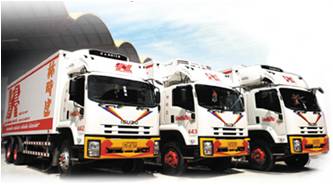 Source: http://www.nimtransport.com/web/index.php
Chiang Rai Province Business Associations
1. Chiang Rai Chamber of Commerce
Address: 153 Moo 6, Pahonyothin Road, Sansai, Muang district, Chiang Rai 57000
Tel: + 66 (0) 53 700 330 or (0) 5377 4880
Support trade, service, industry, agriculture, finance or general economics such as statistics collection, publish news on trade, researches on trade and economy, promote tourism, certificate of origin issuance, establishment of trade and economy institutions, product museum, trade fairs and arbitration;
Provide appropriate consultation for the members on trade, service,  industrial, agricultural, financial or general economic issues. And facilitate members in running their businesses;
Suggest the government on how to develop the Thai economy;
Collaborate (for trade issues) between entrepreneurs and the public sector;
Etc.
Source: Chamber of Commerce Act (2007)
2. Chiang Rai Tourism Association
Address: 272 Moo 2 Road, Muang, Chiang-Rai 57000
Tel: + 66 (0) 5374 2493
Support tourism service businesses and all related business;
Support and assist members in solving any problems in running their businesses and negotiate among members and with outsiders for mutual benefits in running the members' businesses;
Monitor the trends on tourism business both domestic and international level to facilitate the members;
Concrete the relationship among the members and exchange knowledge and updated news on tourism;
Support the policies of the government on tourism both domestic and international;
Assist the government agencies to promote and publish information, news and human development in order to upgrade the tourism business;
Etc.
Source: chiangraitourism.com