Welcome to Chiang Mai Province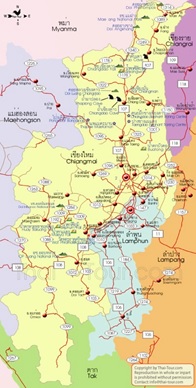 Chiang Mai is one of the oldest provinces in the northern of Thailand. It is approximately 696 kilometers away from Bangkok. Chiang Mai occupies an area of 20,107.057square kilometers or about 12,566,910rais. It has a total population of 1,673,930 people in 25 districts (est., 2011) including various tribes and ethnic minorities. Chiang Mai is very famous for worldwide tourists due to the land of mountains and plains with the cool weather almost all year round. Chiang Mai is rich of natural and cultural attractions; therefore, it becomes a well-known destination among tourists all over the world.
Source: CBNA_NSEC Report, Mekong Institute,P. 17
Why invest in Chiang Mai Province
Chiang Mai is a sophisticated tourist destination with boasting beautiful mountains, dense forests and a cool climate
Chiang Mai is an attractive retirement destination with retirement visas available to foreigners over 50 years of age, according to financial means
Property prices in Chiang Mai remain far below those in the more established markets, although they are set to continue growing quickly
Thailand is one of the cheapest places to fly to in Asia
Rental potential is great, due to increased government spending luring growing numbers of tourists
Foreigners are welcomed and encouraged to invest
Source: www.mslestates.com/index.php/services/9-uncategorised/113-faqs
Investment in Logistics Aspect
Chiang Mai, northern resort of Thailand and Kunming in Yunnan Province of southern China are being promoted as tourism hubs within the Greater Mekong Sub-region (GMS).
The road network linking Thailand, Laos and China, named the "R3 route" will help complement the Thai government's intention to promote Chiang Mai as an aviation hub for the GMS, which covers Southern China, Myanmar, Thailand, Laos, Cambodia and Vietnam.
Source: http://www.boi.go.th/tir/issue_content.php?issueid=93;page=228
Investment in Real Estate
The property industry in Chiang Mai is unstructured and only semi-developed, it brings out many good-value opportunities for individual buyers or larger scale investment. The biggest growth in Chiang Mai real estate from investing perspectives is the emergence of a luxury condo sector. Since these condos can be owned outright by foreigners, this remains the most popular means of investing in Chiang Mai property and real estate.
Source: http://www.1stopchiangmai.com/property/investing_properties
Properties in Chiang Mai are valued considerably lower than in Bangkok, Pattaya or on the islands, making them more affordable for the lower end investment budgets. Chiang Mai is less attractive than the coast or Bangkok for investors to invest in however the city has seen rapid growth in recent years and now is a good time to get in ahead of the rush.
Investment in Healthcare industry
Chiang Mai province is striving to be a medical and health hub in the Greater Mekong Subregion. In October 2010, Chiang Mai and Chiang Rai provinces signed a memorandum of understanding with Phuket, Phangnga, Ranong and Trang province for Joint tourism development response to the national strategy of developing Thailand into a medical hub of Asia. In particular, Chiang Mai has very good potential to develop healthcare industry because of its readiness in terms of equipment, experienced personnel and facilities.
Source: http://www.unescobkk.org/culture/culture-news/culture-news-details/article/chiang-mai-being-developed-as-a-creative-city/
Investing in Chiang Mai Province
Tourism and Service Sector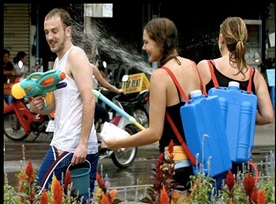 For years, there was a phrase that "only a day is enough to see things around Chiang Mai". But today, Chiang Mai has changed to be an attractive tourists' destination because of its great lifestyle, affordable cost of living, and modern infrastructure. In addition, Intriguing diversity among ethnic tribes coupled with breathtaking scenery makes Chiang Mai to be an enchanting place to travel. Chiang Mai is the province which generates highest income in the northern region of Thailand. Chiang Mai's Gross Provincial Product (GPP) equals to Bath 51,998 million (2009). Income from hotel and restaurant liken income from travel. In addition to high quality infrastructure, low cost medical, dental and therapeutic services, the city is becoming increasingly known for its medical checkup and spa facilities. Thus, healthcare tourism has a significant focus on as an international marketing plan. This concept will lead to the increase in demand for Thai herbal products, food supplements, cosmetics and beauty products. Chiang Mai has about 10 private hospitals with a total of 2,250 beds and 700 doctors. The city also has 77 dental clinics which generated total revenues of about Bath 420 million in 2003. 30 spas in Chiang Mai have annual revenue of about Bath 300 million. It is also becoming a centre for traditional massage with more than 100 massages centers, employing more than 1000 workers and annual revenue is estimated at Bath 500 – 600 million.
Source: http://www.chiangmai-chiangrai.com/chiangmai_health_leader.html
| | |
| --- | --- |
| Year  | 2004 |
| Total Tourist Arrival | 3,898,543 |
| Domestic and Oversea Tourists | 2,101,099 (Thai), 1,794,444 (Foreigners) |
| Tourist Income | 45,067 million Baht |
| Average stays per tourist | 3.91 days |
| Average spending per day | 3,119 Baht |
| Major countries | Europe, Asia, the USA |
Industrial Sector
Year
2004
Total factories
2,192
Total Capital
22,986 million Baht
Total workers
39,478 workers
Food Industry
Factories: 224

Capital: 4,258 million Baht Employees: 6,860

Transportation Industry
Factories: 224

Capital: 2,298 million Baht Employees: 2,533

Agriculture Industry
Factories: 962

Capital: 2,147 million Baht Employees: 3,263

Beverage Industry
Factories: 13

Capital: 1,630 million Baht Employees: 497
Source: http://www.chiangmaipao.go.th/en/Economic-Indicators/
Chiang Mai's labor force of non agricultural sector in Chiang Mai as of 1st quarter in 2010 is 42,427 workers, male and female, 22,916 people and 19,911 peoples respectively.
Source: http://library.cmu.ac.th/faculty/econ/Exer751409/2553/Exer2553_no344
Agricultural Sector
Year
2004
Total Cultivated Land
229,911.68hectare
Paddy rice Land
85,581.28hectare
Crop Land
31063.68hectare
Orchards Land
100337.92hectare
Other plants
12928.96hectare
Irrigated Land (78% of total)
20363.52hectare
Total Value of Agricultural products
13,679 million Baht
Value of Rice
Tonnage: 396,009 tons

2,888 million Baht

Value of Longan
Tonnage: 196,471 tons

2.357 million Baht

Value of Oranges
Tonnage: 130,302 tons

1,954 million Baht

Garlic
Tonnage: 106,938 tons

1,336 million Baht

Red onions
Tonnage: 351,478 tons

3,163 million Baht
Source: http://www.chiangmaipao.go.th/en/Economic-Indicators/
Chiang Mai has total of 209,240 peoples work in agricultural sector, of which 132,606 male workers which represent 25.9 percent of the total labor force ratio, whereas Female labor force has 76,634 people, representing 21.7 percent of total labor force ratio.
Source: http://library.cmu.ac.th/faculty/econ/Exer751409/2553/Exer2553_no344
Signed Agreement
Bilateral swap agreements under the Chiang Mai initiative (2004)
| | | | |
| --- | --- | --- | --- |
| Countries | Status as of July 2002 | Amount (billions of dollars) | Currency |
| Japan – Thailand | Signed July 30, 2001 | 3 | Dollar-bath |
| Japan – Malaysia | Signed October 5, 2001 | 1 | Dollar-ringgit |
| China – Thailand | Signed December 6, 2001 | 2 | Dollar-bath |
| Japan – China | Signed March 28, 2001 | 3 | Yen-renminbi |
| South Korea – China | Signed June 24, 2001 | 2 | Dollar-won |
| South Korea – Thailand | Signed June 11, 2002 | 1 | Dollar-bath |
| South Korea – Malaysia | Signed July 26, 2002 | 1 | Dollar-ringgit |
| South Korea – Philippines | Signed August 9, 2002 | 1 | Dollar-peso |
| China – Malaysia | Signed October 9, 2002 | 1 | Dollalr-ringgit |
| China – Philippines | Signed August 29, 2003 | 1 | Dollar-peso |
| Japan – Singapore | Signed November 10, 2003 | 3 | Dollar-Singapore dollar |
Source: Progress report on the Chiang Mai initiative, 2004
Tourism Opportunities in Chiang Mai Province
Chiang Mai is the highest income generating province for its tourism in the northern region of Thailand. Chiang Mai has many factors supporting it to be an attraction for both local and international visitors Chiang Mai is a city of distinct beauty that has its own cultural heritage. Known also as the "ROSE OF THE NORTH" Along with its numerous ancient temples and building, Chiang Mai is also famous for its handicrafts.
Number of Tourists Visited Chiang Mai from 2008 to 2010
2008
2009
2010
Number of tourists
5.3 million
4.3 million
4.34 million
Tourists income
38 billion baht
32.6 billion baht
34 billion baht
Long stay tourists
Japan, Republic of Korea
Source: http://thailand.prd.go.th/view_news.php?id=5542&a=2
Nature has made Chiang Mai become a favorite destination for not only foreigners but even Thai people. Thanks to the majestic mountains, valleys and its beautiful scenery. In the year of 2010, there were approximately 4.34 million tourists who had visited Chiang Mai, which generated approximately Bath 62.61 million for tourism sector.
Volume of Tourists in Chiang Mai in 2010 (in million)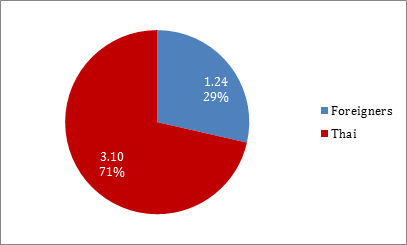 Source: Chiang Mai Statistic Office
Tourists Growth Rate in Chiang Mai over the Years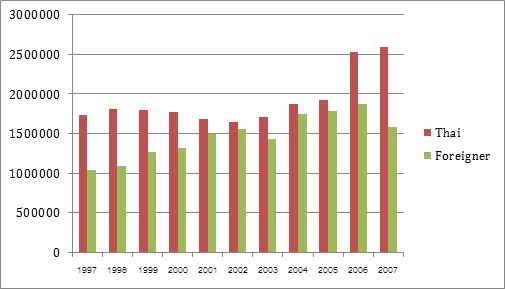 Source: Relationship between number of Thai tourists in Chiang Mai and Thai economy, 2009
Ratio of Hotels and Restaurant income
Tourism industry is very attractive with the investors, thus there are currently about 113 star rated hotels, 103 resorts & spas, 113 budget hotels and guesthouse in Chiang Mai, also more accommodations have been built, especially in town. The accommodation in Chiang Mai can satisfy your budget range, around Bath 400 for economizing one, Bath 500 – 1000 for mid range and very comfortable for anyone who is willing to spend Bath 1000 – 3000
Hotels and restaurants generate an income of Bath 4,826 million which accounts for 9.2% of the total GPP. This is one of the leading incomes earning industry of Chiang Mai.
Source: http://www.tourismthailand.org/Where-to-Go/Chiang-Mai/Accommodation
Hotels and Restaurants' Income from total GPP in 2007 (million bath)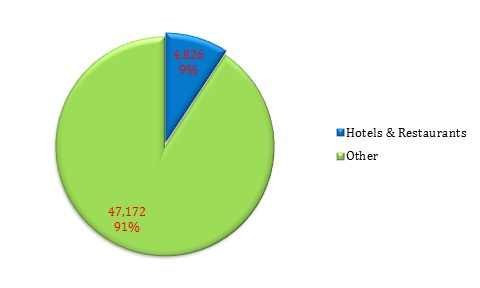 Concepts of Walking Streets
To promote tourism in Chiang Mai, there come to the concept of Walking Street. Wualai and Tapae streets are selected to be blocked from vehicle traffic one evening in a week. The streets are turned into walking only areas and are filled with crafts, various local products and local foods. The concept's idea is to support the local vendors to improve their economic status and also to promote Northern Thai culture through handicrafts, northern Thai antique, contemporary arts, products created from local herbs or other locally sourced raw materials as well as traditional food.
According to information from Chiang Mai Municipality, each street contains over 3,000 stalls and has more than 50,000 visitors per night. Each street generates more than Bath 200 million
Source: An Analysis of Economic Multipliers of Community Tourism in Chiang Mai
Chiang Mai Province Macro Economic Indicators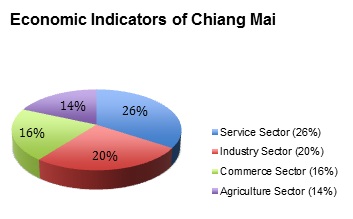 GDP & GDP per capita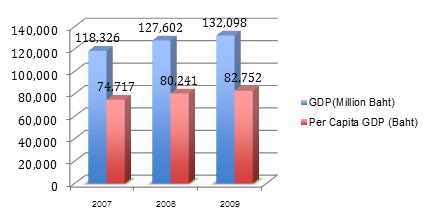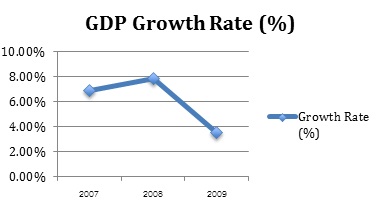 Major Business Investors
Chiang Mai is a city of huge importance to Thailand economy. The city not only excels in the tourism industry but is also recording well in terms of its agricultural output. Taiwan is the largest foreign investor in Chiang Mai, accounting for nearly 21% of investment. The other major investors are Japan and Australia. The city has undergone a phase of rapid development in the last few years. Service sector is also on an all time high in this Thai city
Economic Activities (Million Baht)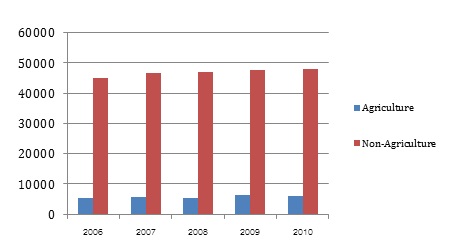 Chiang Mai Province Infrastructure
Electricity,
Electricity service in Chiang Mai province is offered in 25 districts and 1,892 villages, containing 92.61% of all villages. Villages in jungles, forest conservation areas and national parks cannot access electricity. In 2004 there were 496,448 electricity consumers, a 10.98% increase on the preceding year. Total electricity consumption in the province was 163,046 million units, increasing 7.11% than last year. The major consumption in offices and factories, using 878.99 million kilowatts per hour, followed by residential users, government offices and public utilities, consuming 621.24, 100.60 and 29.63 million kilowatts per hour respectively.
Source: http://www.chiangmaipao.go.th/en/Economic-Indicators/
Communication
Chiang Mai is well connected with telecommunication network including  cellular and post office . And as for internet, high speed Wi-Fi is vailable  in Internet café and other selected  public places inlcuing restaurant.
Logistic
Chiang Mai is a regional vital hub for the Greater Mekong Sub-region, a long stay destination, an emerging health and education hub, recognized for its oriental handicraft center as well as positioning itself as a creative city. Chiang Mai will benefit greatly from such infrastructure as the R3A road and high-speed train projects.
Chiang Mai has most of the basic infrastructure, logistics and transportations facilities in place to connect other provinces as well as neighboring countries. Chiang Mai – Chiang Rai road is the main road linking the logistics and transport facilities to the neighboring countries. Chiang Mai has International Airport and good railway system which links to Bangkok.
Source: CBNA_NSEC Report, Pg. 77
Chiang Mai Province Demographic Profile
Population
In 2009, the total population in Chiang Mai was 1,670,317, which was 2.63% that of population of Thailand. The population density is 83.07 per sq.km while the area of Chiang Mai is 20,107.0 km2 (7,763.4 sq mi). 80% of the people in Chiang Mai are locals by birth and speak a dialect which is slight variation of the central Thai language. There are many hilltribe people living in the mountainous districts surrounding Chiang Mai such as Omkoi, Mae Jam, Chiang Dao and Mae Ai. The hilltribe people are agricultural, planting fields, raising animals and hunting for living.
Source: http://www.gochiangmai.com/facts.htm
Tribes in Chiang Mai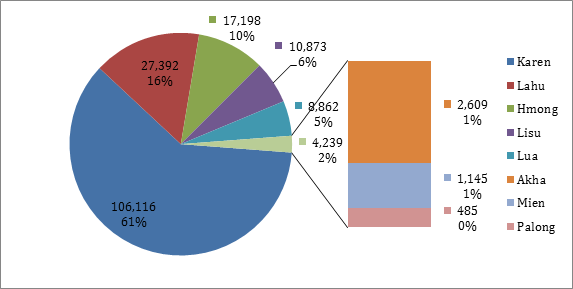 Source: http://a.northernthailand.com/hilltribes-of-thailand/374-chiang-mai-hilltribe-stats.html
Research and Development in Chiang Mai Province
Research and Development Centers
Research Centers
Activities
 – Name: Chiang Mai Creative City (CMCC)

–  Secretariat of the Chiang Mai Creative City

–

–          Development Committee (CMCC)
Science & Technology Park Office

– Address: Research & Technology Transfer (RTT) Building, Faculty of Engineering, Chiang Mai University

239 HuayKaew Road, Chiang Mai 50200, Thailand

– Tel: 081 969 6919
Email: cmcc@creativechiangmai.com

-          Associated members: Chiang Mai University; Technology Development Center for Industry (TDCI) at Chiang Mai University and other main university; Government and Private sector agencies and associations;

-          Networking and information services to investors

-          One-stop point of information regarding resources in the creative industries, particularly IT, software and digital content in Chiang Mai

-          Point of contact for Chiang Mai Creative City Development Committee

-          To build upon what is already there, (education base, history, Lanna culture, quality of life, skills of locals), and enhance it to make Chiang Mai more attractive as a place to live, work and invest

-          Aid of creativity, collaboration and innovation for the formation of a more attractive urban environment and create higher, more sustainable economic and social development

Source: http://www.creativechiangmai.com/en/about/

Name: Royal Agricultural Research Centre Royal Agricultural Research Centre

Address: Mu 1, Ban Tong Kai, TambonNongKhwai, Amphoe Hang Dong, Chiang Mai 50230 Tel: 0 5343 2275

Advanced contact:

Address:

(i)     Mu 1, Ban Tong Kai, NongKhwai sub-district, Hang Dong District, Chiang Mai 50230

(ii)    Mu 10, Tambon Mai Win, Amphoe Mae Wang, Chiang Mai,

 – Tel. 0 5343 2275;

Fax. 0 5343 2276

-          Consists of 2 sub-stations.

-          The first station is composed of demonstrative fields for research, collection, and breeding of various plants.

-          The second station, located at Mae Win sub-district, mainly deals with research of temperate fruits, flowers and coffee (Arabica).

-          Serves as a source of information complete with lecturer for educational tours and training.

-          Accommodations and basic facilities are available.

Name: Mushroom Research Center

Address: 128 Moo3, Bahn Pa Dheng, T. Pa Pae, A. Mae TaengChaing Mai 50150,

-  Tel: + 66-85-7199302

-  Email:mrcthailand@gmail.com

-          Non-government and non-profit-making organization

-          Promoting studies on fungal diversity and taxonomy throughout Asia and the world by imparting practical and hands-on training and expertise in fungal biology to higher degree level students.

-          Conducting several workshops and training programs on topics such as fungal diversity and taxonomy, plant quarantine taxonomy, aquatic fungi and identification of mushrooms.

-          Completing several fungus biodiversity documentation studies and brought out many monographic treatments authored by international fungal experts

Name: Inland Fisheries Research & Development Center
Address: San Sai District Chiang Mai
Chiang Mai Province Natural Resources
Chiang Mai has been known as "Rose of the North" because of its laid back atmosphere and mild climate most of the year. Chiang Mai is also welcome with promising natural resources of mountains, waterfalls, and other nature-based tourist attractions.
Arable land use statistics
Land use types in the CMCP area (1989-2000-2009)
Land Use
1989
2000
2006
2009
 
(Ha)
(%)
(Ha)
(%)
(Ha)
(%)
(Ha)
(%)
Cash crops
466.44
1.14
347.1
0.3
2429.06
5.9
na
na
Paddy fields
8965
21.92
9,342.30
22.8
4873.7
11.92
4778.06
11.68
Orchard crops
10544.8
25.78
6561
16
8801.62
21.5
9251.75
22.62
Forest
9720.31
23.76
3819
9.3
9523.19
23.28
9554.5
23.36
Urban
3751.75
9.17
8376
20.5
11786
28.8
13741.4
33.6
Water
637.06
1.56
1406.3
3.4
511.5
1.3
539.94
1.32
Other
6813.5
16.67
11047
27.1
2969.7
7.3
3032.93
7.42
Total Area
40898.8
100
40898.7
100
40894.8
100
40898.8
100
Chiang Mai province is rich of arable land. According to Chiang Mai Province Statistics Office (CMCP) on land use change Chiang Mai from 1984 to 2009. Agriculture land use gradually converts to residential and commercial uses.
Source: http://umconference.um.edu.my/upload/163-1/Paper%2044.pdf
Organic fruit
A four-year project for promoting the sale and consumption of organic fruit and vegetables in Chiang mai has been launched by the Region Health Promotion Centre 10, with the aim of purchasing organic fruit and vegetables is more accessible to everyone. Therefore a stream of farmers markets has spread throughout Chiang Mai region.
Source: http://www.chiangmaicitynews.com/news.php?id=227
Chiang Mai Province Financial Services
Bank
Government Bank State-Enterprise
Government Saving Bank
1.       Government Housing Bank
2.       Bank for Agriculture and Agricultural Co-Operatives
3.       Small and Medium Enterprise Development Bank of Thailand
4.       Islamic Bank of Thailand
State Enterprise Bank
1.     Krung Thai Bank
2.     Thai Military Bank
Private Bank
1.     Kasikorn Bank
2.     Bangkok Bank
3.     Bank of Ayudhaya
4.     Kiatnakin Bank
5.     Citibank
6.     Thai Investment and Securities Company Bank
7.     CIMB Thai Bank
8.     Siam Commercial Bank
9.     Thanachart Bank
10.  United Overseas Bank
11.  Standard Chartered Bank
12.  Land and Houses Retail Bank
13.  SME bank
Interest Rate
On August 24th, 2011, SME bank entirely supports the "OTOP loan" and "Buying Workplace" loan offering low interest rate at Chiang Mai. The loan is provided at very special condition which is valid for 15 years offering the first year interest rate at MLR-1.5%, second year at MLR-0.75% and from the third year onward with the interest rate equals to MLR (the present MLR is at 7% per year) by way of capital exemption for the first 12 months (in the first year).
Loan interest rates and discounts
| | | |
| --- | --- | --- |
| Type of loan interest rate and discount | Interest rate (percent per year) | Period of announcement |
| Minimum retail real: MRR | 9.50 | From June 27, 2013 until change announcement |
| Minimum loan rate | 7.25 | From October 1, 2011 until change announcement |
| Minimum hire-purchase rate: MHR | 3.875 | From May 14, 2012 until change announcement |
| Minimum leasing rate: MLSR | 7.375 | From May 14, 2012 until change announcement |
| Minimum factoring rate: MFR | 7.625 | From May 14, 2012 until change announcement |
| Interest rate for exporters | Equals the minimum loan rate (MLR) | From April 24, 2009 until change announcement |
Insurance Services in Chiang Mai Province
Type of Insurance Service
1.     Health Insurance
2.     Home Insurance
3.     Car Insurance
4.     Business Insurance
Insurance Company Name

Contact Address and Phone

Chiang Mai Insurance
Address: Chiang Mai Riverside Condo Hotel, Chiangmai-Lamphun Rd,, Chiang Mai, 50000

Phone:084 805 8815

NP CARRENT Service:Car,4WD,Pick-up,Van,Motorbike with Insurance
Address: 130/1 Ratchapakinai Rd. (Ratchamakka), Prasing, Muang, Chiang Mai 50200

Phone:081 287 7159

Hours:Thursday hours 9:00 am–6:00 pm

Two Service Ltd.,Part.
Address: 28/3 Soi 6 Nimmanhemin Rd., Suthep, Muang, Chiang Mai, 50200

Phone:053 400 349

AA Insurance Brokers Co., LTD.
Address: 5206/22 Moo 6 RimpingMeechoke Plaza, FA Ham, Chiang Mai, 50000

Phone:053 230 127

Hours:Thursday hours 9:00 am–5:00 pm
Logistic Providers in Chiang Mai Province
Name of Logistics Providers
Contact Address and Phone
I-agalloch., Ltd. Part
188/238 M.10 T. Sannameng A. SansaiChiangmaiChiangmai 50210
Eagles Air & Sea (Thailand) Co., Ltd
G116 Kalare Night, Bazaar Muang District, Chiang Mai 50000, Thailand

Phone: +66 (0)53 818-849

Email: cnx@eaglesthai.com

Fax: +66 (0)53 819-080

Website: www.eaglesthai.com

Yusen Air & Sea Service (Thailand) Co., Ltd
C/o Boonma Cargo Co Ltd, 199 Mahidol Road, TambolHaiya, AmphurMuang, Chiang Mai 50100, Thailand

Phone: +66 (0)53 203211

Email: cnx-imp@yusen.co.th

Fax: +66 (0)53 203216

Website: www.yusen.co.jp

Hankyu International Transport (Thailand) Co., Ltd
250 Mahido Rd, Tambol Pa-Dad, AmphurMuang, Chiang Mai 50100, Thailand

Phone: +66 (0)53 283990

Fax: +66 (0)53 271272

Schenker (Thai) Ltd
506 Moo 7 Wongwaen 2 Road, Mae Hea, Muang, Chiang Mai 50100, Thailand

Phone: +66 (0)53 904672

Email: schenker.chiangmai@schenker.com

Fax: +66 (0)53 904681

Website: www.schenker.co.th
Chiang Mai Province Business Associations
Government Department
Name: Chiang Mai Immigration

Tel: 66 53 201 755-6
Address:  71 Moo 3, Airport Rd., Suthep, Muang, Chiang Mai 50200
Name: Export Promotion Centre (Thai Trade Centre Chiang Mai)
Tel: 66 53 221 376
Address: 29/19 Singharat Rd, Sriphum, Muang, Chiang Mai 50000
Chamber of Commerce and Industry
Chamber/Federation
Name: Chiang Mai Chamber of Commerce
Address:  158 Tung Hotel Rd., Wat Kate, Muang, Chiang Mai 50000

Tel: 66 53 241404-5, 66 81 882 5557, 66 81 882 5559

Fax : 66 53 241406

Website: www.chiangmaichamber.com
Name: Chiang Mai Federation of Thai Industries
Address:  158 Tung Hotel Rd., Wat Kate, Muang, Chiang Mai 50000

Tel: 66 53 304367

Fax : 66 53 246353

Website: www.chiangmaiindustry.org
Business associations
Association
Northern Handicraft Manufactures and Exporters Association (NOHMEX)
Tel: 66 53 818488
Address:  Chang Klan Resident Room No.2001 190/4 Chang Klan, Muang, Chiang Mai 50100

Website: www.nohmex.com
Chiang Mai Tourism Business Association

287/11 Changklan Road,

Chiang Mai 50100, Thailand

Tel: 0-5320-4533

Fax: 0-5328-3311

Website: www.chiangmaitourism.org
Association for Promotion of Thai Small and Medium Entrepreneurs – Chiang Mai Branch
Transportation in Chiang Mai Province
Chiang Mai is located in the north of Thailand, 700km away from Bangkok. It can be reached easily by fly from Bangkok to Chiang Mai international Airport which takes 1 hour, or about 8 hours by bus and 12 – 14 hours by train.
With a modern airport, Chiang Mai is major hub for domestic flights; there are at least 30 flights a day between Chiang Mai and Bangkok on variety of airlines. Airfares are also reasonable with both budget carriers and flag carriers.
Besides airways, there are 5 trains a day consisting of differing classes and speeds which depart from Bangkok to Chiang Mai. Overnight sleeper ticket is available for Bath 900.
Buses depart every hour from Bangkok and the price range is about Bath 500 – 800.